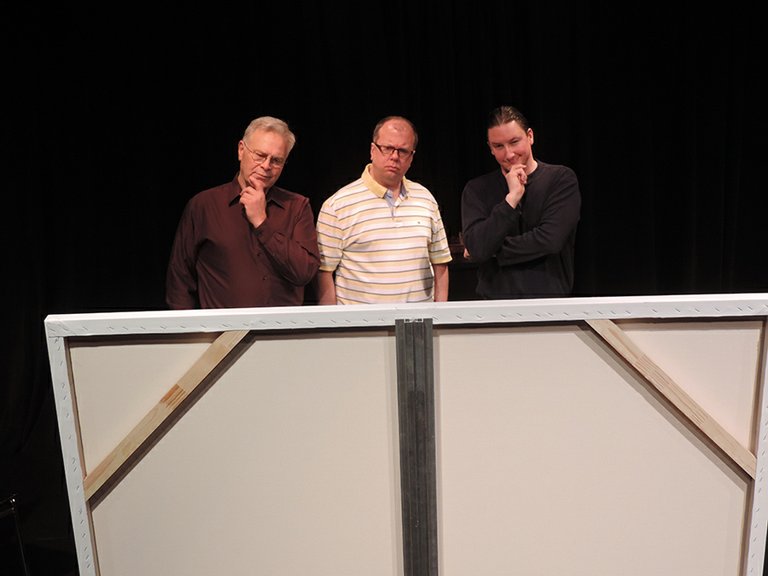 Wednesday, February 12, 2014
How do you judge a piece of art?
More importantly, how do you judge a friendship?
That, in essence, is what the play "ART," opening this weekend, is all about.
There's more nuance to the plot, of course. As with any play that deals with the complexities of the human condition, it is up to the viewer to discern the faint lines that rest below the surface or help define the connections between us.
Faint diagonal lines that guide us but run not-quite-parallel are the allegory within this play about the geometry of friendship.
These dynamics are displayed hilariously, and painfully, in the three-person attack, counter-attack and coming to terms that make up "ART."
"This play is not about art. It's about friendship," said director Tom Burns. "This play could be called 'CARS' or 'BOATS' or whatever some expensive things someone buys. It's about the relationship of these three men who've had this friendship for so many years, and too many things have gone unsaid."
This is the second-consecutive three-role play on the CCA stage, following "Driving Miss Daisy," staged by Plays for Non-Profits in January.
With "ART," the triad is the critical infrastructure: The context is a stark disagreement over one character's decision, without consulting a second one, to buy an expensive, pigment-challenged piece of artwork.
("It's not white — it's monochromatic!" says the buyer.)
The comedy and drama stems from Evan (David Dye) getting caught in the artistic and emotional crossfire between the more strong-willed Serge (Joe Garoutte) and Marc (Bruce Ludwig). Serge, Evan and Marc in the course of three days expose a toxic, unspoken dynamic of their friendship.
But the winds of friendship change frequently in "ART." At times, harsh words are forgotten quickly as alliances shift and two friends who were at odds one moment are suddenly in league against the third guy. The alliances rotate and reconfigure and cut like a lawnmower blade.
The use of such rapid change of attitude is either a bit of dramatic shorthand or a comment on the flexibility of friendship, or both; Garoutte, Dye and Ludwig handle the fluctuations convincingly.
Marc gets to play with the nuanced language of interpersonal relationships, and he goes through the biggest change; but Serge gets to dissect the aesthetics of art, and it could be said that he is the man in the middle, caught between a friend who has no expectations of him and another whose expectations he learns are far greater than he ever imagined.
One of the more telling lines in the play is Marc's comment that "You should never leave your friends unchaperoned, otherwise they'll get away."
Dye has the longest speech and the most fun with the non-verbal bits. In his frenetic monologue to start act two, and at other places in the show, Dye must use both words and gestures divulge Evan's feelings about the horrible wedding planning politics wrought by his fiancée and his future mother-in-law.
The fascinating subtext of the play is the near-unraveling of an apparently weak-willed man who carries the emotional load of an impending, tenuous marriage while desperately trying to preserve his dearest male friendships.
"All of us gain perspective on the people we hold the closest," Garoutte said. "We've had a friendship for 15 years and through these four days our perspective on our friendships change. I learn a lot about Evan, and I learn he is a deeper person than I had given him credit for."
"I'm enjoying playing that judgmental guy who thinks everyone ought to think the same way he does," Ludwig said.
"He figures out eventually that it really isn't all about him," Ludwig said, "that there are other things that ought to be considered and his friends' feelings are important. Marc makes a big transition in the play, from this person who can't understand why his friend Serge no longer judges things based on (Marc)."
Part of the fun of the script is the way Serge and Marc thrust and parry, and Evan is constantly in the middle but also frantically trying to make sense of his life outside this friendship with the two men.
"Evan is a middle-aged man who has never really established himself in any way," Dye said. "He's always been there for his friends but never had much of a life of his own, apart from this relationship. I believe his role is to be a buffer, though at one point they call him a 'sponge,' and I think that's what they want him to be — and when he attempts to step out of that he doesn't get much acceptance."
And what to make of the "monochromatic" painting. For the first part of the play, it's turned so you can't see it and you have to form your own impression of it. But in the second act it is shown in full light.
"I think it absolutely is a symbol of exactly what we're going through," Garoutte said of the canvas. "You have three diagonal lines that are virtually melded into the background so there is definition — barely — from the world that these parallel lines are in, and there's three."
Ludwig added: "Parallel, but separate paths."