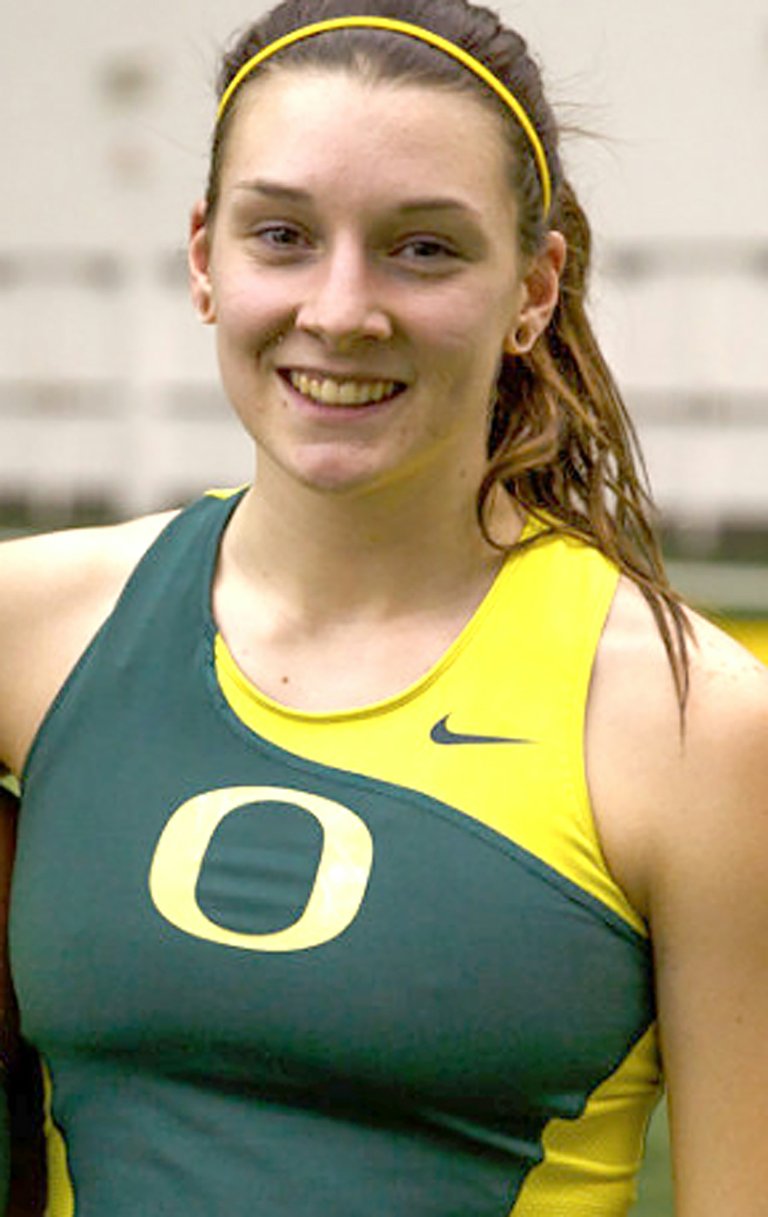 Wednesday, February 12, 2014
Olivia Campbell is taking her athletic talents to new heights. As a member of the defending national champion University of Oregon Acrobatics and Tumbling team, the 2012 Hood River Valley High School graduate has been training hard to prepare for the first competition of the season, set for Thursday evening against Baylor — watch a live stream of the Feb. 13 contest, starting at 7 p.m., at goducks.com.
Although she says college athletics are way beyond what she experienced in high school, Campbell is no stranger to high-level competition. As a standout athlete for HRVHS, Campbell's highlight reel includes being a two-time state champion pole-vaulter and a two-time All-American cheerleader.
"I tried out for the track team my freshman year, for pole vaulting, but it didn't really work out," said Campbell, a Parkdale native. "They invited me to try out my sophomore year but that didn't really work out either. So I wasn't doing any sports, which was really weird for me."
Campbell said she saw an open tryout for the Ducks' acrobatics and tumbling team, which had won three consecutive national titles. She quickly saw the sport as a unique fit for her strong background in gymnastics and cheerleading and has since settled into the role at the back-spot position.
"It's similar to cheer stunting in terms of positions," she explained. "There are four people in a stunt — two sides, a back and a flier. I always wanted to be a college athlete, and although this isn't what I originally had in mind, I'm thrilled to be a part of the team. It's an amazing experience."
The team competes in seven meets this season before a three-day Nationally Collegiate Acrobatics and Tumbling Association championship April 25-27 in Azusa, Calif. As three-time defending champions, the Ducks will have a target on their backs as the rest of the nation gets up to speed in the new sport that evolved out of competitive cheerleading.
NCATA meets consist of six events: compulsories, stunts, pyramids, baskets, tumbling and team routine. In compulsories, each team performs exactly the same skill set, with officials comparing each team based on a set standard; the stunt category consist of four athletes performing three, 45-second stunt sequences; the pyramid category gives each team one minute to perform three pyramid structures; basket involves three heats of tossing, each with different requirements; tumbling consists of six heats, each with different stipulations and the final routine event is a 2½-minute routine with up to 24 athletes.
Campbell gave a special thanks to her former coaches for their role in her athletic background.
"I'm so thankful for my high school track and cheer coaches," she said. "If I didn't have them in my life I wouldn't be where I am today. I'm very thankful for all of them."
As a sophomore, Campbell is undecided in her degree of choice.
"I'm still trying to figure out what I'm going to do, but I'm leaning toward sociology," she said.