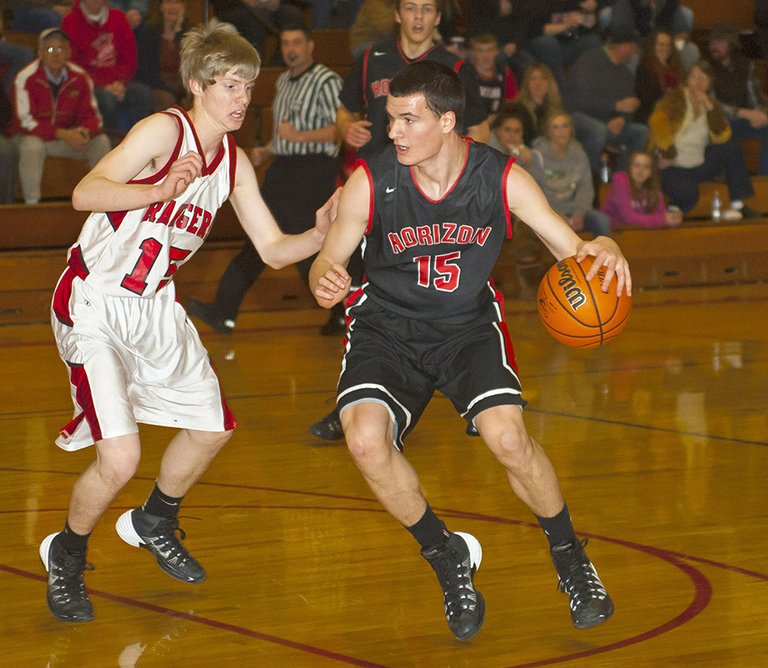 Wednesday, February 12, 2014
Matt Totaro has enjoyed a successful high school basketball career, which he's hoping to culminate by helping his team win a 1A state title next month in Baker City. And for the Horizon Christian School senior, things won't slow down when this season is over.
Last month Totaro signed a letter of intent to play, under scholarship, for the NCAA Division III Linfield Wildcats.
Totaro, a 6-foot-5, 195-pound senior wing, is the second basketball player from Horizon to earn a scholarship to a four-year college. Bobby Cofrances, a 2008 Horizon graduate, was the first; he earned a scholarship to William Jessup University, an NAIA school in Rocklin, California (2008-2012). Jake Wells, a 2013 Horizon grad, earned a scholarship to play for Blue Mountain Community College in Pendleton.
"I definitely wanted to continue my basketball career at Linfield and I'm really looking forward to attending school there for the next four years," said Totaro, who leads the No. 1-ranked Hawks in scoring (19 points per game average) and rebounding (11 rebounds per game). "My dad (Hawks assistant coach Mike Totaro) and I decided that it would be best to make my college choice now, so that I can just focus on playing my best basketball at the state tournament in March."
Totaro visited Linfield last summer on a recruiting trip. First-year head coach Shanan Rosenberg gave him a tour of the campus and the two stayed in touch. Rosenberg attended a Horizon road game in December at Dayton High School and then Matt later attended a Linfield men's basketball practice. The two gradually developed a good relationship, which was a key factor in Rosenberg's decision to offer Matt a scholarship.
"He (Rosenberg) is a really nice guy, I like how he coaches and I love the successful sports tradition at Linfield," said Totaro. "Linfield won the baseball national championship last year. Everyone that I've talked to that has been there says that it's just a great school; I'm pretty excited about going there."
Totaro was a Big Sky Conference First Team player last year as well as a Class 1A First Team All-State recipient for his role in leading the Hawks to the 1A second place finish.