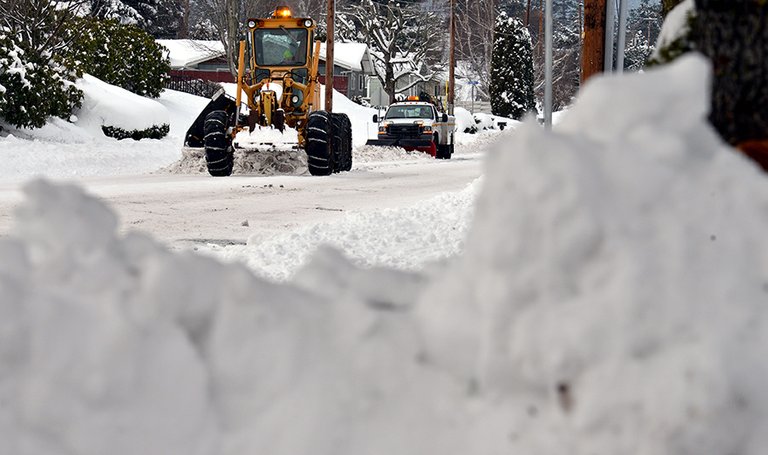 Wednesday, February 12, 2014
First the snowfall, now the melt.
Life with a foot or more of snow on the ground began to return to normal Tuesday after Mother Nature's five-day wintry tantrum resulted in school closures, business interruptions, and general mobility challenges in the Gorge.
Parkdale reported 21 inches on the ground Monday, the second-highest urban accumulation in the state.
Hood River County School District resumed classes on normal schedule, after closures Friday and Monday.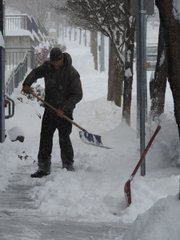 Hood River City public works went to work at midnight Tuesday to clear the piles of snow from Oak Street and portions of connecting downtown streets.
Hood River County Public Works Director Mikel Diwan said his department has been busy clearing county roads all weekend, with employees starting at 4 in the morning on Saturday and Sunday.
"Things have been going pretty smoothly, but there's been a lot of work to do," Diwan said.
Postal officials have called on patrons to remove snow from their walkways, for on-foot carriers' sake, and to clear their drives and street fronts for motorized carriers. (See page A4 for details.)
An estimated three-fourths of county residents do not remove snow from their walks and drives — and if you don't do so, you won't get mail, according to Jeff Loeffler, deliveries supervisor for the Hood River Post Office.
Hood River County Sheriff Matt English said things were relatively quiet over the weekend despite the weather. The department's call log only shows two motor vehicle accidents over the weekend: one on Wells Drive and one at the intersection of Highway 35 and Ehrck Hill Drive — both non-injury.
Oregon State Police Lieutenant Patrick Shortt, who is stationed at The Dalles Area Command, said there had been 39 reportable crashes that occurred on Interstate 84 from last Monday until this past Sunday, with the bulk of the accidents occurring during the snowstorm. Shortt guessed, though, that they actual number of incidents was "probably double that."
The snowstorm has indefinitely delayed the start of the next turn in the ongoing State Street Urban Renewal Project, as well as the water main installation project on the Heights.
Slushy areas on streets and sidewalks alternated with bare pavement that was not always as safe as it appeared. Hood River County Administration Building received calls from pedestrians who nearly slipped on the shoveled walkway in front of the State Street building. A thin sheet of ice made waking hazardous.
The city joined forces with Oregon Department of Transportation to scoop, load and remove the snow. They placed it in a growing pile at Lot 1, on the Port property on the Hood River waterfront. This will restore parking places and improve the flow of traffic downtown, as well as expose catch basins that have been covered with snow for five days.
"That's the biggest concern we have, clearing the catch basins," City Public Works Director Mark Lago said. As temperatures warm and rain replaces snow, melting will increase, and all that melt-off must travel to the catch basins. Lago said city workers will be focusing Tuesday on the catch basins, and he encouraged citizens to do what they can to clear drains in front of their homes and businesses.
This is the first time since 2008 that the city has called in ODOT to help with snow removal. Lago said it's a reflection of the cooperation among the city, county, port and state when weather events occur.
Lago said city crews have been on 12-hour shifts since Thursday to keep up with the plowing and sanding.
"We should be okay; we budgeted for it, and we started preparing for this around Halloween, making sure the equipment was ready." The workers, as well as the equipment, have been holding up well, he said. However, the weight of the snow has increased, making moving it more of a challenge for the city plows.
"It was fluffy to start with, but now it's a lot heavier, 'mashed potatoes' we call it, and most of the truck-borne plows just bounce off it," Lago said. So graders are employed, but the drawback is that they are less maneuverable, able to operate only in "longer stretches" and not on side streets as well as the plows can do.
The snow and ice have also caused service interruptions for Hood River Garbage customers. Miki Gaither, a customer service representative for the disposal service, reported the company is "getting to whoever we can safely" for garbage pickup and that their drivers are "using their best judgment" as to what streets are accessible. Gaither also said HRG will not be picking up any recycling for the rest of the week as drivers work to get garbage cleared from the curbs as streets become more passable each day.
Gaither said customers whose trash was not picked up will have it picked up on their next service day, extra bags and all. She added that "anyone who is able to bring in their recycling safely" to the transfer station on Guignard Road in Hood River can do so at no charge. For more information, call 541-386-4676.
Diwan reported Tuesday morning that crews had begun widening the roadways the previous day in an effort to push back encroaching snow banks.
"Unfortunately, some people who shoveled out their driveways might see some snow back in them," Diwan said. "Hopefully, they're understanding."
Diwan added that public works is currently keeping an eye on the weather to prepare for any additional storms and is particularly on the lookout for freezing rain that has been in the forecast.
On Friday morning, the National Weather Service gave Parkdale the dubious distinction of having received the most snowfall anywhere in the state — 14 inches, to be exact — since the snow began Thursday. As of Monday morning, the last time the totals were updated, Parkdale had received 21 inches of snow, but the Willamette Pass had reached 22 inches for the highest total in the state. NWS measurements show a foot of snow fell in Hood River, while 8 inches fell in Cascade Locks.