Wednesday, February 12, 2014
The Oregon Department of Transportation is set to begin a $1 million repair project next month to fix cracks that were found in the Interstate 84 overpass near the Mosier exit last year.
Work will run from late March until late May or early June, according to Zach Beget, a structural design engineer with ODOT, and will result in the reduction of I-84 traffic to one lane in each direction at certain times during construction. Traffic on the overpass and Highway 30, which runs right through downtown Mosier, will be reduced to one lane with flaggers, but ODOT reports motorists should only expect "short" delays.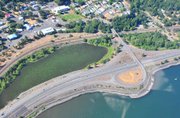 According to ODOT documents, a crack was found during a routine bridge inspection in May 2013. The crack is in a girder of the north span of the overpass, which carries the west end of First Street to the westbound onramp of I-84.
Beget said a total of two cracks were found that were caused by "poor splice rebar detail" as well as "other cracks due to different issues such as overload or not enough shear reinforcement, which is very common for a bridge of this type and age."
When the first three spans of the four-span overpass were built in 1950, engineers used rebar to reinforce the concrete. Beget said by today's standards, the engineers did not allow for enough overlap when they spliced each section of rebar, which has put stress on the concrete and contributed to the overpass cracking.
One of the more concerning cracks is 0.03 inches in size, which Beget described as "not huge," but was notable in that it showed vertical displacement.
"Usually when a crack happens on a bridge you could run your finger along the bottom of the girder and not be able to tell there is a crack," he explained. "With this one you would feel it."
The discovery of the cracks caused ODOT to place load restrictions on the overpass which limit box trucks to 22 tons, semi-trailers to 34 tons, and truck-trailers or double-trailer rigs to 40 tons. As a safety measure, ODOT also inserted temporary support beams under the cracks as well as under the overpass' cross beams in August 2013.
ODOT says that "although the problems are serious, the bridge is currently safe to use." The state's transportation agency also refers to the overpass repair as a "high priority" in a document describing the project's scope.
"Because the load restrictions will impact local orchardists and rock haulers in the area, strengthening of the bridge was put on an accelerated schedule with plans to have the work completed by late spring 2014," the document reads.
Repairs will include sealing all cracks greater than 0.015 inches, upgrading the bridge rail to current safety standards, strengthening structurally deficient cross beams with steel rods, and strengthening girders by inserting titanium bars along their lengths to increase loading capacity.
Beget said the use of titanium for this kind of project was relatively new, calling it "one of the first, if not the first bridge in the country to use this material, in this way, to fix this type of deficiency." He added that Dr. Chris Higgins, professor at Oregon State University's School of Civil and Construction Engineering in the College of Engineering, worked with Paul Strauser, geotechnical engineer at ODOT, to research and help implement the use of titanium in the repair project.
An ODOT-hosted open house on the project was originally scheduled to be held Feb. 6 from 4-6 p.m. at the Mosier Senior Center, but was canceled due to inclement weather. Beget said the event had been "tentatively rescheduled" to Thursday, Feb. 27, but the date had not yet been confirmed.