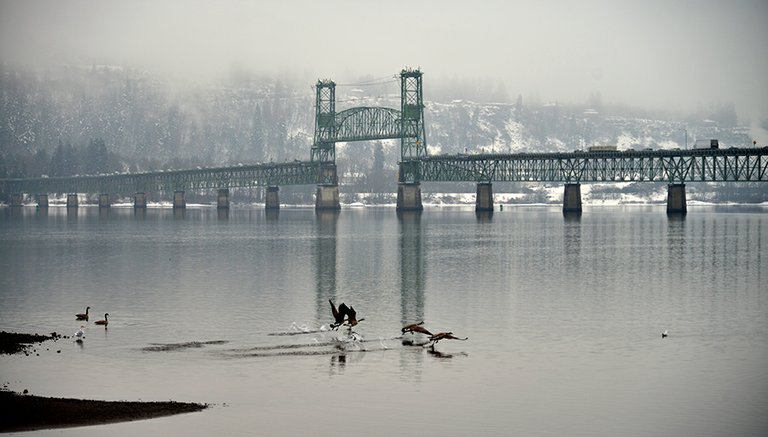 Saturday, February 15, 2014
That Hood River Bridge's lift span appears to be in good condition following a routine mechanical and electrical inspection on Tuesday by engineers contracted by the Port of Hood River.
Michael McElwee, the port's executive director, said the 246-foot-long lift span "checked out pretty well" during the inspection, which included one full lift and two partial lifts of the span. The cables and the machinery used to lift the bridge deck were replaced in 2000, according to McElwee, and seem to be holding up well.
Engineers and Port Commissioner John Davies got to ride on the bridge deck during the lifts, which McElwee said takes around 15 minutes to complete. He reported the whole process went "surprisingly well."
The lift span allows for particularly tall ships to pass through the Columbia River's navigation channel which lies underneath the mid-section of the 4,418-foot-long bridge. When lowered, the lift span offers 67 feet of vertical clearance — depending on the water level — and a maximum of 148 feet when raised.
McElwee said the span is only lifted about 12-14 times a year, but ensuring the machinery that is used to lift the span remains in good working order is still key. McElwee added that the port inspects this feature of the bridge about once every five years.