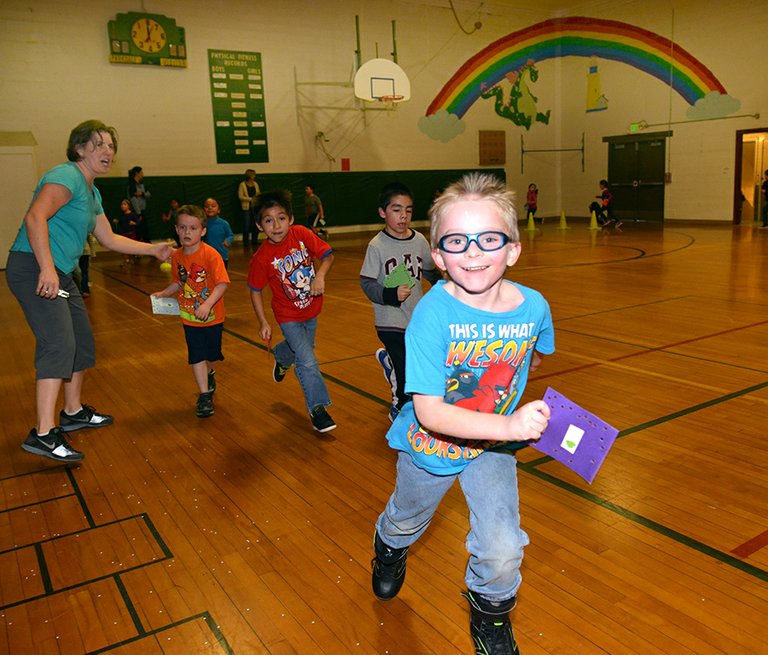 Saturday, February 15, 2014
Parkdale Elementary School students worked up a sweat this week during their annual Healthy Heart Jog-A-Thon fundraiser. Under the watchful eye of the school's iconic Pete's Dragon painting (extra credit to those who can remember the dragon's name), students took turns running laps around the gymnasium and, with the help of teachers and parent volunteers, getting punch-cards as Swiss-cheesy as possible during their allotted time.
The fundraiser raises money for PTO-sponsored projects such as new playground equipment and educational assemblies utilizing the national Box Tops for Education program. Rather than collecting cash, students collected the small Box Tops for Education cutouts located on more than 250 consumer products. Those tops can then be redeemed for cash (10 cents each) and used as schools see fit.
Although the fundraiser is over, community members are asked to keep their eye out for the Box Tops logo on products they purchase. They can be collected and donated to the school (or other schools around the county) throughout the year.
In other Parkdale news, although only very loosely sports-related, the annual Parkdale School Carnival will take place the evening of March 14. Games and prizes galore are the theme for this long running fundraiser and community event. Volunteers are currently being sought to help with setup, takedown and staffing of game booths. For more info or to volunteer, contact Alison Betzing at 541-370-5644. Raffle tickets for the carnival went on sale starting this Friday and are $1 each, sold by Parkdale PTO members and students.