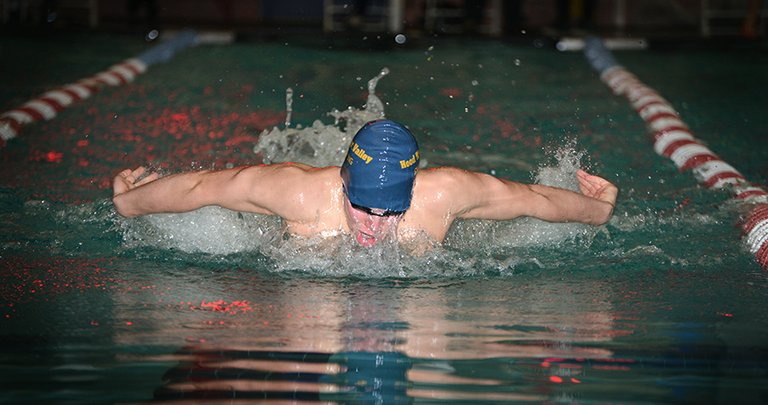 Wednesday, February 19, 2014
Hood River Valley High School swimming will send eight team members to compete in this OSAA 5A boys and girls swimming state championships this weekend at Mt. Hood Community College. The Eagles hosted Hermiston, Pendleton and The Dalles-Wahtonka Saturday at the Hood River Aquatic Center for the Columbia River Conference championships, out of which HRV claimed titles in two relays and nine individual events to qualify four girls and four boys for the state meet. Additionally, HRV set six district records on the way to second-place team finishes for both boys and girls teams.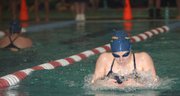 CRC combined team scores:
1st – Pendleton
2nd – HRV
3rd – The Dalles
4th – Hermiston
"I don't know that I could have been happier with our team this weekend and the effort that they put forth," coach Keith Ebbert said Monday.
Highlighting the full day of prelims and final heats were swimmers Danielle Miller, Kylie Webb, Dhani Freeland, David Walker and Carlos Galvez, who were hot off the starting blocks and claimed individual district titles. For the girls, the 200 medley and 400 freestyle relay teams (Miller, Webb, Freeland and Caitlyn Fick) also took first, while the boys 200 medley team (Walker, Galvez, Daniel Mears and Trey Schilling) finished second but qualified for state as a wildcard entry.
"Ultimately, the girls only missed the district title by 4.5 points, and we had a team less than half the size of our competitors," Ebbert noted. "It really comes down to relays because they award double the points of individual events. Our team was small enough that it was impossible to compete in all six relays … Overall I think almost everyone was able to swim their best times at districts, which is what we always want to see. In swimming we train all season for one or two opportunities, the first being districts and the second state. When the rubber hit the road, everyone performed very well."
Clearly swimming at their best were Freeland, Webb and Miller, who each claimed two individual titles and swam legs of both winning relay teams. Webb won the 200 IM and 100 breaststroke events, Freeland won the 100 and 200 freestyle events and Miller won the 100 butterfly and 100 backstroke. Both relay wins were new district records, as were both of Freeland's freestyle wins and Webb's 200 IM win, which was nearly 30 seconds ahead of runner-up Allie Wood of The Dalles.
For the boys, David Walker led the charge with district titles in the 200 IM and the 100 backstroke, setting a new district record in the latter and beating his closest 200 IM competitors by more than 30 seconds. Carlos Galvez also graced the top of the podium by winning the torturous 500 freestyle event, clocking a final heat time of 5:41.04 — nearly 20 seconds faster than the closest competition.
"In a similar manner, our boys all competed at their very best, with every swimmer having a best time at the meet," Ebbert said. "This is just an indicator that all the hard work and training has paid off. It's always a big confidence boost to have the kids swimming at their best."
This year's state meet runs Feb. 21-22 at MHCC's Gresham campus. A live video stream of the event will be available (to subscribers) at NFHSnetwork.com.
Last season both HRV boys and girls teams claimed district titles and qualified more than a dozen for the state meet. Connor Webb, now a freshman swimming for Seattle University, finished second in the 200 IM and third in the 100 breaststroke, while the girls 200 medley relay team of Webb, Freeland, Miller and Rebekah Galvez finished fourth overall.
Girls highlights (*indicates new district record):
Team results: 1st – Pendleton (105), 2nd – Hood River (100.5), 3rd – The Dalles (80), 4th – Hermiston (21)
*200 medley relay: 1st, Danielle Miller, Kylie Webb, Dhani Freeland, Caitlyn Fick; 1:57.12
*200 freestyle: Dhani Freeland, 1st, 1:58.19
*200 IM: Kylie Webb, 1st, 2:15:70
*100 freestyle: Dhani Freeland, 1st, 54.78
100 butterfly: Danielle Miller, 1st, 1:06.43
50 freestyle: Caitlyn Fick, 2nd, 27.09
500 freestyle: Emily Burns, 2nd, 6:25.44
100 breaststroke: Kylie Webb, 1st, 1:11.59
100 backstroke: Danielle Miller, 1st, 1:04.08
*400 freestyle relay: 1st, Caitlyn Fick, Danielle Miller, Kylie Webb, Dhani Freeland, 3:52.80
Boys highlghts (*indicates new district record):
Team results: 1st – Pendleton (122), 2nd – Hood River (79), 3rd – The Dalles (51), 4th – Hermiston (33)
200 medley relay: 2nd; David Walker, Daniel Mears, Carlos Galvez, Trey Schilling; 1:49.09
200 IM: David Walker, 1st, 2:16.38
200 freestyle: Daniel mears, 3rd, 2:05.95
50 freestyle: Trey Schilling, 2nd, 23.91
100 butterfly: Carlos Galvez, 2nd, 59.57
100 freestyle: Sam Raulston, 5th, 1:00.06
500 freestyle: Carlos Galvez, 1st, 5:33.29
100 breaststroke: Daniel Mears, 4th, 1:15.18
*100 backstroke: David Walker, 1st, 58.05
400 freestyle relay: 2nd, Daniel Mears, Carlos Galvez, Trey Schilling, David Walker, 3:46.72