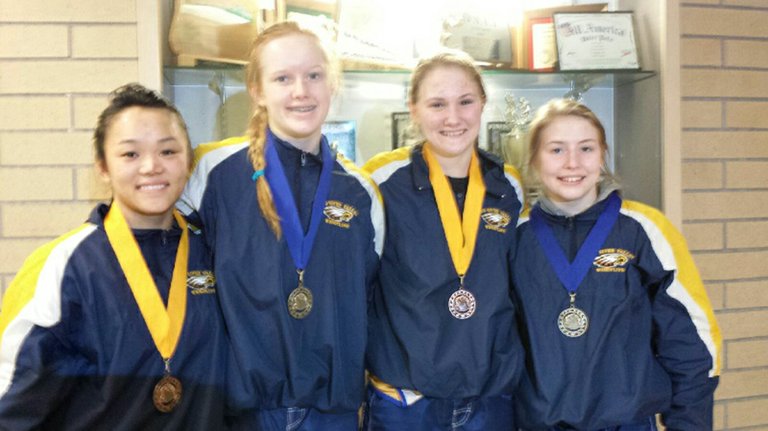 Wednesday, February 19, 2014
Jessica DeHart, Peyton Rigert, Joanna Endow and Jenna Powell competed Sunday in the OSAA girls high school state wrestling qualifier tournament at Parkrose High School, and with fourth place or higher finishers, all will represent Hood River Valley High School wrestling at the Memorial Coliseum in two weeks as part of the upcoming OSAA state wrestling championships.
DeHart and Rigert claimed first place on Sunday with three wins and no losses and will likely enter the state two-round tournament with top seeds, while Powell and Endow, both first-year wrestlers, finished in fourth with two wins and two losses.

Although still a sliver of California and Washington girls-specific wrestling programs — both of which have several thousand participants, full seasons and state championships — the fact that HRV's four girls got multiple matches each at the qualifier is a good sign.
"This was a legit tournament with some really tough girls," coach Trent Kroll said. "They didn't just bye their way to the finals. And this year they announced there would be a team trophy. I'm pretty darn competitive, so when I saw that trophy, I went "hmmm … I want that." We ended up second behind Elmira; they looked pretty good. We'll get it next year."
With nine girls to HRV's four, Elmira had a big scoring advantage from the get-go; they finished with 93 team points compared to HRV's 68.5. With most of the 28 schools represented from across the state entering only one or two wrestlers, team scores behind the top few dropped quickly.
The girls will travel with HRVHS boys state qualifiers to the Feb. 28 to March 1 OSAA State Championships at the Memorial Coliseum. Girls' matches will be run on the arena among the boys, with a semifinal round Feb. 28 and the finals March 1. For Endow and Powell, the nerve-wracking experience of wrestling in front of thousands of spectators will be their first, while DeHart and Rigert have done it before. Rigert, a sophomore, finished second at the event last year, while DeHart, a junior, will be going for her third straight state title.
DeHart, who is 18-12 against boys this season, would have to choose between boys or girls state in the event that she qualifies with a third place or better result at this Friday and Saturday's 5A Special District II district tournament at Marshall High School.
Qualifier highlights
Jessica DeHart, 108 pounds: 1st, 3-0, win by fall, win by techfall, win by fall
Peyton Rigert, 140 pounds: 1st, 3-0, win by fall, win by fall, win by fall
Joanna Endow, 122 pounds: 4th, 1-2, loss by fall, bye, win by fall, loss 15-14
Jenna Powell, 134 pounds: 4th, 2-2, bye, win by fall, loss by fall, win by fall, loss by fall