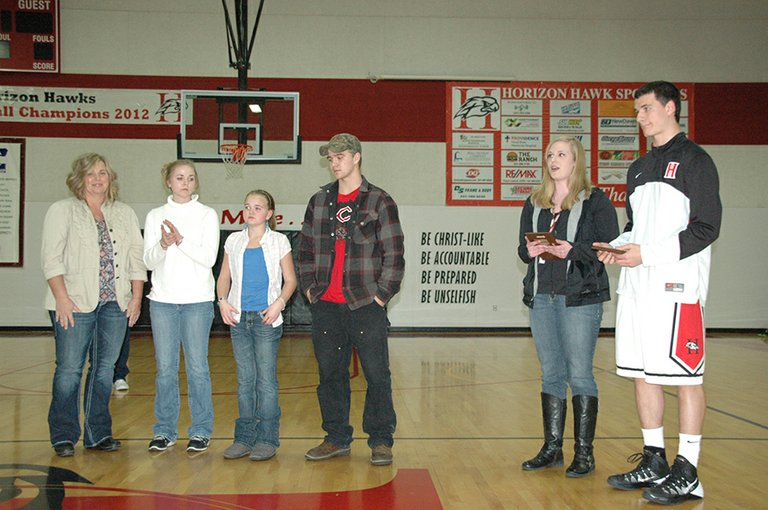 Wednesday, February 19, 2014
Horizon Christian School athletes Katie Tolbert and Matt Totaro are the first recipients of the Rick Aldrich Coaches Award.
Rick Aldrich was a coach at Horizon and supporter of the school who died in 2012, leaving his wife, Tasha, and children M'Randa, Ryan and McKenna.
Tolbert, a 2013 graduate, and Totaro, class of 2014, received the awards Friday prior to the Senior Night game against Sherman County at Horizon's Mark Boyden Gymnasium.
Aldrich joined the Horizon coaching staff in 2009 as the junior high boys basketball coach. In October of 2012 he died in a work accident.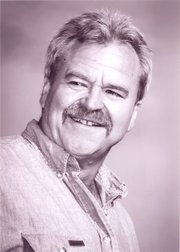 Athletic Director Oscar Stenberg said the award was created "to honor Rick Aldrich and to continue to promote the character qualities he stood for."
Each year the Aldrich award will be presented to a male and female basketball player who best represent the qualities that were so important to Rick, Stenberg said.
"During his time as a coach Rick passed on to his players much more than basketball," Stenberg said. "He knew that there were other important lessons that could be learned through the sport. Things like integrity, work ethic, unselfishness, dependability, self-discipline, positive attitude, and being engaged in the ever ongoing process of becoming like Christ."
When it came time for Stenberg to introduce Tonya and her children, the gym grew silent as Stenberg voice choked with emotion.
At that point, the Aldrich family came to center court to present the award to Totaro and Tolbert.
"We are so honored for Horizon to acknowledge my husband and the time he put in as a coach and what he brought to the group of kids he was able to coach," Tasha said. "We just thank them because it brings honor to him and to us, as a family."
M'Randa is a sophomore at Columbia Gorge Community College and McKenna is a Horizon fifth-grader.
"It is such an honor, I have such a high respect for the Aldrich family," said Tolbert, who is a freshman at Oregon State University
"Rick was such a great coach. He was a real role model and showed true sportsmanship and character. Even if you were the worst basketball player on the court he valued your character more than your skill. I'm just really honored it was me."
Tolbert said her mother had emailed her and asked if she was free this weekend, and when Tolbert asked why, she Stenberg had said, "we really need Katie to be at this time for a real important reason, but we can't tell you why."
"I'm very honored because I knew Rick for two or three years, and he was a great man, a great leader, and an awesome father," Totaro said. "To know I'm getting awarded for being like someone who has the same vision he did was pretty special," said Totaro, who plans to enroll at Linfield College this fall and play basketball for the Wildcats.
Tasha said the traits that stood out the most with Rick were his integrity and work ethic.
"It wasn't just about basketball, it was teaching them to push past themselves and their attitudes; to realize it's not just about themselves — it's about everybody else."
Tasha and Rick were married for 19 years. Tasha said he was "a dedicated, hard-working, loving husband.
"Our family always came first and he was always involved with the kids and their sports. Rick was able to coach all the kids, Kenna just one year in youth basketball, though. He sacrificed himself for others all the time. He led by example and loved with all of his heart. I will forever love and miss him, looking forward to one day seeing him in Glory!"
"They're all doing well," Tasha said of the children. "We've had to make a few adjustments, but we thank God for everything the Lord has provided, and He provided completely, absolutely everything we needed.
"And thanks to Horizon for even doing this. It shows the love of Christ when people do this, and what we do, why we're here."