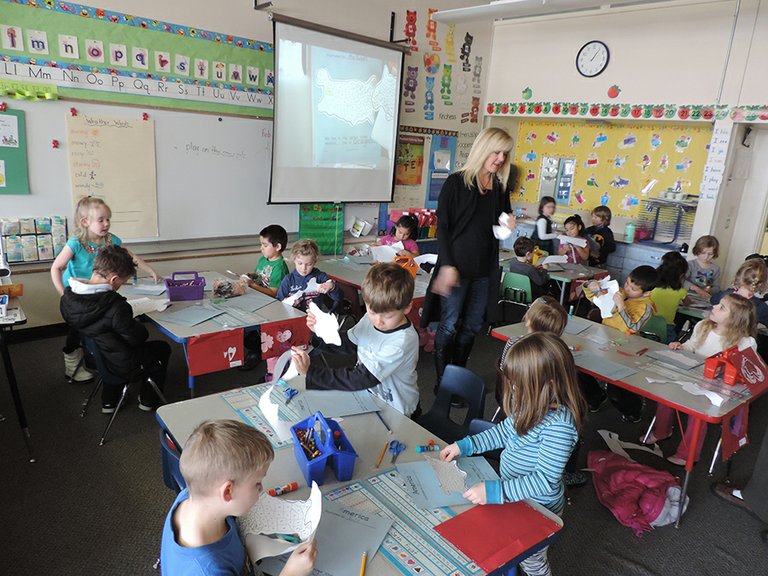 Wednesday, February 19, 2014
The cramp of class size is one thing.
The ache of absenteeism is another.
School boards continually contend with the issue of fitting too many kids into a typical classroom, but this week the Hood River County School District Board of Directors turned to the companion problem: what if large portions of those students are gone for many days of the year?
The focus follows the release of attendance statistics by the Oregon Department of Education, and a five-part series by The Oregonian newspaper that began this week, citing alarming rates of absenteeism in schools across Oregon, and the assertion that most school administrators appear unaware of the problem.
Attendance "is something we need to be having a conversation about," considering Oregon's overall status as the state with the worst average rate of absenteeism, said Supt. Dan Goldman to the board Wednesday in its meeting at Westside Elementary School.
Statewide in 2013, 24 percent of high schoolers missed 10 percent or more; among eighth-graders, 20 percent; among first-graders, 18 percent Schools in Hood River County School District range from 13 percent at Wy'east Middle School to 35 percent at Cascade Locks School and 38 percent at Hood River Valley High School.
"It's really bad considering how few instructional days we have," Goldman said.
As Betsy Hammond reports in part one of her five-part series: "Frequent absenteeism has devastating consequences. One Oregon study found that students who miss 10 percent of kindergarten lag, on average, almost a year behind in reading by third grade and are unlikely to ever catch up. Studies from multiple states show that chronically absent high school students are unlikely to graduate."
Goldman also briefed the board on HRVHS graduation statistics, stating that among districts of similar size and numbers of students on free and reduced lunches, HRVHS ranked near the top statistically in the percentage of graduation rates: 81 percent, behind McNary and Liberty at 84 and 83 percent, respectively. Tillamook came in at 80 percent, Estacada at 72 percent and The Dalles-Wahtonka at 63 percent.
"When you look at schools with the same demographics, we're doing pretty well," Goldman said.
Of those students who did not graduate in four years, 91 percent were below proficiency in reading in the fifth grade.
"Kids who aren't graduating aren't reading in the elementary school grades the way they need to," Goldman said.
He said the district literacy curriculum adoption, currently under way, will help address this.
Attendance, Kelly Beard said, "is not a problem with the children. It's a problem with the adults."
"How do you change the way people think?" asked Beard, who is May Street Elementary principal and before that principal at the former Pine Grove Elementary. "How do you change the mentality that it's okay to take your kids out of school for a few days every week, or to take three weeks to go to Baja, or a month to Mexico? How do you stop them from letting the child drive the decision about whether to go to school on a given day?"
Bill Newton, Westside principal, said the school responds if faced with a student who has number of absences — be they unexcused, excused, or tardies.
"If they get to a point of, say, 10 or more, we start by contacting the parents, to inform them we are concerned and we want to work with them on improving their child's attendance," Newton said.
He points to a technique used at some schools, as described in The Oregonian article, where the school creates charts on the school attendance rates by grade level so students and parents are aware of what attendance looked like and how the school was doing on a weekly and monthly basis.
"That's something we aren't doing, and it's something I want to kick around and have some conversations about what that would look like, because right now it's reactive: If we are having attendance issues, we're responding via letters and talking to parents, and making phone calls. It's becoming more overall informative on an ongoing basis so families can gauge how we're doing as a school."
He said the problem at Westside varies from students to student, class to class, and the reasons vary, "whether it's a child who gets sick frequently or has family taking leave to Mexico, and third, sometimes families will take an extended vacation at Christmas or Presidents Day weekend. All three of those add up over time."
The rate of kindergarten and first-grade absenteeism "is kind of a critical issue," he said. "In those grades when kids miss school they really fall behind in critical learning."
In HRCSD, 25 percent of first graders are considered chronic non-attenders, and Goldman has asked administrators to take a closer look at the numbers.
"Last year, the administration started looking into it," he said, studying attendance reports, student by student, for each classroom.
"We're looking at the attendance reports and tracking the students and making more of an effort than before," Goldman said.
In other business before the board last week:
n District Budget Committee seeks applicants. There are four openings on the HRCSD budget committee for residents who live in the following zones:
Zone 1 — three-year term through June 2016 (Cascade Locks/West Hood River)
Zone 2 — one-year term through June 2014 ("West West Hood River")
Zone 4 — one-year term through June 2014 (Odell)
Zone 5 — three-year term through June 2016 (Parkdale)
If you or someone you know is interested visit http://bit.ly/1fX3M3g. The deadline for applications is 5 p.m. Feb. 19.
n Bond rating: the district learned this week it has improved to an A Double Plus bond rating.
"It shows our community we are good stewards of their funds," Goldman said.
n Poverty calculations change: the District stands to lose $200,000 next year in State School Funding because of the Legislature's approval of a new formula for figuring how much each district gets for support for students who live in poverty. Goldman said that the district would lose another $30,000 in funding it receives via the Education Service District, because of the same recalculation.
"That's the bad news. The good news is that we learned today that the state will appropriate more funding this school year for K-12 funding than originally thought," Goldman said. The total is about another $36 million this year (ending June 30), which adds about $265,000 to this year's HRCSD budget, and $430,000 for the next biennium.
"So it's not so gloomy as we thought, and this is for us a really good day on the state school funding train," Goldman said. "But this is also a roller coaster. You're just chasing the numbers. I have to say this is an untenable way to be."
n Snow: Goldman reported that in the past week he has gained another 200 Twitter followers under the age of 18. "Quite a few of them pressed me pretty hard: 'no school today, no school today,'" Goldman said. He praised the work of the transportation department in getting kids to school "as well as they could."
n
On the topic of proposed changes to bus schedule and school start times, the board heard from Mid Valley Elementary teacher Megan Fileaut, who urged the board to do more to give the community the chance to weigh in on the subject. (The district announced last month it is looking into reducing the overall number of bus routes, and of staggering the starting times of schools, both as ways to reduce the number of buses it needs to serve students.) The district has a survey on its web site that Fileaut said should be offered in Spanish as well as English. In addition, the district should consider the demographics of the mid- and upper-valley population, and the reduced access to computers and the Internet, Fileaut said. "Access to this survey is an issue when the predominate way to (give input) is via the Internet," Fileaut said.
She also asked the district to consider "the plight of working parents" in considering any earlier starting times, given their work schedules and the added challenge of extra babysitting or day care.
"Families are struggling with leaving kids home alone. A lot of kids are showing up at the schools as early as 6:30 as it is," Fileaut said.