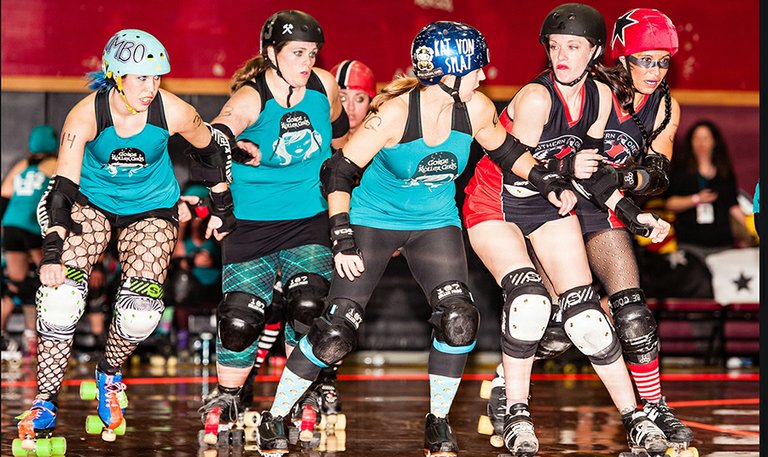 Saturday, February 22, 2014
The Gorge Roller Girls derby team, as the saying goes, left it all on the floor last Saturday night in a hard-fought 213-163 win against the Southern Oregon Roller Girls at The Dalles High School. The saying blood, sweat and tears also applies, in what turned out to be one of the most exciting and physical bouts of the burgeoning team's history.
The team's eight-game winter/spring season started last month with a warm-up intersquad bout between the Cherry Bombers and the River Reapers at Dufur High School. A GRG all-star team made up of the best skaters from both teams competes next on March 15, 6 p.m. against the Rose City Rollers "fresh meat" team, again at The Dalles High School.
Bout MVP honors last weekend went to Wreckless, while best blocker went to Lady 180 and the best jammer award went to ZZ Topless.
Following the March 15 bout, the team travels to Wenachee to take on the Apple City Roller Girls on April 5, then to Goldendale April 26 for another intersquad bout between the Cherry Bombers and the River Reapers. They then return to Hood River for a high-impact bout May 10 vs. the Storm City Roller Girls out of Clark County, followed by another road bout in Salem versus the Cherry City Derby Girls on March 31 and wrap up the season with a final home bout June 14 at HRVHS against the Tri Cities-area Atomic Roller Girls.
n The Gorge Roller Girls practice up to four times a week and are involved in a variety of extracurricular and community-related activities, including a new Save Our Schools partnership. Ladies interested in joining the action can attend the next new-skater intake session scheduled for March 23.
For more details, contact gorgerollergirlsjoin@gmail.com or visit www.gorgerollergirls.org.