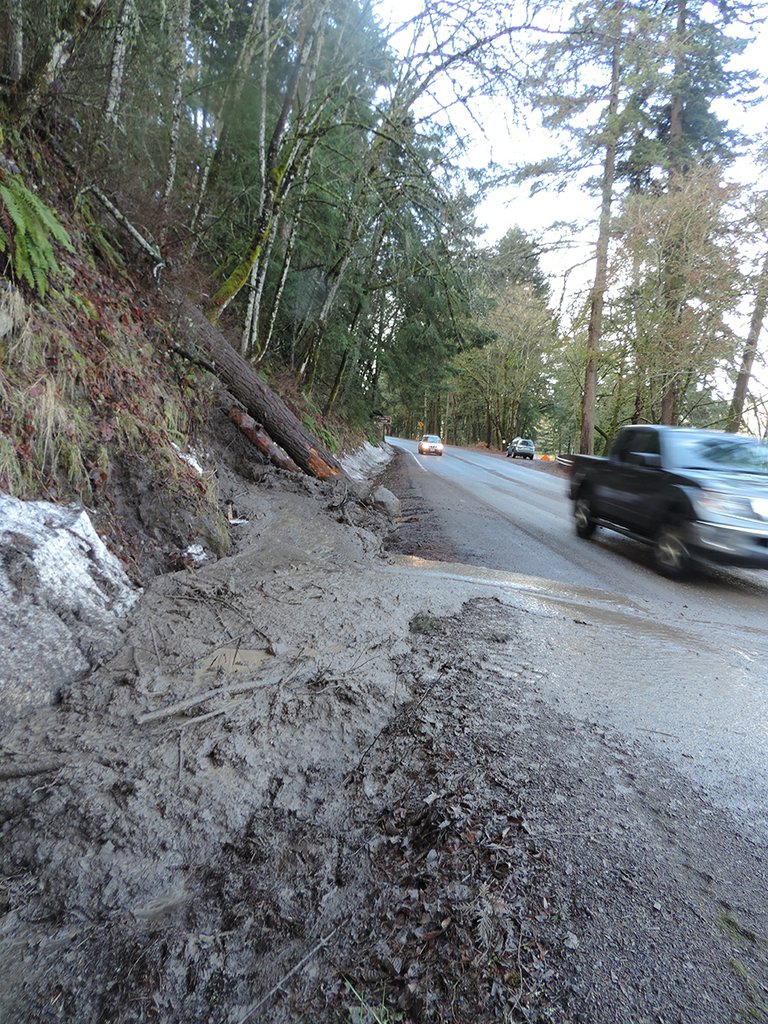 Saturday, February 22, 2014
Another weather-related landslide occurred Tuesday evening outside of Hood River, this time on the Dee Highway, capping off a series of geologic events in the Columbia River Gorge that closed roads and snarled traffic for days.
Don Hamilton, spokesperson for the Oregon Department of Transportation, reported that a landslide occurred just after 5 p.m. Tuesday near milepost 5 on the Dee Highway, also known as Highway 281. Approximately 100 cubic yards of sediment, brush and other debris came down in the slide — including a couple trees, according to Hamilton —which resulted in the closure of both lanes of Highway 281 by ODOT.
Hamilton said he was not aware of any vehicles involved in the landslide and noted that it "wasn't very big," especially compared to a landslide that occurred about a mile west of Hood River on Interstate 84, which dropped more than 3,000 cubic yards of rock and other debris that required several days to clean up.
Southbound traffic was diverted onto the Odell Highway (Highway 282) just south of Tucker Bridge, while northbound traffic was turned around at Tucker Park near where the landslide occurred. ODOT used backhoes and dump trucks to cart the debris away and re-opened the highway just before 6:30 p.m. Hood River County Sheriff's Office also responded to the incident.
Mud continued to ooze down the hill and over the highway during a rainy afternoon Wednesday, which prompted ODOT to return to the scene for more clean-up. The northbound lane of Highway 281 was closed from approximately 2:20 to 2:45 Wednesday afternoon for clean-up, according to ODOT reports.
Melting snow, rain, and the freeze/thaw cycle have all had a hand in loosening up rock faces in the Gorge and triggering the barrage of landslides seen on both sides of the Columbia River in the past week or so. Hamilton believed the weather was also most likely responsible for Tuesday's landslide on the Dee Highway.
"As you know, we get landslides when we cut roads into steep terrain," he said, "and with the rain, the snow, the wind — all are recipes for landslides."