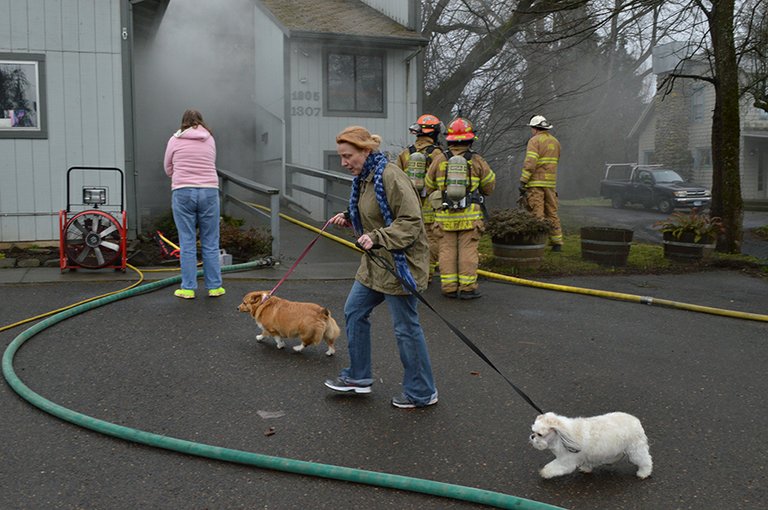 Wednesday, February 26, 2014
A fire that burned a studio apartment on the Heights and shut down part of 13th and Taylor streets for nearly two hours Monday afternoon can be blamed on a pot of unattended clam chowder.
Occupants of the building located at the corner of 13th and Taylor streets, which contains two apartments, Dirty Paws Grooming, as well as Photo Reflections/Positive Negatives, had to evacuate Monday after black smoke began pouring from a studio apartment located on the bottom floor.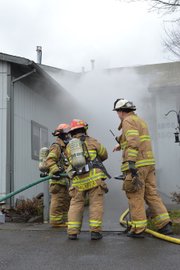 Hood River Fire Chief Devon Wells said that a resident of the bottom floor apartment, Dan Nance, had fallen asleep after leaving some clam chowder to heat up on his gas stove. Wells said Nance woke up to either his smoke or carbon monoxide alarm going off and saw that his range was on fire.
Directly above the apartment at Dirty Paws Grooming, owner Colleen Mason was tending to one of her client's animals when she smelled and then saw the smoke rapidly filling her business.
"It overtook pretty quick," she said.
Mason said Nance ran upstairs and told her to call 911. Mason called 911 and handed Nance a fire extinguisher. She then ran outside to assess the situation, and quickly ran back inside to grab her purse, her client's dog, and then her own dog — a Welsh Corgi named Charlotte — before hurrying back outside to safety. Mason said the fire had gotten too large for Nance to put out with a fire extinguisher, who joined the others outside.
Wells said Hood River Fire received the call at 1:38 p.m. and responded to the scene within two minutes along with Wy'East and West Side fire. Firefighters were able to quickly determine the source thanks to Nance's information and snaked a hose into the bottom-level apartment, dousing the kitchen with water. Hood River Police Department and Hood River Public Works blocked off 13th Street from May to Taylor streets and blocked off Taylor from 13th to 18th streets to prevent people from coming near the scene. Pacific Power also arrived on scene to shut off power to the residences.
Wells reported that the damage to apartment was "pretty substantial" and the kitchen "was all burned up." However, he added that the leaser of the apartment, Laura Buttram, Nance's fiancée, thankfully had renter's insurance. According to Hood River County tax parcel maps, the building is owned by Michael Maurer.
The upstairs apartment, Dirty Paws Grooming, and Photo Reflections/Positive Negatives all received minor smoke damage that would simply require some cleaning, according to Wells. Gordon Leigh, who owns the photo business, removed his computers as a precaution during the fire, but noted the damage to his business was "pretty minimal."
Wells said kitchen fires are some of the most common calls responded to by Hood River Fire and advised citizens to "never fall asleep when you have something on the stove."