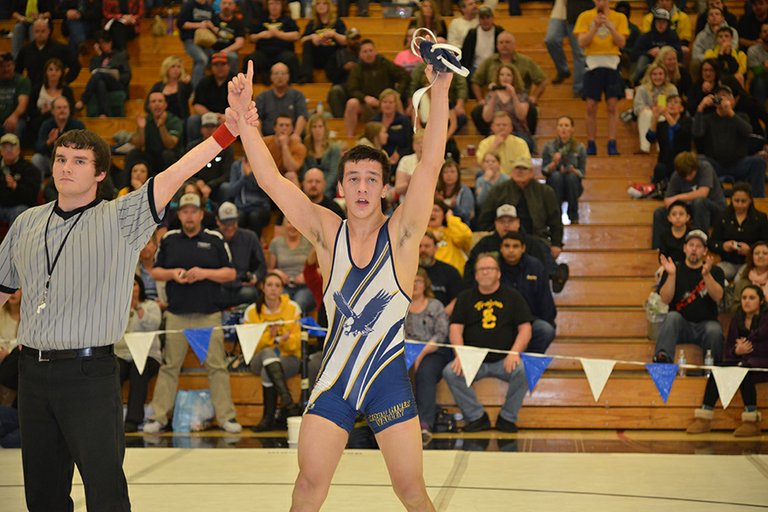 Wednesday, February 26, 2014
Photo Gallery
2014 District Wrestling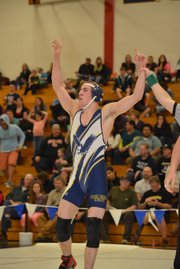 Images from the 2014 District Wrestling tournament
Hood River Valley Eagles' 152-pounder Andrew DeHart stepped on to the mat Saturday night and cast a razor's-edge glare at his opponent, Franklin High's Navene Binder. As a senior, this was DeHart's last chance to accomplish a thus-far elusive goal of claiming a district title, so finishing runner-up like last year just wasn't an option.
District results
106, Jessica DeHart: 3rd, 3-1 (bye, 16-2 win, 13-2 loss, win by fall, 4-2 OT)
113, Jason Flores: 2-2 (win by fall, loss by fall, win by fall, 8-7 loss)
113, Erik Cuevas: 1-2 (bye, loss by fall, 12-3 win, 11-4 loss)
120, Dylan Peterson: 6th, 3-3 (win by fall, loss by fall, win by fall, 17-0 win, 10-0 loss, 15-10 loss)
120, Luis Chaparro: 2-2 (loss by fall, win by fall, win by fall, loss by fall)
126, Christian Marquez: 1st, 4-0 (win by fall, win by fall, win by fall, 11-8 win)
126, Junior Manzo: 2-2 (15-4 win, 23-6 loss, win by injury default, loss by fall)
132, Texx Spezia-Schwiff: 1-2 (17-0 win, 9-0 loss, 11-4 loss)
132, Charlie Mallon: 4th, 4-2 (win by fall, 6-2 loss, win by forfeit, win by fall, 5-1 win, loss by fall)
138, Junior Rojas: 5th, 3-2 (win by fall, win by fall, 10-2 loss, loss by fall, win by fall)
138, Mario Medina: 0-2 (loss by fall, bye, loss by fall
145, Chas Peterson: 3rd, 4-1 (win by fall, 18-2 win, 13-5 loss, 17-2 win, win by fall)
145, Jorge Orgega: 1-2 (10-5 loss, 19-8 win, 13-2 loss)
152, Jeremy Fischer: 5th, 4-2 (17-4 win, loss by fall, win by fall, win by fall, loss by fall, win by fall)
152, Andrew DeHart: 1st, 4-0 (win by forfeit, win by fall, win by fall, win by fall)
160, Ian Rand: 5th, 4-2 (15-5 loss, win by fall, win by fall, win by fall, 6-3 loss, win by fall)
160, Kyle Weseman: 4th, 4-2 (9-5 win, 10-7 loss OT, win by fall, win by fall, 13-3 win, 5-3 loss)
170, Alex Buschauer: 0-2 (bye, loss by fall, loss by fall)
170, Mark Reyes: 2-2 (win by fall, loss by fall, win by fall, 2-0 loss)
182, Steven Swafford: 2nd, 3-1 (win by forfeit, 7-2 win, 7-1 win, 14-7 loss)
195, Yorick Infante: 1-2 (loss by fall, 9-5 win, loss by fall)
195, Max Lane: 4th, 2-2 (bye, win by fall, loss by fall, win by fall, 4-1 loss)
220, Jeremy Breedlove: 3rd, 4-1 (2-1 win OT, win by fall, 2-1 loss, win by fall, 5-4 win)
220, Sebastian Barajas: 1-2 (loss by fall, win by fall, 4-3 loss)
285, Justin Wilson: 1-2 (loss by fall, bye, win by fall, loss by fall)
285, Juan Ayala: 0-2 (loss by fall, loss by fall)
Team scores: Hermiston, 417; Hood River, 286; Pendleton, 242; Cleveland, 171; Jefferson, 139; Roosevelt, 119.5; Wilson, 109.5; The Dalles, 88; Franklin, 64; Benson, 53; Madison, 13
The two squared off, the referee cued the music, and two minutes, 13 seconds later DeHart sprung to his feet, clenching his fists to contain the excitement and grimacing to hold back tears of joy. A good portion of Marshall High School's packed gymnasium was on its feet, cheering for DeHart as he hugged coaches Trent Kroll and Scott DeHart — his father — and exited the mat a champion.
"I was just overjoyed with excitement," DeHart said after catching his breath. "It has been a lifelong goal of mine to be a district champion, and this was my last chance to get it done. I have worked so hard all year for this moment; it's hard to describe how it feels. It's amazing."
Accompanying DeHart atop the podium at the weekend's 5A Special District II tournament was junior Christian Marquez, who breezed into the finals with three straight pins before winning a thriller of a grudge match against 2012 state champion and 2013 state runner-up Austin Wallace-Lister of Wilson High. Marquez fell behind 2-6 in the first period before making a nine-point run, including three points in the final seconds, to finish with an 11-8 win. With two of the state's top 126-pounders going toe-to-toe for a title, the match grew increasingly tense as time ticked away.
"I had to stay calm and not get frustrated," Marquez said. "That's when I start making mistakes. I took a couple deep breaths and calmed down. That really helped."
At the conclusion of the tournament, Marquez was one of two to receive the district Most Outstanding Wrestler award, which he shared with Hermiston's Sam Colbray.

Also representing HRV in the district finals was Steven Swafford, who advanced through the 182-pound bracket with a forfeit, a 7-2 win and a 7-1 win to face Jefferson's Haszell West for the title. Swafford hung tough against the state's 5A No. 1-ranked wrestler to finish with a 17-7 loss for second place.
In all, 13 of 26 HRV wrestlers placed in the top six, and nine finished in the top four to qualify for this weekend's state tournament. Team scores at the tournament — a combined district between Columbia River Conference and Portland Interscholastic League schools — were dominated by Hermiston, which finished with 417 points. HRV was second with 286, followed by Pendleton, Cleveland and Jefferson in the top five. The Dalles-Wahtonka was eighth out of the 11 schools with 88 points.

For those who qualified, the season continues with training and weight maintenance this week to prepare for the 5A State Championships at the Memorial Coliseum, which kick off at 8:30 a.m. Friday and conclude Saturday with the final round scheduled to start at 6:30 p.m.

HRV wrestling will also be represented at state by four females, who qualified last weekend for a two-round girls' championships. Jessica DeHart is gunning for her third straight girls' title, while Payton Rigert, Jenna Powell and Joanna Endow will all wrestle for their first.

Along with her brother, Andrew, Jessica DeHart got a standing ovation Saturday at the conclusion of her match in the 106-pound consolation finals, which she won by fall to finish the tournament with three wins and one loss. Although she's not the first in Oregon, DeHart made HRVHS history and is one of a select few female wrestlers to qualify for boys state.
"Every goal sheet I filled out this season had qualify for boys state on it," said DeHart said Saturday, still emotional after an exciting overtime win for third place. "I feel pretty proud to be the first girl from Hood River to accomplish that."
Because she can't compete in both girls and boys state, DeHart will forfeit her boys state appearance and wrestle as the No. 1 seed in the girls tournament, which will run one round Friday and the finals Saturday alongside the boys.
Chas Peterson and Jeremy Breedlove battled back through the consolation bracket after losing in the semifinals to advance to state with third-place finishes. Peterson picked up his third pin of the tournament over Mitchell Waters of The Dalles in his final match at 145 pounds, while Breedlove, at 220, won by a one-point margin in a hard-fought tournament that included an overtime win, a close 2-1 loss and a 5-4 win for third place.
At 195 pounds, Max Lane surprised himself and HRV wrestling fans with a fourth-place finish. His biggest match of the tournament came Saturday morning in the consolation semifinals, in a win-or-go-home situation. After a hard-fought two rounds, Lane pinned Pendleton's Campbell Agee in the final minute to secure a trip to state — he went on to lose a 4-1 match in the consolation finals.
Also finishing fourth were Charlie Mallon and Kyle Weseman, both of whom went 4-2 in the tournament and battled back through the brackets after losing tough second-round matches.
Other placers were Dylan Peterson, sixth at 120 pounds, Junior Rojas, fifth at 138 pounds, and Jeremy Fischer, fifth at 152 pounds. Fischer and Rojas suffered disappointing consolation semifinal losses against Hermiston opponents to knock them out of a shot at the state tournament. To their credit, the two rebounded with pins in their final matches to end the season with wins.