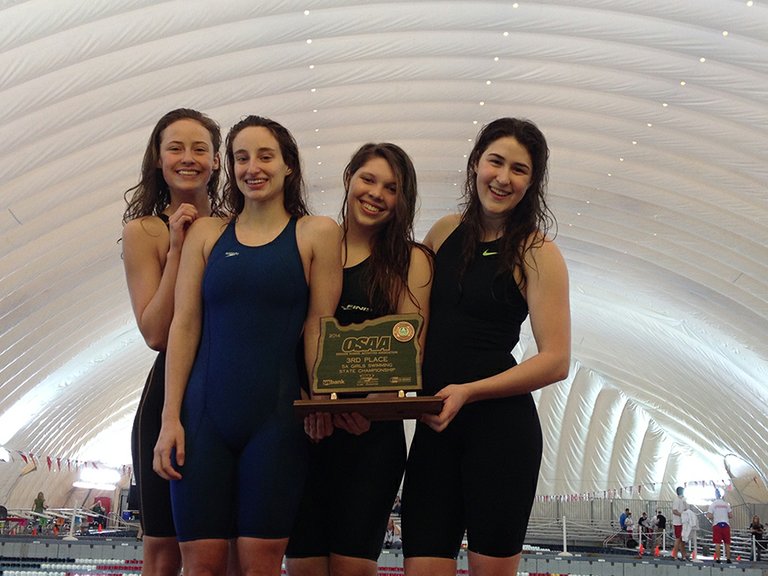 Wednesday, February 26, 2014
A small group of Hood River Valley High School varsity girls gave 5A swimming powerhouses Summit and Bend a run for their money this past weekend in the 2014 OSAA 5A state championships at Mt. Hood Community College. To be fair, No. 1 Summit had the team title under wraps early on, so their overwhelming victory (86 team points) came with little surprise. But a close battle for second place between Bend High and HRV was unexpected and came down to a narrow margin, with Bend finishing just ahead, 36 points to 34.
2014 state highlights:
200 medley relay (Danielle Miller, Kylie Webb, Dhani Freeland, Caitlyn Fick): 2nd, 1:53.31
400 freestyle relay (Danielle Miller, Kylie Webb, Dhani Freeland, Caitlyn Fick): 3rd, 3:46.03
Dhani Freeland: 200 freestyle, 5th, 2:02.10; 100 freestyle, 5th, 55.31
Kylie Webb: 200 IM, 2nd, 2:12.48; 100 breaststroke, 3rd, 1:08.53
Danielle Miller: 100 backstroke, 4th, 1:00.97
For the Eagles, a third place overall finish is the best the team has seen in recent years — an accomplishment made even more impressive considering the team only had four swimmers competing and scoring points.
HRV boys qualified David Walker, Carlos Galvez and a 200 medley relay team (Walker, Galvez, Daniel Mears and Trey Schilling) to state as well, but none made it past Friday's preliminary rounds.
Junior Kylie Webb had the best individual finishes, with a second-place result in the 200 IM and third in the 100 breaststroke. Her timing in the IM was uncannily consistent, as she finished just one hundredth of a second faster in the IM finals than the prelims the day before. Meanwhile, her improvements were about three seconds faster than her district-winning times in both events last weekend.
Dhani Freeland competed in two individual events as well, finishing fifth in both the 200 and the 100 freestyle and shaving time off each from her district record setting results last weekend. Danielle Miller finished fourth in the 100 backstroke with a four-second improvement from last week.
The three, along with teammate Caitlyn Fick, made up the team's two relay squads. The girls finished second in the 200 medley and third in the 400 freestyle relay, again shaving impressive seconds off their Columbia River Conference championship times.
"I was pleasantly surprised with how well we ended up considering we only had four girls competing," said third-year coach Keith Ebbert. "The boys who qualified swam well, but just weren't at the level of the swimmers who ended up in the finals. Just to be able to make it to state is a good accomplishment."