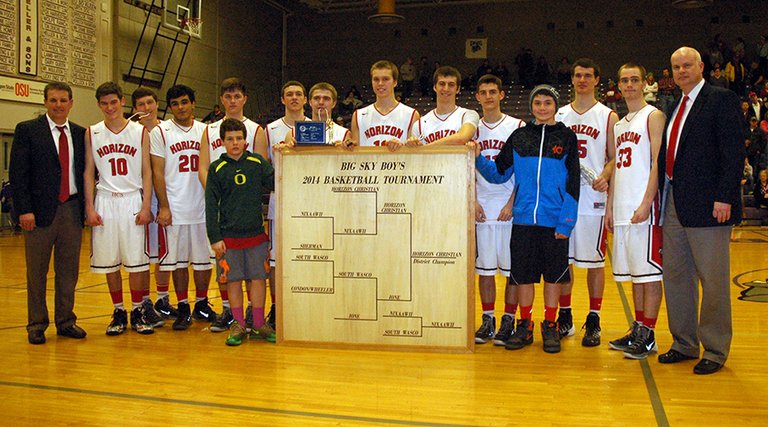 Wednesday, February 26, 2014
Following a near-perfect regular season in which they won 20 straight contests after a season-opening loss to Class 2A Irrigon, the Horizon Christian High Hawks boys basketball team continued its stellar success in league playoffs over the weekend. The No. 1-ranked Hawks (22-1 overall, 9-0 Big Sky West Division), guided by coach Darrin Lingel, captured a fourth consecutive district title with a 74-64 win over the Ione Cardinals Saturday at Hermiston High School.
"The kids played real hard and I'm extremely proud of them for accomplishing one of our goals," said Lingel. "It was a hard-fought championship contest versus Ione with both teams competing very tough in a well-played game. We had a good game plan, which was to keep Jailin Conboy (nine points) under control and not allow him to score too much and the kids executed it very well."
As district champs, the Hawks earned a first-round playoff bye and will host an OSAA/U.S. Bank/Les Schwab Tires second round state playoff contest March 1 against an undetermined opponent, at either 6 or 7 p.m., at the "Hawks Nest" at Horizon Christian High School.
If Horizon wins Saturday, it will advance to the state tournament quarterfinals March 6-8 at Baker High School and will be seeking to win a second 1A title in three years. Horizon won the 2012 title and lost in the finals last year.
Horizon led all the way in the district championship game versus the Big Sky East Division Champion and No. 8-ranked Cardinals (18-5, 11-3 Big Sky), led by the dynamic duo of junior Mason Bloomster (19 points, 13 rebounds, four steals) and senior Matt Totaro (23 pts., 10 rebs.)
"Going into districts, we felt really strong, confident and we had a high level of team unity and we all felt really good about our chance to win the title," said Totaro. "We played great defense in the first game then our confidence level was really sky high going into the championship game against Ione. They're a very good team too and I wouldn't be surprised if they qualify for the state tournament in Baker, too."
Horizon senior point guard Micah Engel led the Hawks with seven assists and scored four points. Junior Ryan Aldrich scored nine points off the bench to help contribute to the Hawks offense.
The Hawks opened the district tournament Friday and won 49-32 over the Nixyawii Golden Eagles (17-5, 8-2 Big Sky).
The 49 points by Horizon was its lowest point total of the season. Much like the Ione contest, it was the one-two punch of Bloomster (15 pts., 10 rebs., five blocked shots) and Totaro (18 pts., 10 rebs., four assists, four steals) that helped lift the Hawks to the victory. Junior Wes Johnston also scored nine points to contribute to the Hawks offensive attack.
"The two goals we set this year were to win districts and win the state title," said Totaro. "We got our first goal and now we're going to try for our second one. It's a huge advantage having to play just one playoff game to reach the state tournament and it's a nice bonus having it at home too. We're all feeling pretty good, we're playing at the top of our game and everyone is making significant contributions and we're getting strong play off the bench."
Totaro and Bloomster received All Big Sky Conference First Team Awards for their performance; Engel earned an All Big Sky Honorable Mention Award.