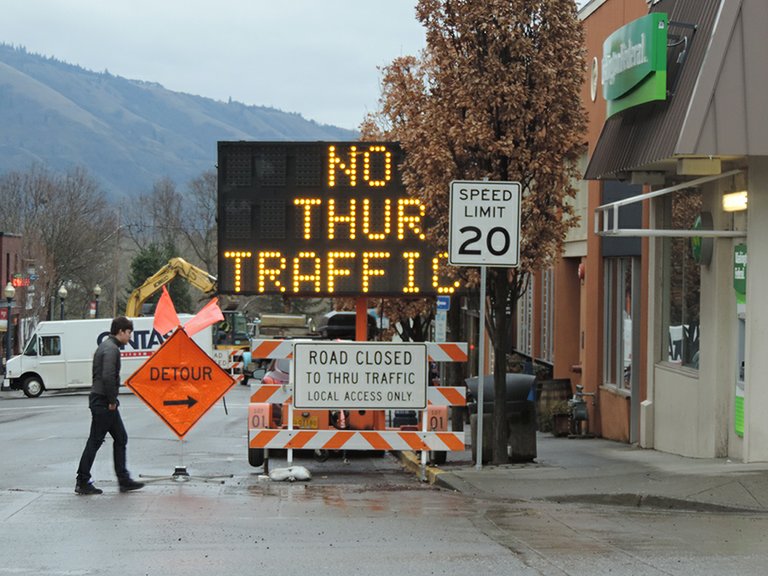 Wednesday, February 26, 2014
Heavy equipment moved to the three-block section of Oak and Front streets this week as the Urban Renewal Project continues in downtown Hood River.
The east end of Oak Street and Front Street will remain closed for about three months between First and State streets.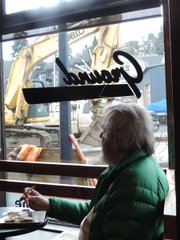 Meanwhile, on the Heights, the water main work that will cross 12th and 13th streets will has been delayed again until March 10, City Public Works Director Mark Lago told City Council Monday.
That part of the water line project will bring major traffic rerouting on 12th and 13th — turning them from two-way to one-way streets during daytime. (See future issues for details including a map of detours on and around Belmont and 12th and 13th.)
Downtown, eastbound traffic is now detoured starting at Second and Oak streets, and westbound traffic will be detoured at Front and State streets. "No Thru Traffic" reads the illuminated readerboard at Second and Oak, regarding traffic between First and Second, where parking is allowed for now.
Second Street and State Street will serve as the detour route. Delivery vehicles will be allowed access as needed.
Pedestrian access will be provided to all businesses at all times, but delays should be expected.
The closure will be from 7 a.m. until 7 p.m. Monday through Friday, with the street being open to traffic nights and weekends.
The work is expected to take approximately three months, with intermittent closures during this time.
If you have any questions or concerns, contact Gary Lindemyer at 541-387-5204.
The work had been scheduled to start Feb. 5 but was delayed because of the weather.
Look for detours and delays on State Street itself, as crews continue excavations to complete underground utility installations. The forthcoming work on Front Street also causes temporary changes in the Astro gas station access at State and Front, meaning customers would drive up to the pumps from the east, coming off of Front Street.