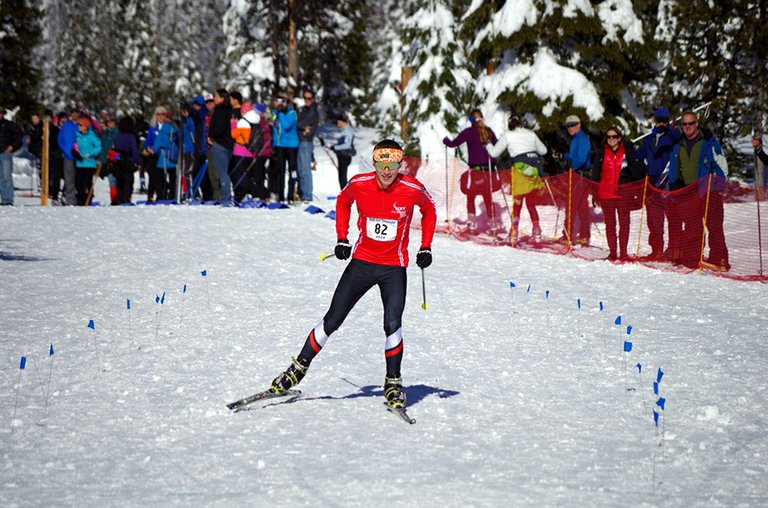 Wednesday, February 26, 2014
In just four years, the Hood River Valley Nordic team has gone from a fledgling group of high school skiers with little experience and hodgepodge gear to a top contender in the Oregon High School Nordic Organization's winter racing circuit.
To cap the OHSNO's season, teams were in Bend over the weekend for the state championships at Mount Bachelor. The two-day event featured a 7.5K skate race Friday and a 5K classic race Saturday, held in favorable conditions with 150 racers from 11 schools in attendance.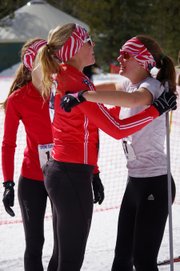 Senior captain and team pioneer Sam Wiley gets top honors for the team, as he took gold in Friday's race, posting a time of 22:11 to claim the state title. Wiley followed with a team-leading fourth-place finish on Saturday with a time of 20:26, just a few seconds behind the top three.
Overall team results placed the HRV boys and girls in second behind Summit, which is a testament to how much headway the team has made in its brief history.
"Our team has come so far in just four short years, from nine kids on used equipment with varying degrees of experience to 23 solid, dependable and skilled racers," Coach Bonnie Lambert commented. "We are now a dominant force in the league."
Behind Wiley, Daniel Fischer and Nils Engbersen had top-10 finishes for the boys in both Friday and Saturday races, coming in sixth and seventh respectively each day to lead the team to a second-place finish Friday and third-place Saturday.
Taking charge for the HRV girls Friday was Lauren Robinson, who overcame a fall at the mass start to finish on the podium in 10th place with a time of just under 30 minutes. Denali Emmons and girls captain Delia Dolan followed as the team's top three in 13th and 14th place. Saturday's girls' race saw Dolan as the team's top finisher in 15th, followed by Robinson in 16th and Emmons in 20th to help the team to a third-place finish on the day — an impressive feat considering the HRV girls were represented by just seven racers compared to first-place Summit's 23.

Lambert credited parent and volunteer support throughout the season as a contributing factor in the team's success over the weekend. In Nordic racing, proper wax is a key factor in favorable results. Volunteer coaches Rutger Engbersen, Don Wiley, Jeff Knapp, Joe Dolan and Dave Slover worked tirelessly to ensure proper wax for the racers under challenging changeable snow conditions Lambert also recognized team captains Dolan and Wiley as pioneers for the fledgling 2010 HRV Nordic team and the first skiers to complete four years of racing for the Eagles.
7.5K skate results:
Boys: Sam Wiley, 1st, 22:11; Daniel Fischer, 6th, 23:59; Nils Engbersen, 7th, 24:44 and Jesse Wiley (14th), Leif Bergstrom (16th), Mason McDowell (27th), Joey Slover (36th), Emmet Beckner (42nd), Billy Edwards (43rd), Alex Chadney (46th), Luke Serra (50th), Alec Mattews (52nd) and Garrett Kelly (58th)
Girls: Lauren Robinson, 10th, (29:54); Denali Emmons, 13th, 30:12; Delia Dolan, 14th, 30:51 and Miranda Starr (18th), Daisy Dolan (19th) and Victoria Kohner (20th).
5K classic results:
Boys: Sam Wiley, 4th, 20:26; Daniel Fischer, 6th, 21:20; Nils Engbersen, 7th, 21:27 and Mason McDowell (12th), Leif Bergstrom (14th), Jesse Wiley (17th), Joey Slover (43rd), Emmett Becker (48th), Garrett Kelly (53rd), Billy Edwards (55th), Alex Chadney (56th) and Alec Matthews (60th)
Girls: Delia Dolan, 15th, 28:24; Lauren Robinson, 16th, 28:35; Denali Emmons, 20th, 29:53 and Miranda Starr, 22nd, Victoria Kohner, 26th, Daisy Dolan, 33rd and Terri Hewitt, 45th.
Relay races: Boys 2nd, girls 2nd