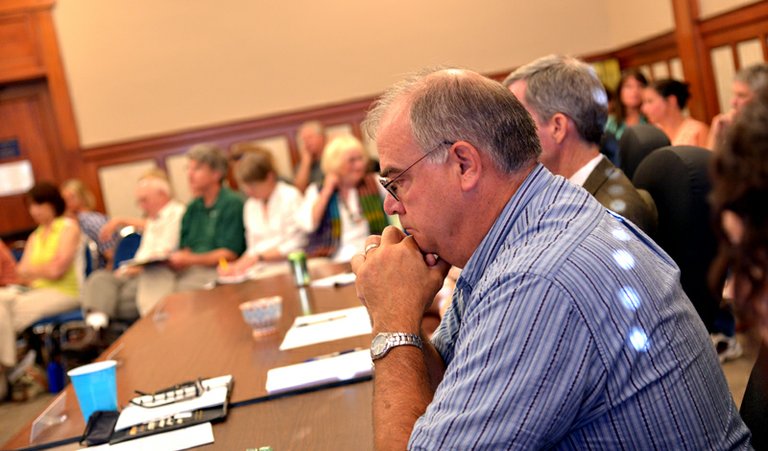 Wednesday, January 1, 2014
False starts and court wranglings over Barrett Park and Nichols Landing development highlighted the first half of 2013, as reported in the Hood River News. Here is a summary of events covered from January to June, with a few updates. Part II will run in the Jan. 4 edition.
JANUARY
Matt English took office as the new sheriff of Hood River County, succeeding 20-year sheriff Joe Wampler, who retired.
Update: English appointed longtime deputy Brian Rockett as chief deputy.
Hood River and Cascade Locks city councils swore in new members: Mark Zanmiller in Hood River and Glenda Groves and Bruce Fitzpatrick in Cascade Locks.
Update: Glenda Groves' appointment creates a dual husband-wife public service commonality between the two cities: Her husband, Jess, is president of the Cascade Locks Port Commission, while in Hood River, Kate McBride serves on the Hood River City Council and her husband, Rich, is president of the Hood River Port Commission.
Later in January, Cascade Locks city councilors Brad Lorang, Randy Holmstrom and Mark Storm would resign; appointed in their places were Jeff Helfrich, Richard Randall and Bobby Walker.
Animal advocate Linda Vandenberg is the first subject of the weekly feature "A Slice of Life." See Kaleidoscope in this issue for the full list of people profiled in 2013.
The refurbished History Museum of Hood River County showed off its new look Jan. 6 with an open house after the facility was closed for expansion and remodeling for nearly a year.
"We are turning the page on a new chapter of the story of The History Museum. We have taken what was started by our grandmothers and grandfathers and have embraced the mission of continuing to preserve that story for the next generation," Museum Coordinator Connie Nice said.
Update: In August the museum would add a new, permanent exhibit, chronicling the life and times of the late Luhr Jensen and the waterfront fishing supply company that he built and developed.
In August, the museum was closed by the county for approximately one month over concerns of financial mismanagement. Independent auditors found "sloppy bookkeeping," but no malfeasance.
Nice returned to work and with the museum board and volunteers is planning for a new season, and new exhibits, starting Jan. 6. (In this edition, see page A1 for details.)
After the late-2012 storms, the county learned it would recoup most of its public services and facilities, thanks to $880,000 in funding from the Federal Emergency Management Agency.
Gordon Zimmerman started work in Cascade Locks as the city's administrator, the first person in two years without the term "interim" in front of his name.
Interim city administrator Paul Koch shifted to the interim position of Port of Cascade Locks manager. Koch, appointed to the city job in September 2010, would continue to serve the port through early 2014, as the port works through the final stages of a search for a permanent manager.
La Clinica del Cariño went through cuts and reorganization in late 2012 and early 2013, and changed its name to One Community Health.
Insitu announced plans to break ground on a 120,000-square-foot facility in Bingen, staying put after a three-year process of looking at other potential sites in the Gorge.
FEBRUARY
The City of Hood River reversed an earlier decision and decided against an outright ban on residential zoning in the waterfront area.
The Planning Commission head rejected council requests to develop ordinances for zoning residential development but waterfront stakeholders built the case for retaining opportunities for residential development. Developer Jeff Pickhardt of Key Development Corp. proposed a plan allowing possible residential development in conjunction with commercial as long as residential space was not on the first floor of a building.
Update: In December 2013, the Port of Hood River approved a Disposition and Development Agreement with Key Development, for the sale of the Expo Center building and property, but in negotiations with Pickhardt removed any option for residential use of that particular property.
Passages: Ken Jernstedt, honored World War II flying ace, and former Hood River mayor and State Legislator, died at age 94 on Feb. 4.
Oak Grove Water District homeowners entered their third month living under a boil-water order. Contamination concerns arose after damage to the district's spring box.
Update: In July, purchase of Oak Grove Water District by neighboring Ice Fountain Water District enabled repairs to take place and the boil-water order was rescinded.
Donald Stuart McAndie of Husum is sentenced to 52 months in jail after he was found guilty of one count each of attempted rape, attempted kidnapping, attempted unlawful sexual penetration and attempted sexual abuse. The charged stemmed from an incident in which McAndie was accused of restraining and raping a woman who provide contracted services to his Hood River workplace. The district attorney's office and McAndie's attorney worked out a deal that reduced the charges from rape, kidnap and penetration, and a sexual abuse count was dismissed.
MARCH
Republican state lawmakers Chuck Thomsen and Mark Johnson joined forces in an effort to pass a tuition equity bill for undocumented students in Oregon. Thomsen and Johnson co-sponsored House Bill 2787 that asserts qualifying undocumented students are entitled to exemption from non-resident tuition and fees at public universities.
"I support tuition equity for the simple reason that I believe my neighbor's children should have the same opportunity to better themselves and pursue the promise of the American Dream that my children had," Thomsen said.
Horizon Christian School's boys basketball team takes second in OSAA 1A, losing in the final game to City Christian. The Hawks, under coach Darren Lingel, won the 2012 1A championship.
Dan Goldman is named superintendent of Hood River County School District, succeeding Charlie Beck, who resigned after three years at the post.
This is the first superintendent job for Goldman, formerly director of instruction and elementary education for Tigard-Tualatin School District.
Julisa Ramirez, 10, received a big honor at her Parkdale Elementary School: the first Hero Award from Parkdale Fire department, from Fire Chief Mike McCafferty, for saving her family's life in the March 17 fire that destroyed their McIntosh Road home. Julisa smelled smoke and awoke her family, reminding them to meet at "our safe place," the family car, out of harm's way. The house was totaled and the family lost all its belongings.
Pillows crafted by Pat Pettit and friends were given to members of Asbury United Methodist Church at the Palm Sunday service, the final one for the church, which has been sold.
The facility at Sixth and State is now under ownership of the von Flotow family, and continues to host the Bright Beginnings Preschool as well as take on a new role as a performance and meeting space.
Update: Asbury United Methodist Church and Our Redeemer Lutheran Church formalized its merger in November.
Steve Stampfli stepped down as Hood River Watershed Coordinator in March after six years. The Husum, Wash., resident remains active in local conservation efforts. He was succeeded by Cindy Thieman.
APRIL
PacifiCorp and Columbia Land Trust concluded the 400-acre land transfer of the Powerdale Lands Corridor, extending from the Powerdale dam site (demolished in 2011) 3.5 miles downstream to the city of Hood River.
Saccharamyoces Cervisaiae is the new State Microbe for Oregon.
Rep. Mark Johnson worked with brewers, bakers and others who use the small but potent "bug" critical to making beer, bread, yogurt and other products, to ensure passage of a law making the microbe the official one of Oregon. (Wisconsin, with its heavy economic reliance on the dairy industry, is the only other state with an official microbe.)
"Where would we be if we didn't have this stuff?" asked Lou Gehrig, who with his wife, Anne, has been in the baking business for more than 30 years.
Hannah Bergstrom of Hood River won skiercross championship and was runner-up in rail jam at the USA Snowboard and Freeski Association National Championships in Colorado.
The new team Gorge Roller Girls rocked its home debut with a win over Southern Oregon Rollers of Medford, at Hood River Valley High School.
Diamond Fruit Company celebrated its 100th anniversary in April, holding an open house at its packing and shipping operations in Odell, welcoming hundreds of people, including former employees who reminisced over photos, annual reports and other memorabilia.
MAY
Orchard fans and propane heaters kicked on throughout the valley as late April frost followed by rain-inflicted damage causing an anticipated 5-10 percent harvest loss to Hood River valley pear and apple trees; fears were worst for cherry, Bartlett and Anjou pears, along with pinot noir grapes
Update: July rains heavily damaged the cherry crop, but grape, apple and pear crops developed well, and Bartletts saw a 9 percent increase over 2012.
The Hood River County school District receives word of a well-timed windfall of 42.1 million — based on state recalculation of the district's share of state school funding based on numbers of charter school students (HRCSD currently has no charter students, but it did during the 2011-12, the year in effect under the state legislation that yielded the surprise funding). The school board later decided to use about $700,000 of the funds to defray the $1.4 million in cutbacks planned for the 2013-14 school year.
CenturyLink announced plans to cut 51 jobs at its assignment center in Hood River. Some of the workers would have the opportunity to move to other CenturyLink locations in Seattle and elsewhere in Oregon.
Oregon Land Use Board of Appeals ruled May 14 that a Hood River County Board of Commissioners erred when it denied the proposed conversion of a former orchard on Exclusive Farm Use zoned land into a public park known as Barrett Park, southwest of Hood River on Barrett and Alameda drives.
Update: LUBA remanded the decision to the county commissioners, who voted in December to deny the development of Barrett Park by a vote of 4-1.
Sophomore Jestena Mattson won the 200-meter dash and freshman Sebastian Barejas won the discus at the OSAA 5A Track and Field meet in Eugene.
Mattson won the 100-meter race at state in 2012.
JUNE
A 23-yer-old Cincinnati man died June 2 at Punch Bowl Falls on Eagle Creek. Jason Endicott apparently jumped from the falls, and drowned. A group of 22 local rescue personnel arrived and spent hours searching for Endicott's body over the course of the next day, finally doing so on June 3.
"Naito is a go" read the June 12 headline as City Council approved a conditional used permit and preliminary site plan for Nichols Landing, a four-story hotel and 20,000-square-foot commercial building in the Nichols boat basin, next to the mouth of the Hood River.
Update: Friends of the Hood River Waterfront successfully appealed the Nichols Landing project to LUBA in December, over concerns about construction on the floodplain, putting the project in limbo at the start of 2014, but Naito officials said they plan to pursue the project.
Opponents to coal transport through the Gorge filed suit with the U.S. District Court in the Eastern District of Washington, claiming that Burlington Northern Railroad and coal export companies have repeatedly violate the Federal Water Pollution Control Act (commonly known as the Clean Water Act) for years by allowing chunks of coal and coal dust to escape uncovered railcars, causing pollution to air, water and land.
Update: Since the lawsuit was filed, multiple coal terminal construction projects proposed for the Pacific Northwest have either folded or faltered.
Solstice Café and Wood-Fired pizza concluded its move from Bingen to Hood River, following a Kickstarter campaign that helped owners Aaron and Suzanne Baumhackel fund construction of a new café at 501 Portway Ave. The café opened for business in early December.
City Council pledged a total of $24,842 to the Hood River Tennis Court Project, a citizen-based effort to repair and upgrade the four courts on May Street, known as Tsuruta Courts. Without the last-minute funding, required by July 1, the other grant funds might have fallen through, kyboshing the entire project.
Update: Construction was completed in October, and the newly surfaced and lighted courts are available for public, school district and Community Ed use.
After 10 years of entertaining spectators with high-speed racing action and attracting competitors from around the world to experience one of the most grueling and scenic races in the nation, the Mt. Hood Cycling Classic ran its final race on June 16.
Bob Francis resigned June 24 after nine years, citing "difficulties" between himself and Mayor Arthur Babitz and members of City Council.
Francis received vocal and sometimes emotional support from dozens of members of the public. Members of the council reached out to Francis in hopes of reaching an agreement for Francis to stay on, but in early July, Francis announced he had accepted the post of chief operations officer with Hood River Juice Company.
Update: The city and Hood River Juice would lock horns in the fall of 2013 over enforcing a verbal agreement between Hood River Juice owner Dave Ryan and then-city manager Bob Francis for payment of wastewater disposal debt. By December, Ryan had paid off all but about 10 percent of the original $419,000 debt.