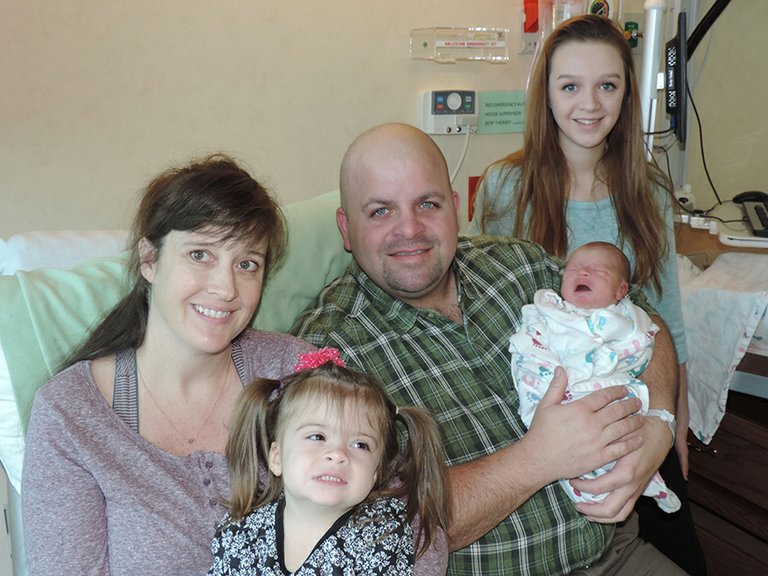 Saturday, January 4, 2014
Not every newborn baby gets ceremonial spotlights from Hood River Police, but Keller Everett Mason did.
Keller, son of Tamme and Erin Mason of Hood River, has the honor of being the first baby born in 2014 in Hood River.
Keller weighed 6 pounds, 15 ounces, and was 20¼ inches long when he arrived at 5:55 a.m. at Providence Hood River Memorial Hospital with two nurses doing the delivery, one week before his due date.
"He's a happy, hungry baby," Tamme said.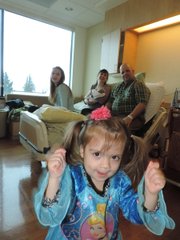 Erin and Tamme's co-workers enjoyed early opportunities to congratulate the new parents: Erin is a longtime police officer with Hood River Police, and his fellow officers found a way to salute the new arrival.
"A lot of them have been by; a few of them have shone their spotlights through the window because they knew which room we were in," Erin said.
Tamme, a nurse in the Providence ER, passed through to say hello, on her way up the Family Birthing Center at 4:45 a.m.
She woke up at about 4 a.m., knowing her new baby would be like her first two children, and come early. Keller joins two sisters, Lilly, 13, and Sadee, 2, and grandparents Ellie Pearson, visiting from New Hampshire, and Sue and Phil Mason of Hood River.
"We just said, 'It's time, the fire drill has started,' Erin joked. "I let Ellie know, and we got Sadee situated. Ironically, Lilly wasn't even home; she was at a sleepover, which is where she was when (Sadee) was born. So we said, 'No more sleepovers for her.'"
"I got a call around 6 in the morning and I didn't really think anything of it so I just ignored it because me and my friends were all sleeping," Lilly said. "So I just ignored it, and then at about 7, Dad called and told me, and then I saw the picture on Facebook."
Keller is one of the earliest Hood River first babies in recent memory, at less than six hours into the new year, and he was born before the attending ER physician, Dr. Karen O'Neal, could get there.
So nurses Cameron Teems and Bev Smethers did the honors. Tamme said it was the first "unattended delivery" for Teems, a veteran nurse.
"It's called 'catching the baby.' I've done it a few times," said Ellie, a retired nurse who still works per diem.
"Dr. O'Neal came up and (Keller) was already out and she was like, 'Tamme —'" she joked.
"It was not a surprise; I was prepared. All three of them were fast," Tamme said.
The Masons arrived at the hospital at 4:45 a.m. and the birth happened a little over an hour later.
"We're very excited. It was great having all the family in town and everyone here to enjoy it with us," Erin said.
"This will be my last one so I said 'I'm going to be there, that's for sure.'"
Ellie has another grandson, but for Sue and Phil Mason, this is the first.
"My brother Eric has three daughters, and we have two, and I told my dad, 'This is your last chance,'" Erin said. (Eric and his wife, Anne, of Walla Walla, Wash., have daughters aged 18, 16 and 11.)
n
With Keller's arrival, the Masons will enjoy a list of goods and services courtesy of the Hood River First Baby contest, sponsored by Hood River News and Providence Health Services.