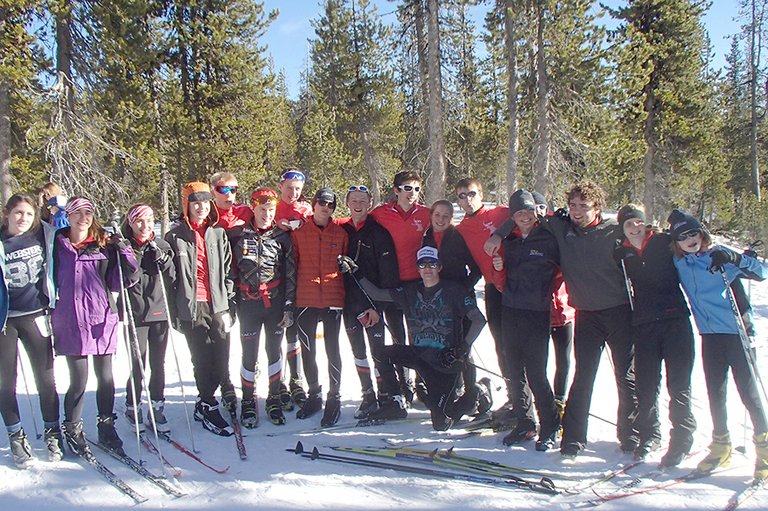 Wednesday, January 8, 2014
Hood River Valley High School Nordic skiers were in Bend over the weekend for their second race of the season. With more snow than Mount Hood, the Mount Bachelor course provided competitors with solid and fast conditions, and sunny skies meant a pleasant day of racing.
Fast and icy conditions resulted in some spectacular pileups in the mass starts and at shady corners, making for entertaining races for both participants and spectators. After extricating themselves from wipeouts both at the start and during the race and recovering from some broken equipment, the HRV varsity boys finished with three on the podium and second overall. Juho Muhonen won the race (13:24), followed closely by Sam Wiley in third (13:27) and Daniel Fischer in fifth (14:34) as the top three for HRV. Despite losing a ski in a pileup at the start, Jesse Wiley finished with a time of 16:53, good enough for 11th overall. He was followed by Nils Engberson, who was forced to use a broken pole for the first lap of the race, in 14th and Mason McDowell in 20th.
With low numbers due to the holiday break, the HRV varsity girls were represented by only two racers, sisters Delia and Daisy Dolan. Delia was 20th, followed by Daisy in 22nd with times of 20:55 and 21:01. The JV girls saw Victoria Kohner-Flanagan win the 3K race with a time of 13:59, followed by Eva Kahn in eighth at 16:18. New to the sport, Terry Hewitt finished a respectable 12th with a time of 17:02.
The JV boys had three freshmen finish in the top 10 in their field, namely Leif Bergstrom in second, Joey Slover in sixth and Emmett Becker in seventh.
The next league race is scheduled for Jan. 18 at the Teacup Nordic area on Mount Hood, but will hinge on whether or not the mountain gets snow between now and then.