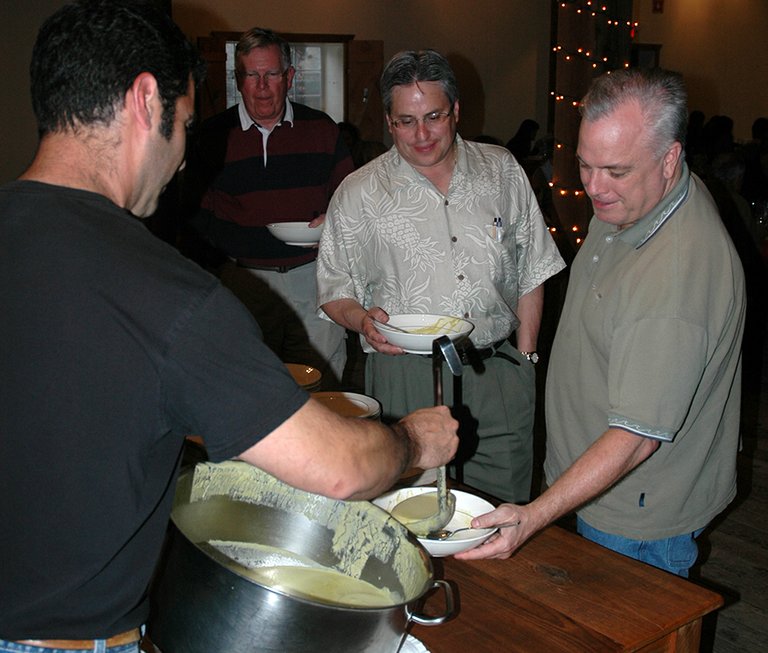 Wednesday, January 8, 2014
Gorge Soup is on, with changes.
Gorge Soup for Kids dinner will be Feb. 14, a chance for young people to win funding for a business or project.
In its first two years, Gorge Soup for Kids has been available for young people who are starting a business.
This year, organizers have announced that Gorge Soup for Kids will allow students to apply for community initiative or the start-up of their business.
Some examples: an individual or group of students doing a public art installation, a charity fundraiser, or a plan to involve people in the community.
DETAILS:
WHO: Kids 18 and under, with adults
WHEN: Feb. 20, at 6 p.m.
WHERE: Springhouse Cellar Winery
COST: $25 per person. To purchase tickets, go to: http://bit.ly/19a...
In another change: The dinner price will be reduced to $25 from $30.
Gorge Soup has issued flyers in Spanish and English, and is asking community members, groups or businesses to sponsor the event for $100.
Applications for Gorge Soup for Kids are due postmarked by Feb. 5 (details at the end of the story).
Gorge Soup is a community gathering. The event is quite simple, according to co-founder Julie O'Shea.
Each person attending buys a ticket. The ticket covers a few expenses — usually about $8 per person for the meal. The rest of the ticket money goes into a collective jar. Throughout the soup dinner, a selection of student entrepreneurs from the Gorge will present their business ideas to the crowd. At the end of the night, everyone attending the dinner votes for their favorite presenter/business idea. The winner of the vote receives the remaining ticket money.
At the last Gorge Soup for Kids, the winner received more than $1,700, with two other student groups winning as well. Not only do the student presenters get the opportunity to receive funding, they also have a great chance to generate community support and feedback for their business idea.
"The goal of Gorge Soup is to support new ideas, businesses, projects or initiatives that are entrepreneurial or community-oriented by nature," O'Shea said.
"The main point of the event is to learn about and support people trying to make our community a better place through a new business or project."
For the Gorge Soup for Kids, any student from the Gorge can apply who meets the following criteria:
n Must be starting a new business or community initiative
n Must be created and implemented by K-12 student
n Must have an adult sponsor
Each business must have income and expenses, but does not have to make a profit. Community initiatives are not required to have income, but should list any other sources of support.
n Must take place in the Gorge
Applications are available at Gorge Soup, 14 Oak St., Ste. 302, Hood River, OR 97031. Late or incomplete applications will not be accepted.
Once applications are received, proposals will be reviewed, and up to five applicants will be invited to present at Gorge Soup. The goal of the review will be to ensure a wide variety of projects. If you are invited to present, guidelines for the presentation will be provided prior to the Gorge Soup dinner.
For Gorge Soup for Kids, Gorge Soup is also accepting $100 minimum sponsorships from individuals and local businesses. One of purposes of these sponsorships is to offset the cost of tickets for the presenters and their parents to ensure that cost is not a limiting factor for children to apply to participate. Sponsorships also add to the amount of dollars that are awarded to fund student businesses.
Unlike the traditional Gorge Soup where one winner takes all the funds for the evenings, at Gorge Soup for Kids, the goal is to have tiered funding that allows for several student businesses to receive funding for their new ventures.
Businesses or families who sponsor the event will have the option of having their logo or family name featured on a slideshow before the event and on the back of the evening's agenda. For more information about sponsorships, email gorgesoup@gmail.com.
Gorge Soup is based on Sunday Soup (sundaysoup.org), a national movement of dinners that support community efforts through micro-philanthropy. The initial events that inspired this movement were potluck soup dinners where everyone who attended bought a ticket and all the money went to support the winning presenter. Over the years, as the movement grew, numerous groups have developed and tailored the dinners to best fit their communities.