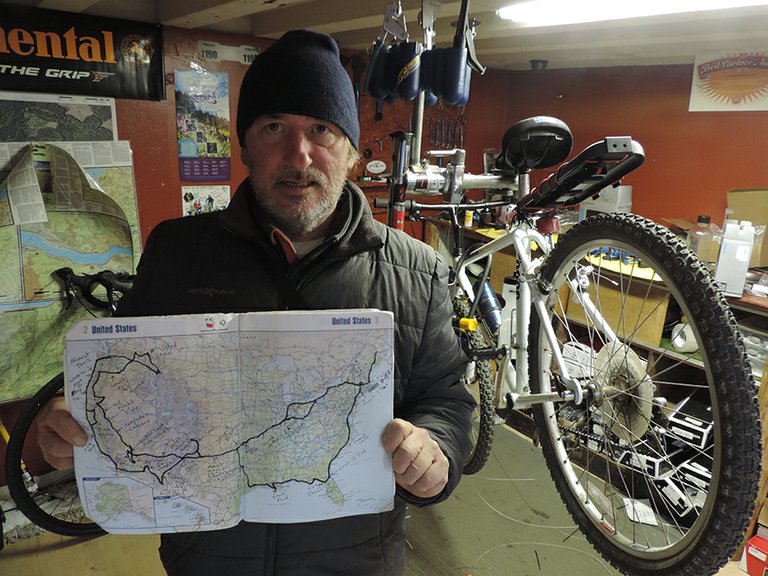 Wednesday, January 8, 2014
Stephen Swift concedes he might be riding homeward to die.
Swift, a 27-year resident of Newport, passed through Hood River Friday, stopping for bike repairs on his 7,000-mile bike ride across, and around, the United States.
"It's Personal," reads the vinyl sign Swift he carries and has photographed being held by hundreds of friends he has met along the way. "I wanted to be able to stop and just talk to people," said Swift, who decided to make his ride in order to meet other people with cancer and try to gain an understanding of why he and others contract the disease.
Swift, 53, has pancreatic cancer, and has already battled bone cancer, losing a finger on one hand as a result. He travels in memory of his sister and his father, who died of breast cancer and pancreatic cancer, respectively.
Grieving upon his wife's death, Swift closed his construction business and started his bike ride on May 12, 2012, heading south from Newport on Highway 101 and then over to Highway 1 on a southeast swing to Florida and then up the eastern seaboard. Westbound, he rode through the Midwest, and across the upper plains. Last week he found himself on the home stretch, coming through Hood River and needing some bike repairs. Swift checked in at the Hood River News to share his story.
His experiences have been mostly positive, though his bike and most of his belongings were stolen in Boise. He hitchhiked and then caught a bus from there to The Dalles, where he stayed last week doing odd jobs to raise money — "I don't ask for anything; I work for it," he said — and finding The Dalles to be among the friendliest places he encountered.
A new friend gave him a used bike, though he had to have some gears replaced in Hood River, walking it through the Mosier Twin Tunnels. Swift took it to Mountain View Cycles, which donated the labor and other local folk paid for the parts. Swift stayed the night at the Hood River Warming Shelter.
All along his journey he has filled a dozen or so loose-leaf notebooks with handwritten messages, business cards, and other memorabilia from people he meets along the way. His photo albums are filled with photos of him with people he has met.
Among his favorite stops was Yerington, Nev., where everyone treated him as a friend. On his way there, he was stopped along the highway for a rest, and someone stopped and said, "I can't read your sign, but would you like a bottle of water?" In Mojave, he needed to fix a tire, and someone drove into town and came back with two new tubes and accepted no payment.
Encounters like that meant, "I got more than answers; I got friendship," he said. He took his time from Arizona to Florida, "just seeing things I had never seen before."
In Missouri a community invited him to a town picnic. In Cleveland, people in the neighborhood gave him a ride to a safer part of the city. A police chief in North Carolina let him set up his tent on his own lawn.
Riding a bike for thousands of miles carries risks. Swift took a face-first tumble in Oklahoma City, and while his chin and nose got banged up, he was grateful for the protective Mechanix gloves he has worn — his one and only pair for the trip. He shortened the finger — the middle one — that corresponds to the one missing from cancer.
Swift looked into his own cancer and decided against chemotherapy.
"I'm a wimp. I'm scared of it," he said with a smile. "My cancer is here, and I have decided my own fate.
"The worst thing about having cancer is that people feel sorry for you and you end up feeling disconnected. People with cancer should be treated like anyone else: Just talk to them, love them, spend time with them."
He visited a doctor in Chicago for a checkup and some tests, confirming his declining health. He visited a town in Maine with a meeting hall for people with cancer — not a clinic, but a gathering place for people to come and talk, and was inspired to do something similar in Newport or environs.
The theft in Boise nearly stopped him on his goal, but he decided to keep on,
"A lot of times I felt like giving up, but I know that cancer doesn't stop us from doing things. It doesn't stop us from things we believe in," Swift said.