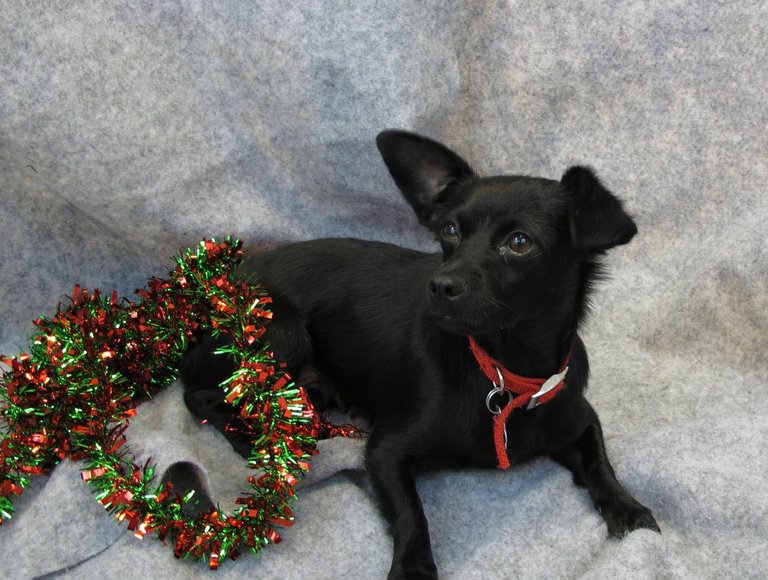 Wednesday, January 8, 2014
This week volunteers at Adopt A Dog have selected Harmony as the program's adoptable pet of the week. They describe her as follows:
"Harmony is a beautiful dog — likely a mix of Schipperke and Chihuahua? Her coat is shiny and soft, and she has a docked tail. She recently had puppies and she showed herself to be a good mom and was always looking out for them. But they are weaned now and found homes of their own, and now it's time for Mom to get some peace and quiet and a family all to herself.
"She's fine with other dogs, but does not like the camera! When she first arrived, Harmony was a mellow girl, but now that she's feeling better and doesn't have to tend to her babies anymore, her playful, spunky side is emerging and she is proving to be one fun-loving, loveable dog! She loves walks and lap time, and has nice manners."
Harmony is current on shots, microchipped and will be spayed next week. Her adoption fee is $165. The fee to adopt is charged to recoup standard veterinary expenses.
Since many of AAD's dogs are in foster care, please call ahead to meet Harmony at the Hukari Animal Shelter, 3910 Heron Drive, Odell; 541-354-1083. Adoption hours are Wednesdays from 5-7 p.m. and Saturdays from 9-11 a.m. Applications may be downloaded at www.hood-riveradoptadog.org and faxed to 877-833-7166.
The Adopt A Dog program offers 24PetWatch microchips, which include free registration into the 24PetWatch pet recovery service. (For more information visit www.24petwatch.com or call 866-597-2424.)