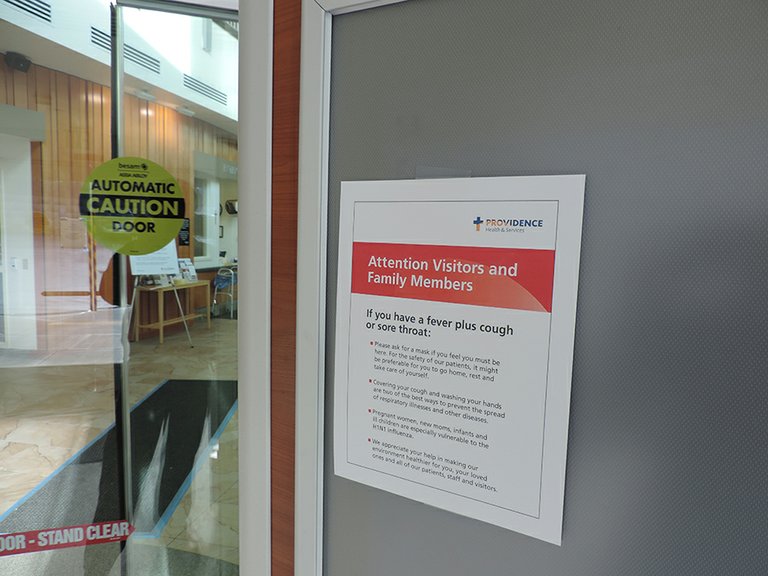 Saturday, January 11, 2014
With H1N1 flu cases on the rise in the state of Oregon, Providence Hood River Memorial Hospital announced Thursday it is instituting new visitor restriction policies in order to help prevent the virus popularly known as "swine flu" from spreading throughout the hospital.
According to the most recent data from the Oregon Health Authority, there were 47 positive tests for H1N1 in the week of Dec. 22-28, with a total of 135 cases since the start of flu season Oct. 1. The same strain of flu virus was responsible for killing approximately 203,000 people worldwide in a 2009 pandemic according to a report in The New York Times.
County Health Department on H1N1 flu
Like Providence Hospital, the Hood River County Health Department also advises people who have flu-like symptoms to stay home, especially from work or school. Ellen Larsen, director of the county health department, said Hood River hasn't seen many cases of H1N1 flu so far, but noted that it was "just a matter of time" as cases around the state increase and flu season peaks in February.
Larsen reported the biggest difference between H1N1 and other strains of flu is its propensity to infect "healthy younger adults between the ages of 19-49." Flu viruses typically affect the elderly the most.
According to Larsen, the health department is running low on vaccine for insured patients, but there is plenty of vaccine still allotted in its program for the uninsured and the underinsured. Larsen said patients are considered underinsured if they have catastrophic coverage that does not extend to vaccinations. She advised patients with insurance to check with local pharmacies first if they wish to be vaccinated.
Armanda Mason, infection preventionist for PHRMH, said Hood River has seen "fairly low activity" so far regarding H1N1, but expected it would likely increase over the coming weeks as it is the predominant flu strain this year. She reported that as of Thursday, the hospital has seen "one confirmed and two pending" cases of H1N1.
To help prevent the spread of the virus, Susan Frost, public affairs manager for PHRMH, announced Thursday the hospital would be restricting all patients to two visitors at a time and that in most cases, nobody under the age of 18 would be permitted to visit patients unless they were members of immediate family. The family birth center, pediatrics, and intensive care units will also be off-limits to all visitors under the age of 18, regardless of relationship to the patient, since "school-age children have higher rates of exposure to the flu," according to Frost.
"We are doing this because we want to keep people as healthy as possible — our patients, caregivers, family members and other hospital visitors," she explained. "They are temporary steps to get us through the flu season."
Other hospitals around the state, particularly in the Portland metro area, have also instituted visitor restrictions to limit the spread of the virus. Mason, who said she has been an employee of PHRMH for 25 years, said other than the H1N1 pandemic of 2009, she could not recall another instance when the hospital had instituted visitor restrictions because of the flu.
Mason advised those who were sick and considering visiting patients in the hospital should stay at home and may be turned away if they appear ill. Signs have been posted inside the hospital alerting visitors of the new regulations. For those who are worried about catching something while on a visit, Mason said the hospital has flu masks it can provide.
Though the country is in the middle of flu season, Mason said it wasn't too late to get a flu vaccine, noting that this year's vaccine is formulated to prevent against H1N1. For other preventative measures, Mason instructed people to stay home when sick, wash their hands, and to not touch their faces.
Mason said hospital staff will continue to monitor flu admissions in the coming weeks and make a decision as to when the visiting restrictions can be lifted.