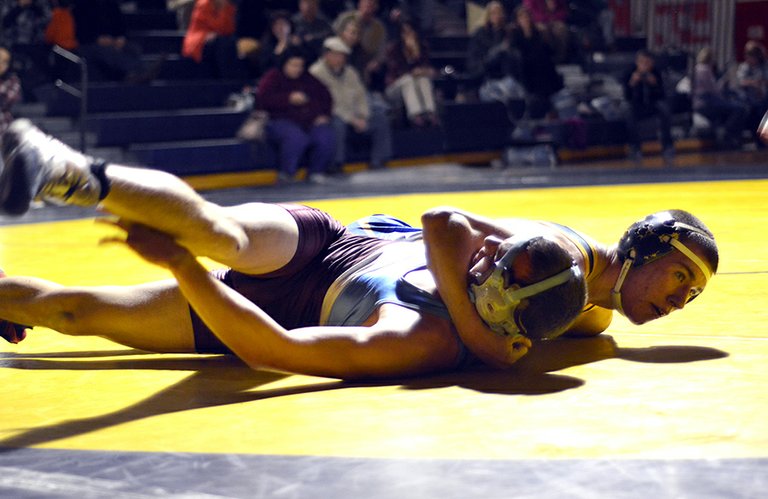 Saturday, January 11, 2014
Hood River Valley High School wrestlers cleaned house this week.
After opening the season with two of the toughest tournaments in the west — the Reno Tournament of Champions and the Coast Classic — the wrestling Eagles returned from holiday break to sweep Lincoln, Wilson and The Dalles on the road Monday and wallop Stevenson Wednesday.
The Eagles showed no mercy in Monday's four-way dual at Wilson, which was originally scheduled as all four teams' season opener but was postponed due to bad weather. HRV had a commanding presence through the night, winning 22 of 28 matches and defeating Lincoln 76-0, Wilson 57-16 and The Dalles-Wahtonka 63-10.
HR Wrestling Club hosts Tour of Oregon
The Hood River Wrestling Club hosted a field of nearly 300 at Wy'east Saturday for the Tour of Oregon youth wrestling tournament. Represetning Hood River were 24 members of HRWC and 18 of HRVHS's youngest cadet-aged wrestlers. At the end of several hours of wrestling, team results saw the HRWC finish in first place out of the 10 teams in attendance.
Top-two finishers from the tournament are as follows:
1st place — Tristin Baker (peewee, 43-46 lbs.), 1st, 2-0; Connor Farlow (bantam, 44 lbs.), 3-0; Jonathan Garcia 3-0; Dylan Peterson (cadet 117-120 lbs.), 3-0; Oscar Villegas (cadet, 161-188 lbs.) 3-0; Max Lane (cadet 202-239 lbs.), 3-0.
2nd place – Ethan Smith (bantam, 59-62 lbs.), 2-1; Cole Cantrell (intermediate, 59-63), 2-1; Kevin Castro (intermediate 70-76 lbs.), 2-1; Cade Wetherell (novice 58-62), 1-2; Jason Shaner (schoolboy, 117-19 lbs.) 2-1; Eric Cuevas (cadet 117-120 lbs.), 2-1; Sam Ahrens (cadet 121-133) 2-1; Mario Medina (cadet 146-50 lbs.), 2-0; Trystan Fisher (cadet 161-188 lbs.), 2-1; Justin Wilson (cadet 202-239 lbs.), 2-1.
The punishment continued Wednesday when the team hosted Stevenson in an annual cross-river rivalry called Battle of the Bridge. A steel trophy designed as a year-long prize for the winner of the annual dual features the silhouette of a bulldog on one side and an eagle on the other.
"I don't ever want that trophy to leave this room," coach Trent Kroll told the team at practice Tuesday. The 60-15 win means he'll have his wish, at least for another year.
To be fair, Stevenson's low numbers impeded their chance at victory. The Bulldogs gave up five forfeits, while the Eagles only gave up one, giving HRV a 24 point advantage before starting the dual. Match-for-match, Hood River won the dual 36-9, or six wins to two. Jessica DeHart, Dylan Peterson, Erik Cuevas, Christian Marquez, Andrew DeHart and Jeremy Fischer all picked up wins, while Junior Rojas and Chas Peterson lost to their opponents.
As of this week, senior captain Andrew DeHart and junior Christian Marquez are atop team statistics with 16 wins apiece (Dehart 16-6, Marquez 16-3), followed by senior captain Steven Swafford (14-5), Kyle Weseman (11-4), Chas Peterson (11-6) and Jessica DeHart (11-5) and senior captain Junior Rojas (7-4) as the team's winningest wrestlers. Oregon Wrestler rankings have Marquez at 5A No. 2 for 126 pounds and DeHart at No. 3 at 145 pounds, although those rankings are largely based on results from last year's state tournament.
"We started the season with three of the toughest competitions possible," Kroll said. "We held our own through that and it really toughened us up quick. Now we're getting into the meat of the season and we're ready to do battle."
The team travels next weekend to Redmond for the for the annual Oregon Classic before hosting a dual Jan. 24 vs. West Albany and its annual Hood River Elks Jan Anderson Memorial Tournament Jan. 25. Columbia River Conference duals follow, starting with Pendleton at home Jan. 29 (varsity at 7 p.m.).
"We're working hard and training to peak at the right time," Kroll said. "We're really focused on peaking at the end of the year, at the district and state tournaments."
Kroll said that timing means winning a Columbia River Conference dual title — although an accolade he'd like to have — isn't as much of a focus as the 5A Special District 2 and state tournaments.
In CRC action, the Eagles host Pendleton Jan. 29 (JV at 6 p.m., varsity at 7 p.m.), travel to Hermiston Feb. 5 to take on last year's defending 5A team champion, and travel to The Dalles Feb. 13 to take on the Eagle-Indians.
This year's 5A Special District 2 tournament (an 11-school combined league) will be Feb. 21-22 at Marshall High School, followed by state the following weekend at the Memorial Coliseum for the top three finishers in each weight bracket.