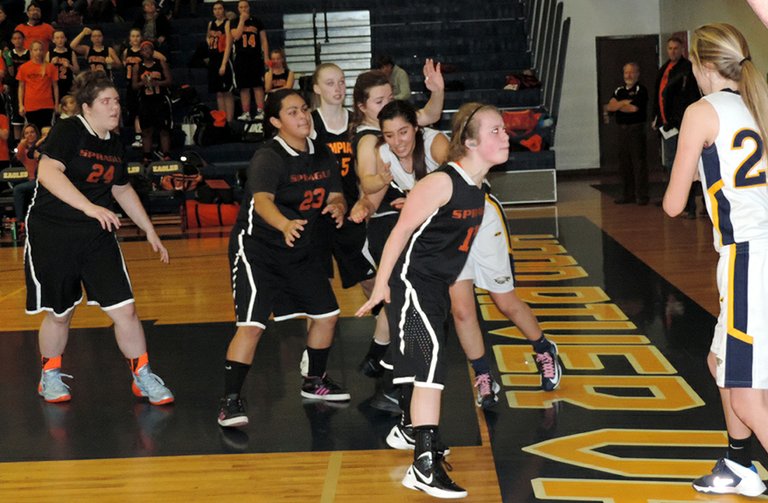 Wednesday, January 15, 2014
Two HRVHS junior varsity players proved that two-fifths is not half bad.
Monique Lara and Marlie Bloomster were the last players standing in a wild 42-39 JV win over Sprague Jan. 10 at Vannet Court. With all of their teammates fouled out, coach Wayne Smith had no choice but keep his last two players on the court and coach like never before.
Despite the 2-on-5 matchup for the final four minutes of the game, the Eagles prevailed in one of the more remarkable basketball games seen in Hood River in years.
"It was crazy!" said Bloomster, a sophomore who transferred to HRVHS from Horizon this year. "It seemed like they (Sprague) freaked out a little and didn't know what to do."
"Everyone kept getting fouls, three or four, one after another, and little by little it was just down four, three, two and then just me and Marlie," said Lara, a junior. "I think it was our adrenaline that did it."
The two sunk three of six free throws in the final minute and were able to control their inbound passes and pick up two critical defensive rebounds in the final 25 seconds to secure the victory.
"The last four minutes were crazy; the gym was hopping. It was a great win," Smith said.
"Unbelievable, the loudest I've seen the gym for a JV game in 30 years," said referee Rich Carter. "I tell you, those girls will remember that for the rest of their lives."