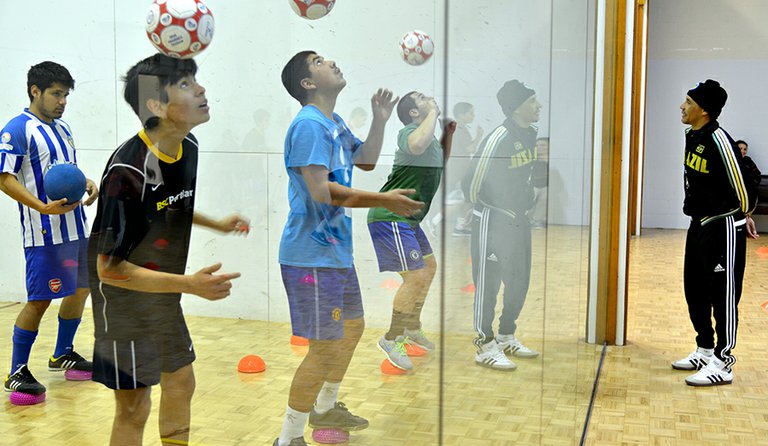 Wednesday, January 15, 2014
Hood River-based SO Samba FC is holding tryouts Saturday, Jan. 18, for a range of youth soccer teams the club is trying to assemble for upcoming seasons. Tryouts will run from 10 a.m. to noon for girls and 1-3 p.m. for boys at the St. Mary's Church field (1501 Belmont Ave.), with age groups from U12 to U18.
Teams will compete in the Oregon Premier League's spring season starting in March, with the exception of the U18 team, which will compete in a 10-game Winter 2014 season running January through early April.
"We're not sure yet what teams we will end up with; we just want to open it up and see what kind of interest is out there," said Melissa Brandao, SO Samba FC general manager. Led by coach Thiago Samba, the club launched in June 2013 with a semi-pro adult men's team, which is now part of the newly formed Northwest Division of the National Premier Soccer League.

With a vision of creating an expansive academy founded around Samba's background in Brazilian-style soccer, the club is already moving beyond its cornerstone semi-pro team to recruit some of the region's younger talent. Tryouts this weekend are part of that effort.
"Soccer talent and skill is already naturally here in the Gorge," Brandao said. "Our focus is to create a quality program that refines players and teaches a more sophisticated style of play. We want to help create opportunities for players to move beyond the local level; whether that's to play with our NPSL team, for a college team or another club."
An early example of this cultivation of opportunity is Hood River Valley High School soccer player Giovanni Magana, who was recently picked up by the Portland Timbers' development academy after making an impression in a December game between a SO Samba U18 squad and the Timbers U16 development team.
n For players 18 and over, SO Samba is hosting tryouts Jan. 25-26 (at St. Mary's Church field) for its 2014 NPSL season, which runs 10 regular-season games from March through June. Although several players have been locked in for the NPSL season, the club is holding the tryout to give others an opportunity to make the lineup.
Coach Samba is a Brazilian native who started his soccer career as a young man with the Junior Corinthians Academy in Sao Paulo — one of the top soccer clubs in the world. He has been playing and coaching soccer in the U.S. and Brazil for more than two decades. Brandao, recently elected NPSL Northwest Conference Commissioner, brings business and marketing savvy and overseas day-to-day operations of the club.
In addition to being accepted as a NPSL expansion team, the SO Samba was recently welcomed into the youth-focused Oregon Premier League, for which the club will field a U-18 boys team this winter and will follow with younger teams as they come together.
"We are very pleased to have SO Samba FC as part of the OPL," said Angela Harrison, OPL director of operations. "They are an enthusiastic club and we expect to see that same enthusiasm on the field."
For more information on the club, visit www.sosambafc.com.