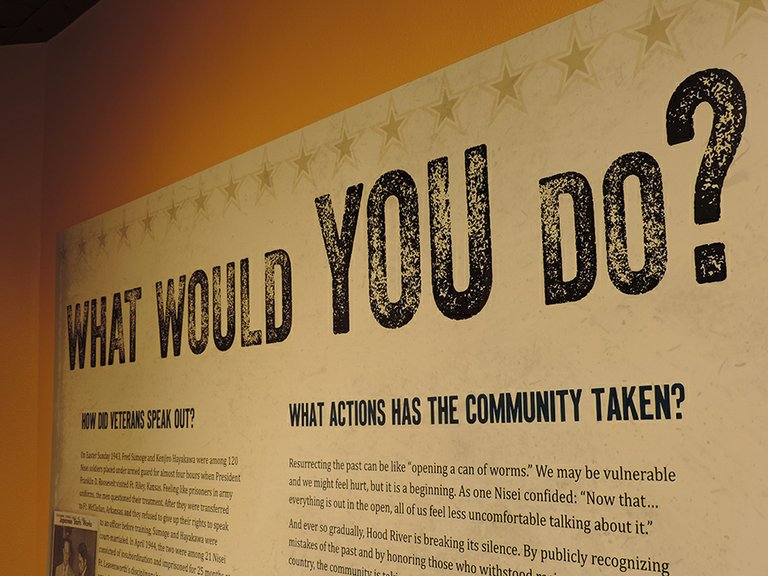 Wednesday, January 15, 2014
Don Butzin took a stand. Serving in the Army, he wrote a letter in December 1944 to the Hood River American Legion after they took the names of 16 Japanese-Americans from the Hood River veterans honor roll.
Names get obscured in history.
An event in Hood River on Sunday brought attention to both sides of that truth: names unjustly obscured, and names of people previously unrecognized.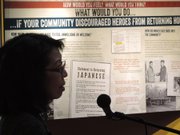 Heroes Unheralded: The List of Honors
For their strength and courage in standing up for their friends and neighbors, these heroes (and their family members who accepted the honors) were recognized Sunday at The History Museum of Hood River County:
n Sydney Babson (granddaughter Sydney Babson Blaine) — Princeton grad arrived in 1907, farmed land in Mt. Hood area, supported League For Liberty and Justice, which advocated for Americans of Japanese descent.
n Ken Butzin (Alesanne Butzin Dugan) and Don Butzin (Annette Butzin Stearns) — The Butzin brothers wrote letters protesting removal of Japanese-Americans' names from the Hood River American Legion honor roll in 1944. (Ken became a pastor, Don a teacher.)
n Laca Fletcher (granddaughter Cindy Fletcher Moore) — Co-signed resolution from Odell Methodist Church supporting Americans of Japanese descent.
n Capt. Sheldon Laurance (wife Dorothy Laurance) — Apologized to George Akiyama after a Hood River barber denied Akiyama a haircut.
n C.R. (Roy) Masiker (son Clary Masiker) — Co-signed resolution from Odell Methodist Church to restore Nisei names to honor roll
n Martha McKeown (granddaughter Davinne McKeown) — League of Liberty and Justice member, Odell church resolution co-signer.
n Glenn and Barbara Miller (granddaughter Bobbi Miller-Hart) — As foreman for Allen family, he cared for Suzuki family orchards while the Suzukis were incarcerated. The Millers were League of Liberty and Justice members
n Elmer and Frances Moller (daughter Nancy Moller) — Frances personally opposed "No Jap Trade" signs; the Mollers were League of Liberty and Justice members.
n Paul Sanstrum (son Phillip Sanstrum) — As Safeway manager, he stood up against anti-Japanese pressure.
n Charles Sheppard (sons Jack Sheppard and Chuck Sheppard) — Longtime Dukes Valley farmer and League for Liberty and Justice members who corresponded with Japanese-Americans during the war.
n Carl and Hazel Smith (Velma Smith) — Members, League for Liberty and Justice; Hazel boycotted her cousin's store for posting "No Japs Trade" sign.
n Rev. Sherman Burgoyne (Ruth and Marv Turner, Asbury Church members) — Pastor of Asbury Methodist Church spoke out against American Legion for removing names from honor roll; won 1946 Thomas Jefferson Award For Advancing Democracy.
n Arline Moore (Jackie Weygandt Shibahara) — Shopped on behalf of Japanese-American families; Moore Electric was haven for Issei.
— Research by Dr. Linda Tamura
Don Butzin and his brother, Ken, who wrote a similar letter at the same time, were two of 18 now-deceased Hood River residents who, in different ways, took a stand for justice at a time when it was unpopular and possibly dangerous: when Japanese-American citizens, including about 1,800 from the Hood River valley, were taken from their homes and farms during World War II and forced to live in internment camps throughout the desert west.
The History Museum of Hood River County held a standing-room-only event Sunday to call attention to those courageous people and thank them, and their family members, for giving welcome where little was to be found.
Almost 200 people attended the event, the largest single audience at a museum event.
Done in association with the Oregon Historical Society, "Unheralded Heroes" was a day of thanks for acts of kindness and justice taken 70 or so years ago.
"This was way overdue," said orchardist Ron Rivers, chair of the Hood River Board of Commissioners. "I'm quite aware of the people who supported the Japanese and I'm quite aware of the families that did not. This is a real tribute, and it's long overdue. Probably the worst thing the American people did to their own citizens."
Rivers was joined by County Administrator Dave Meriwether and Connie Nice, museum coordinator, in handing out certificates of appreciation. Author and historian Linda Tamura read the names and provided the details of personal histories of the individuals, and their families, which she researched as part of her 2012 book "Nisei Soldiers Break Their Silence."
"It's a dream come true to have a museum event where you run out of chairs and there's no place to park," Nice said.
In attendance were many Japanese-American local residents, including veterans and some who had to live in the World War II internment camps, and their children and great-grandchildren.
Tamura spoke about how she had learned her parents and grandparents had been forced to leave their homes and farms, while father was serving our country to fight against injustices
"I wanted to say, 'How could this happen? Did you stand up and say that was not right?'
"Then I learned how our community gained national notoriety for some acts that happened during World War II and it was a reputation that went beyond our famous apples.
"What was distressing to me was this was not part our school curriculum," she said. "I'd learned nothing about my parents' heritage; my parents didn't seem interested in talking about it nor did community members. So the silence was unnerving to me.
"I spoke up by asking questions. Much of my personal and professional growth has intersected with my understanding my conversations with community and family members to learn more and more from different perspectives about what did happen in Hood River.
"What I learned was that in the midst of the wartime rancor in our country, and in our community, a few citizens did speak out, and these were ordinary citizens during an extraordinary time. They were people of good will who championed justice and fair play even when they in fact faced repercussions themselves. So especially as a teacher, I see that these are important lessons that we can learn from them.
"I'm sorry that none of these heroes unheralded can be with us today but I am so pleased that we will be honoring 18 whose family members are present."
Tamura is a Pine Grove native whose parents and grandparents were incarcerated, while her father, Harry, joined other local Nisei in military service while their families were imprisoned.
In 1944 some misguided Hood River citizens intentionally rubbed out the names of 16 of their neighbors — men who were serving their country during World War II — from the downtown Hood River veterans' honor roll.
The 16 names were those of Nisei — second-generation Japanese Americans — who were born in the U.S. and off fighting in Europe and the south Pacific, and whose families had been forcibly removed.
History restores names, too.
Three weeks after the American Legion removed the names, the national Legion Commander ordered them restored.
The blatant unkind act by the American Legion — which Tamura noted they righted in 2001 — was reflective of the apparent prevailing sentiment in Hood River in 1945, as virtually every shop in town posted "No Jap Trade" signs, and hundreds of local citizens signed one of six full-page ads placed in the Hood River News telling Japanese American military members or people who had been kept in the camps that they should not return home; that they were not welcome.
But not everyone went along with that. Tamura described how Odell Methodist Church drafted a resolution supporting the Nisei (second-generation) and Issei (first-generation), signed by three members: C.R. Roy Masiker, represented Sunday by Clary Masiker; Laca Fletcher, represented by granddaughter Cindy Fletcher Moore; and Martha McKeown, represented by her granddaughter, Davinne McKeown. All three of the descendants are Hood River valley residents.
"Unheralded Heroes" told the stories, in brief, of the citizens who rose up against general and local discrimination.
Tamura told the story of "a few courageous citizens who formed a group, the League for Liberty and Justice League, 50 community members who took the title from the last words of the Pledge of Allegiance, with a goal to counter valley intolerance. They wrote a letter to Japanese Americans in camps offering sympathy for this shameful, unjust and unnecessary ordeal and offered help to offset some of the wrongs."
Avon Sutton, a Parkdale farmer, was the league president, and with his own money he purchased a Hood River News ad that asked, "Shall we write into the Bill of Rights 'for Caucasians only'? Let us not burn any witches in Hood River."
"R.J. McIsaac sold to Japanese-Americans and bought Japanese goods to sell to them at his Parkdale store, and all the while had residents who would put 'Jap Lover' on his windows," Tamura said.
Then she pointed to a small Hood River News classified ad, Jan. 12, 1945: "To Japanese American soldiers home on furlough: friendship, good food and a warm bed. No phoning necessary, welcome at any hour. — Joe and June Haviland."
Tamura said 40 percent of Hood River Issei and Nisei returned to their homes, compared to a national rate of 70 percent.
"The Japanese-Americans who served on the battlefield and who stayed in the camps had to prove themselves socially, steeled themselves against rejection, kept low profiles, and in quiet, courageous ways demonstrated their citizenship and proved they were not second-rate citizens, and have become part of our community."
She said that in the last few years, Hood River has demonstrated its recognition of what occurred, and pointed to three specific instances:
n In 2001 Mam Noji and George Akiyama were invited to be grand marshals of the July 4 parade.
n In 2001 at Veterans Day Post 22 dedicated a brick at Overlook Memorial Park — two blocks from where the Victory Plaza had stood, honoring all Nisei.
n Memorial Day 2007, a marble monument was placed at Idlewilde Cemetery honoring all Nisei and all Japanese American veterans.
On that day, Congressman Greg Walden said, "This was not a proud chapter in history of valley, and nothing we can say today can right the wrongs of the past. But hopefully, our acknowledgement of those wrongs can allow us to prevent such wrongs from ever occurring again."
Tamura said Sunday, "I'm pleased I was able to collect those stories in a book I wrote and that the Historical Society invited me to work with them to create an exhibit to tell that story," and introduced Brian Carter, director of Museums at Oregon Historical Society.
"Our goal is not to have you simply pass by but to ask questions; have you think about 'What would I do if I was faced with that situation?'
"We want adults and kids as well to consider what would you do if you faced injustices, if you heard someone make a racist comment or heard a sexist joke or saw someone who was treated inequitably, or if you saw bullying, what would you do?"