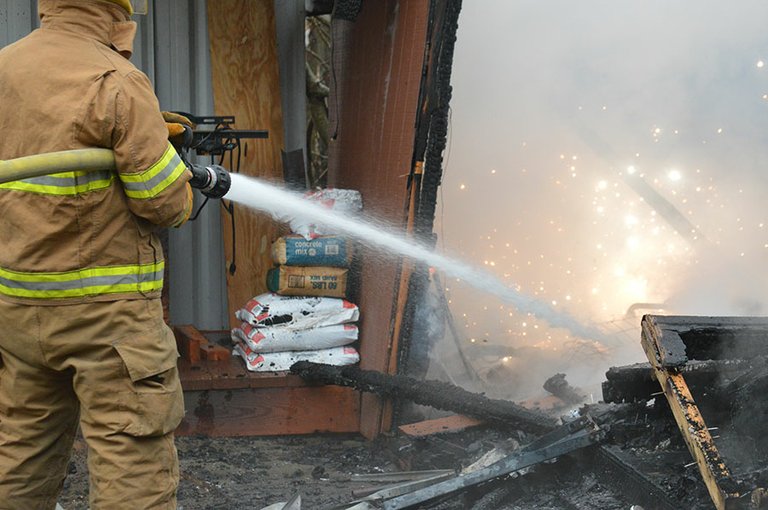 Saturday, January 18, 2014
A tool shed on the west side of Hood River was reduced to little more than a pile of charred wood following a fire that quickly ripped through the structure Wednesday morning.
West Side Fire Department, Wy'east Fire District, and Hood River Fire and EMS responded to the home of Darin and Daniel Finn at 3910 Belmont Drive at just before 9:30 a.m. after receiving a call that flames were visible from a wood tool shed on the property.
Darin reported that he "heard banging" and thought it was his father chopping wood, but eventually realized that was not the case.
The banging sound was actually caused by paint cans stored inside the shed exploding from the fire's extreme heat. The paint, as well as a gasoline can used to fill up the Finns' lawnmower, fueled the flames that ultimately leveled the shed, with the exception of a lean-to used to shield bags of concrete mix and potting soil from the elements. Trees and a fence serving as a property boundary were also scorched by the blaze, but the Finns' house, which lies only a few feet from the shed, was unharmed.
Darin said he built the 10-by-12-foot tool shed the past summer that doubled as a refuge for "feral cats" that he fed and allowed to sleep there. He did not know if any animals were present at the time of the fire.
The cause of the fire was still undetermined as of press time, but West Side Fire Marshall Jim Trammell reported it was likely electrical in nature, indicating the presence of a handful of extension cords that could be seen running from the house to the detached shed. Darin reported that no appliances were switched on inside the shed at the time of the fire.