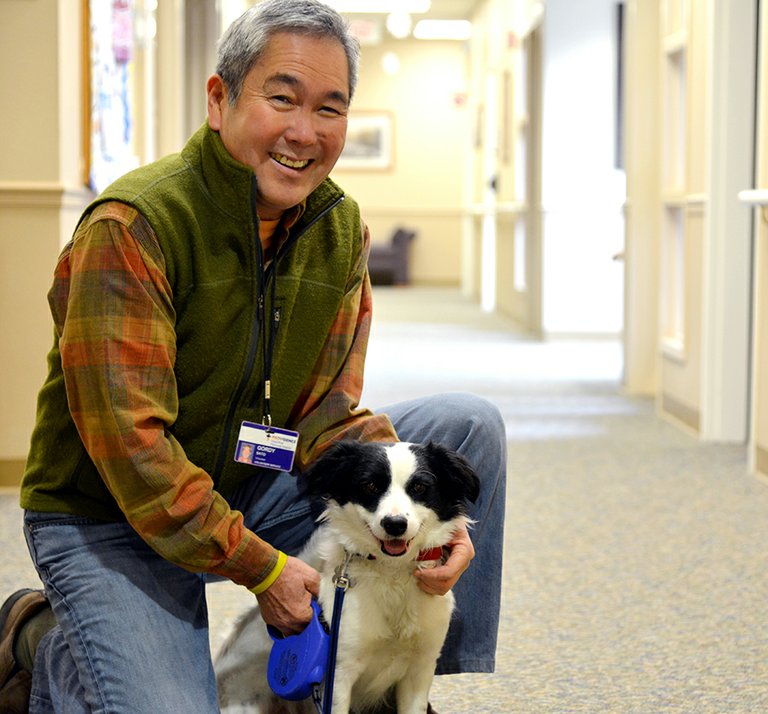 Saturday, January 18, 2014
Parkdale native Gordy Sato is something of a volunteer recruitment specialist: He believes that everyone has gifts to share, and likes to connect people with volunteer opportunities when the topic arises. In other words, don't tell Sato you're bored unless you're looking for a new pastime.
"My goal is to get everyone to do whatever it is they're passionate about," he said. "There's a plethora of things to volunteer for, right?"
But Sato doesn't just talk about volunteering. He gives freely of his time to a variety of organizations, including Rotary (where he served on the board until stepping down last year), the United Way of the Columbia Gorge (he currently serves on the board), Salvation Army and Brookside Assisted Living Center, as well as the Pear Marketing Association, Oregon Growers-Shippers, and Diamond Fruit (he also serves on the board).
Sato was honored with a Hearts of Gold award in 2011 by Providence Hood River Memorial Hospital Foundation for supporting numerous organizations "by volunteering his time and sharing his smile, his enthusiasm and his infectious positive energy," according to a Nov. 19, 2011, Hood River News article, an honor he shared with Dr. J. Kyle House.
"I really think that the opportunity to give in Hood River is awesome," he said. "And there are so many people who volunteer in this community. They each have a niche."
His calendar hasn't always been volunteer-oriented. Born in Parkdale on his parents' orchard, Sato's never thought he'd settle in the valley. But after graduating from Oregon State University, he landed his first job at United Telephone in Hood River.
"When you're right out of college, who cares how pretty it is?" Sato said. "You want to be where the action is, and that was not Hood River." After a year with United, he knew it was time to leave.
Sato left United around Christmastime and found a job as a temporary salesclerk at Meier and Frank in Portland, where he quickly moved up the ranks. Eight years later, he was recruited by Nordstrom, and then by Christian Dior.
With Dior, he was based in Seattle and was responsible for five states as their Northwest sales rep. After nine years with the company, they added Hawaii to his list of territories.
He traveled a lot, working long hours on commission. And while the money was good, something had begun to shift. "I'm not 20 anymore, I'm in my early 40s, and it was really stressful and I knew it was time for me to switch careers," he said.
And so he came back to Parkdale 18 years ago to work on the family farm.
"My priorities changed," he explained. "Lifestyle is important."
Sato didn't know much about running an orchard — he had previously only done summer work — but with the help of foreman Ramiro Gutierrez, now a 30-year employee at Ray Sato Orchards Inc., he began to learn.
Once he was back in the valley, the first thing Sato did was take a Spanish class. The second thing was join Rotary. At first, he could only leave the farm for short periods, so he would literally just leave for Rotary meetings. As his role on the farm evolved into a manager position, however, he had more time to volunteer.
Through Rotary, he discovered the United Way, and through the United Way, many different organizations who benefit from United Way's financial allocations.
"United Way has been really great because of all the agencies we allocate to," said Sato. "I'd never heard of them, and all of those agencies have volunteers who work for them. It's really cool."
His association with Brookside Manor, however, came through his father, Ray. His father lived with dementia and Alzheimer's, and, after suffering a stroke, the family moved him from the hospital to Brookside. Sato got into the habit of visiting his father, finding himself coming in for a visit even after his father had passed away. He decided to explore volunteering opportunities at the assisted living center, and was soon assigned a "buddy."
Every week — he varies the days — he spends two hours with a resident in the memory care unit. When his buddy passes away, he finds out who else needs a visitor.
"For me, I get more from it than I'm giving," he said. "I look forward to it. The memory loss side is where my father was. (The residents) have good long-term memory, so you can talk to them about their childhoods, but they can't remember recent stuff.
"My forte is I'm a happy guy and I'm loud, so I'm the perfect person to be in Brookside," he said.
While Sato has a "buddy" at Brookside, he also has a list of eight people he visits regularly. "I purposely go to see them because I love them," he said. "They look forward to seeing me and I look forward to seeing them." The residents confirm this — once he heard one say, "I love it when he comes! Who is he?"
Besides just visiting, Sato takes his "buddy" for walks at Waterfront Park and then to lunch every third week. Once, while having lunch and a beer at Full Sail, Sato even recruited the waitress into volunteering after she asked about Sato's identification badge. Sometimes people want to volunteer in a certain capacity, he said, but they're not sure how. And he's happy to help with the "how."
He's also been happy to help share his marketing knowledge in his work with the Pear Marketing Association. Now, packing houses work together so the farmers are able to get the best prices for their product. This has also served to unify the industry.
"We have to be a team player," he explained. "Packing houses used to compete against each other, even locally."
Sato feels blessed to be living in the valley, working as a farmer, and volunteering regularly.
"It's so great," said Sato. "Living in a small community like this, you get a chance to give back and see the difference."