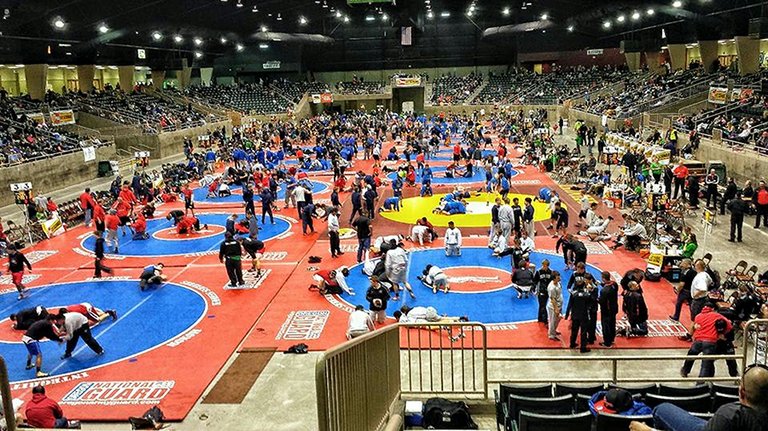 Wednesday, January 22, 2014
Wrestlers from across the Northwest piled into the Deschutes County Fair and Expo Center in Redmond over the weekend for the annual Oregon Wrestling Classic. The high school division brought 53 teams to compete in the dual-meet format tournament, including a lineup of the top varsity wrestlers representing Hood River Valley High School.
Elks tournament Saturday
HRVHS wrestling hosts its annual home tournament – the Hood River Elks Jan Anderson Memorial Wrestling Tournament – Saturday at HRVHS. Action starts at 10 a.m. and will run all day, with 17 schools on the roster.
The Eagles opened with team wins over Parkrose and Bend before losing tough battles against Sandy, Churchill and Redmond to finish 2-3 in the 5A division. Junior 126-pounder Christian Marquez led the team with an undefeated 4-0 record — winning all four matches by pin — to improve his season record to a team-best 21 wins and three losses. Finishing with three wins and one loss were Chas Peterson, who battled back from a first-round loss by fall to pin his next three opponents in the 138-pound weight class, Andrew DeHart, who won his first three by fall before losing a tough 20-7 major decision against defending state champion Josh Reyes of Parkrose, and Seven Swafford, who won three by fall before getting pinned in the fourth, sacrificing a front tooth along the way.

During the same road trip, the Eagles paid a visit to Mountain View High School Thursday evening for a friendly rivalry started last year called Grapple for the Griffin. After claiming the unique trophy last year, coach Trent Kroll was forced to hand it over to Mt. View coach Les Combs thanks to a tie-breaker scoring technicality that awarded the win to the Cougars. The score was tied 36-36 at the end of the dual, but MV claimed the win because scoring rules say the team that wins the most matches wins the dual in the event of a tie. Dylan Peterson, Marquez, Junior Rojas, Kyle Weseman, Swafford and Sebastian Barajas all picked up team points in the dual.
In addition to the high school dual meet, HRVHS female wrestlers competed in a women's division tournament the same weekend. Peyton Rigert and DeHart both won their divisions, while Jenna Powell finished second and Joanna Endow was third. Next up for the girls is a Feb. 8 Cottage Grove tournament where they will compete to qualify for the OSAA women's state championships.
Rockwell rankings
Back by popular demand after a year hiatus are the well-regarded Rockwell Rankings — Oregon high school wrestling rankings complied by Richard Rockwell. As of this week, the following HRV wrestlers are listed in these rankings (see theowf.net for updated rankings): Christian Marquez, first at 126 pounds; Andrew DeHart, third at 145 pounds; Chas Peterson, 11th at 145 pounds; Kyle Weseman, sixth at 152 pounds; Steven Swafford, seventh at 182 pounds; Jeremy Breedlove, fifth at 220 pounds.
Oregon Classic highlights:
Jessica DeHart, 106 pounds: 3-1, win by fall, win by forfeit, win by forfeit, loss 5-0 decision
Eric Cuevas, 113 pounds: 1-3, loss by fall, win by fall, loss 14-7, loss by fall
Dylan Peterson, 120 pounds: 2-2, loss by fall, win by fall, win by fall, loss by fall
Christian Marquez, 126 pounds: 4-0, win by fall, win by fall, win by fall, win by fall
Junior Rojas, 132 pounds: 2-2, loss by fall, win by fall, win by forfeit, loss by fall
Chas Peterson, 138 pounds: 3-1, loss by fall, win by fall, win by fall, win by fall
Jeremy Fischer, 145 pounds: 1-3, loss 4-1, loss by fall, win 6-2, loss by fall
Andrew DeHart, 152/160 pounds: 3-1, win by fall, win by fall, win by fall, loss 20-7
Kyle Weseman, 152/160 pounds: 2-1, win by fall, loss 21-12, win 7-6
Trystan Fisher, 160 pounds: 0-1, loss by fall
James Estes, 170 pounds: 0-1, loss by fall
Ian Rand, 170 pounds: 0-3, loss by fall, loss by fall, loss by fall
Steven Swafford, 182/195 pounds: 3-1, win by fall, win by fall, win by fall, loss by fall
Alex Buschauer, 182/195 pounds: 1-3, loss by fall, loss by fall, loss by fall, win by forfeit
Max Lane, 220 pounds: 3-1, win by fall, loss 15-7, win by forfeit, win by fall
Sebastian Barajas, 285 pounds: 2-2, loss by fall, loss by fall, win by forfeit, win by fall