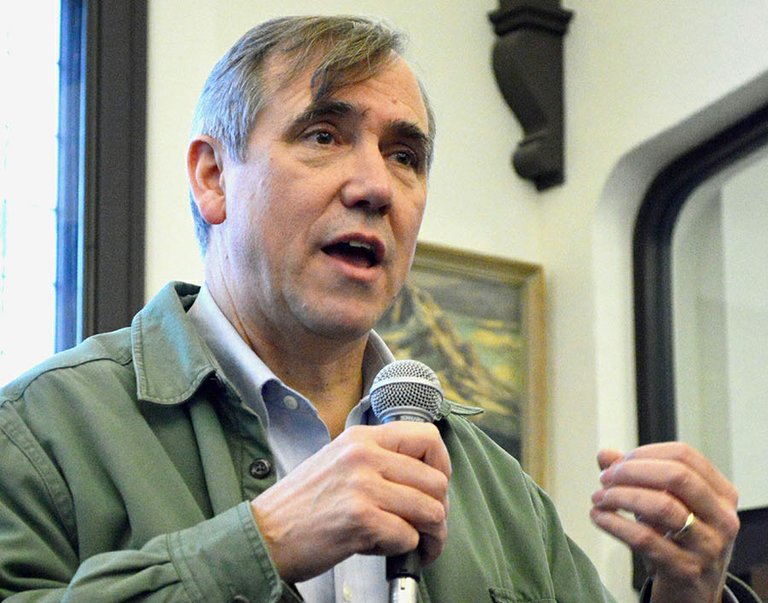 Wednesday, January 22, 2014
U.S. Sen. Jeff Merkley was in Hood River Tuesday morning as part of keeping his 2008 promise of holding a town hall meeting in each of Oregon's 36 counties every year.
And like in past years, job creation was a primary topic of conversation.
The meeting was held at the Hood River County Public Library and was well-attended by county and local officials who made up a good portion of the approximately 50 people who came to the library's reading room to hear the Democrat senator speak.
Sen. Merkley told the audience he advocated investing in infrastructure, education and manufacturing to promote living-wage jobs, which he said have been woefully slow in returning since the economic downturn of the late 2000s.
"We've been losing living wage jobs. Sixty percent of those jobs that we lost in the 2008 recession were living wage and only 40 percent of the jobs that we're getting back are living wage," Sen. Merkley reported. "So, millions of families have gone from middle class to near-minimum wage, part-time, possibly without benefits."
According to Sen. Merkley, the economic recovery has been more favorable toward the wealthy than the middle class. He stated that the U.S. is "more polarized now than we were in 1928" regarding the distribution of wealth.
"Of the expansion in the amount of revenue in this recovery, 95 percent of that new revenue has gone to the 1 percent at the top," Sen. Merkley said. "That raises, real concerns, if you will, about the tide lifting all boats."
Sen. Merkley also touched on the importance of restoring unemployment assistance for families who are still struggling to find jobs — living wage or otherwise —
"We had 18,000 Oregon families lose their extended unemployment on Dec. 28," he said. "We will have a total of about 75,000 Oregon families lose their unemployment early, if we don't reinstitute this program."
To help people secure jobs, Merkley advocated for access to affordable college education and reported he was working on developing a multi-state version of the "Pay It Forward" program, which requires students to pay a small percentage of their income to their college upon graduating as opposed to paying tuition up front. Merkley stated that college students should not have to graduate with "a school loan the size of a mortgage that will be a millstone around their neck."
On a more local level, coal and oil trains running through the Columbia River Gorge were also topics of conversation during a question-and-answer period with the audience. Sen. Merkley said he was particularly concerned about oil trains coming from the Bakken oil fields in North Dakota, which he said carried oil that was "much more volatile" than other shipments.
Merkley, who lives in Multnomah County, was elected to his first term in the U.S. Senate in 2008. He is seeking re-election to the Senate for the first time this year and currently faces multiple challengers, predominately Republican, who are looking to unseat the incumbent Senator. Merkley will also hold town halls in Wasco, Gilliam and Sherman counties this week.