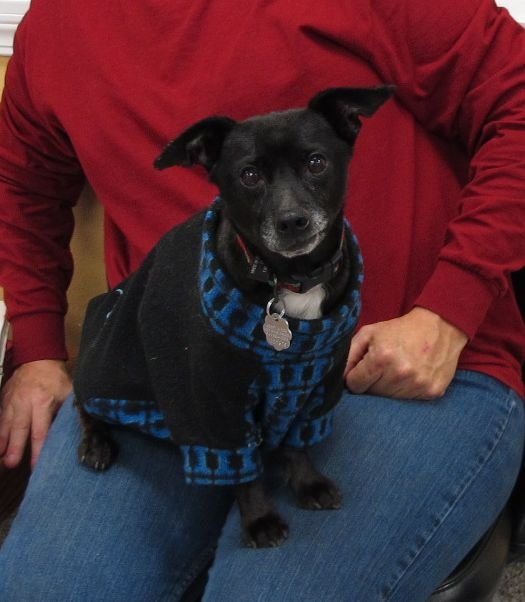 Wednesday, January 22, 2014
This week volunteers at Adopt A Dog have selected Chico as the program's adoptable pet of the week. They describe him as follows:
"Chico is about 10 years old and is finally on his way to having the life he deserves. He is one of the group we rescued recently who has spent his life living outside in a small, dirt floor shed surrounded by filth, feces and 15 other dogs.
"Chico doesn't hold on to the past, but is instead fully enjoying his new life in a warm environment with plenty of food and a soft bed, and he's really loving the cuddles and walks and play time he gets from our volunteers. He is a perfect gentleman, too!
"He gets long walks every day and could go even farther; he has great stamina. He has learned to sit when asked, likes to be brushed and is calm and quiet in the house. He goes into his crate willingly when we say "go to bed." He seems to like everyone and does not seem timid around children.
"Chico doesn't mind down time and sometimes when the others go outside he chooses to stay in just relaxing. He's working on "wait" when we leave the room and he understands "back" when he needs to leave the kitchen.
"All in all, Chico is a very easy keeper and he loves to snuggle but doesn't have to. He wags his whole body when people come into the room. And last of all, this dog can leap long distances for such a little guy. He gracefully leaps a 3-foot span from the ottoman to the couch!
"Chico is so happy and appreciative now; just imagine how thrilled he'll be to get into a real forever home! He is such a nice little fella! He's got lots of living to do and he's ready to be someone's best friend now."
Chico is current on shots, microchipped and neutered. His adoption fee is $115. The fee to adopt is charged to recoup standard veterinary expenses.
Since many of AAD's dogs are in foster care, please call ahead to meet Chico at the Hukari Animal Shelter, 3910 Heron Drive, Odell; 541-354-1083. Adoption hours are Wednesdays from 5-7 p.m. and Saturdays from 9-11 a.m. Applications may be downloaded at hoodriveradoptadog.org and faxed to 877-833-7166.
The Adopt A Dog program offers 24PetWatch microchips, which include free registration into the 24PetWatch pet recovery service. (For more information visit www.24petwatch.com or call 866-597-2424.)