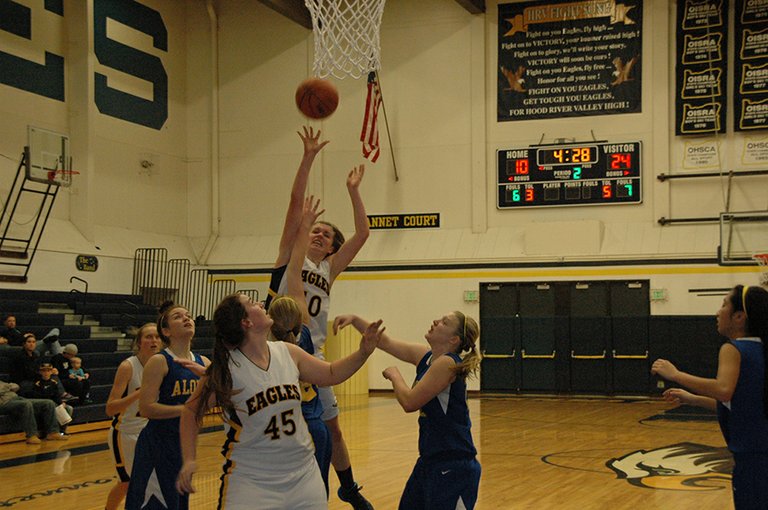 Wednesday, January 22, 2014
With starters Jestena Mattson and Annie Veatch and reserve Kassidy Ellefson-Davidson unavailable due to injuries and illness, the Hood River Valley High School varsity girls basketball team was up against tough odds Friday night in a home dual against the 8-6 Aloha Warriors. Despite a double-double effort by Kelsey Wells (16 pts., 13 reb.) the Eagles fell short in their final preseason game of the year by a margin of 46-33.
Along with being shorthanded, the Eagles were outmatched physically and in experience; Aloha had four players 5-foot-11 or taller and an edge in experience with seven seniors. Despite the double-digit defeat, however, HRV finished on a positive note allowing just 10 Warrior points in the second half to slice a 26-point deficit to just 13 by the final whistle.
Coach Scott Walker juggled his lineup and moved junior varsity players up to the varsity roster to fill voids. Sophomore point guard Anyisa Ybarra (two assists) started her first varsity game and helped lead a young HRV lineup that included just one senior, Kainalu Bailey (four points, three steals).
"I was nervous, but I was glad to have an opportunity to be a starter for the first time and it was a good experience," said Ybarra, playing in her third varsity game this year.
HRV got off to a decent start, going up 5-4 off points from Breanna Weekly (three pts.) and Bailey before the 6A Metro Conference Warriors responded with a 7-0 run to go up 11-5. After Eagle senior forward Kelsey Wells (16 pts., 13 rebounds) dropped in two free throws making it 11-7, Aloha scored to take a 13-7 advantage at the end of the quarter.
"Our offense just wasn't clicking too well early in the game and Aloha was really able to score a lot of points in the first half," said Wells, HRV's leading scorer and top rebounder.
Aloha utilized an effective full-court press to disrupt HRV's offense and create turnovers to capitalize on defense, while offensively they displayed a potent attack that gave them a 36-14 halftime advantage.
"We didn't adapt to their pressure defense too well," said Walker. "We practice situations like that all the time and the girls know exactly what to do, but for some reason they just didn't respond too well. We definitely missed some key players who we rely on to help us take care of the ball better. Jestena is very athletic and she does so many good things for our team. We missed Kassidy a lot too, because her strong defensive play helped lead us to a win in our last game Sprague (a 56-50 home win Jan. 10)."
Aloha built their largest lead of the game at 44-18 after three before the Eagles found a late-game rhythm and got back on track.
"They're (Aloha) a very good team, we struggled defensively and we really had tough time trying to stop number 22 (Noheailalani Waiwaiole, 19 pts.)," said Winans, who recovered from a recent shoulder injury and played for the first time since Jan. 4. "We switched from man-to-man defense to zone in the second half and it worked out really well for us. It's tough with illness and injuries on our team and we really missed Kassidy, Jestena and Annie."
Utilizing a solid two-three zone defense for the first time this season proved effective for the Eagles, as they started the fourth with a 13-0 run against the Warriors' reserve lineup.
"We just started working on the zone this week in practice and I thought we did a good job while using it for the first time," said Walker. "It was nice seeing the good sportsmanship displayed by the Aloha coach (Poeko Waiwaiole), who is a real class guy. They have a lot of seniors who he's been working with for quite a while, and it shows. We knew it was kind of going to be a struggle for us, but the girls played hard and gave it their best shot."
The Eagles play again Jan. 24 as they start their nine-game Columbia River Conference schedule with a road game at Pendleton (6-9). The game will be broadcast by Mark Bailey on KIHR radio beginning with a 6:45 p.m. pregame show.