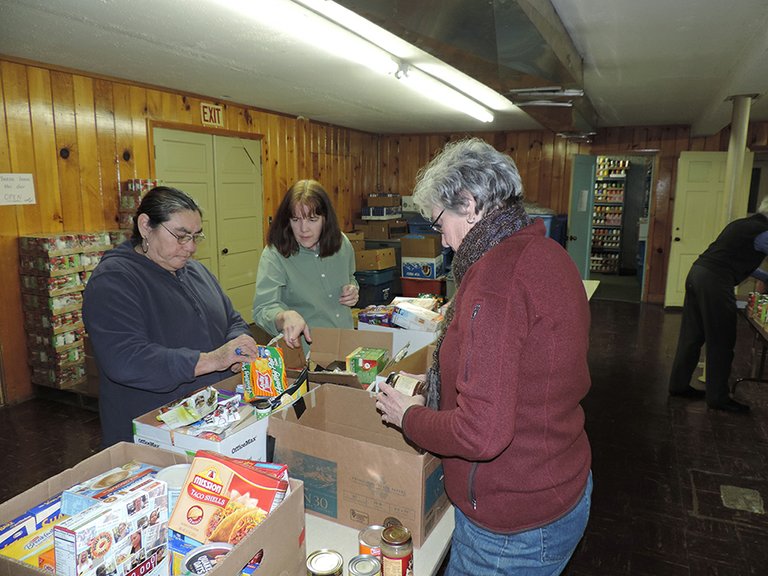 Wednesday, January 22, 2014
With Martin Luther King's legacy in mind, a diverse group of community members spent part of Monday afternoon in service at a place that definitely can use volunteer help: FISH food bank.
"People from the community are packing bags for people coming through the food bank and helping distribute the food to people and pack it downstairs," said HRVHS sophomore Charley Boonstra. "There's food from high school and from the community (food drives) that the trucks brought in and we helped move it downstairs. Today is MLK Day and we wanted to give back and we kind of spread the word through congregations."
"It is always great to have people come in to help, and they have been a big help today," said Billie Stevens, FISH volunteer coordinator.
Monday's MLK Day work crew included volunteers from the Riverside Community Church, Friends (The Dalles) and Unitarian Universalist congregations and students from the high school cultural and advocacy group MeCHA and other adults from the community.
"The work I do is here sit down; however I can help. Hold on with both hands is what I do!" said Norm Vincent of Hood River, who is on disability but regularly comes to help sort and distribute food.
"I'm here because it's rewarding to help other people and it's a good way to meet new people and it's just fun overall," Boonstra said, as she worked with HRVHS freshman Lucy Fine to put labels on boxes of commercial jams that had been donated.
Said Fine, "It's really fun and it's really good people are going home with food today."
Much of the food came from the prepared food bags and cases donated by Safeway and Rosauers, who both delivered more than 1,000 individual shopper-purchased donations in December and January.
"Thanks to them we got all this food downstairs and sorted," said Lucinda Hoffman, the Hood River food bank coordinator, pointing to tables laden with canned goods, pasta, peanut butter and a smorgasbord of staples and extras, ranging from baby food to laundry items, donated by the community in the holiday food drives.
"This is about as full as we've been," Hoffman said. An outpouring of donations came in a few weeks ago after publicity about food bank shelves starting to go bare. "People saw the need and they responded," Hoffman said. "Some people gave three times as much they normally would."
"This is great, but we'll be talking about a big need again in the summer, probably," Hoffman said.
In January the food bank saw "a small uptick," in the number of registered clients, Hoffman said, with 25 added in the past month, compared to the monthly average of 12 or so new clients. (Some clients opt out each month, too.) Normally, the food banks in Hood River, Odell, Parkdale and Cascade Locks serve a total of about 400 households.
All told, FISH has served nearly 4,000 people in the past year — some just once, some repeat customers — according to Stevens.