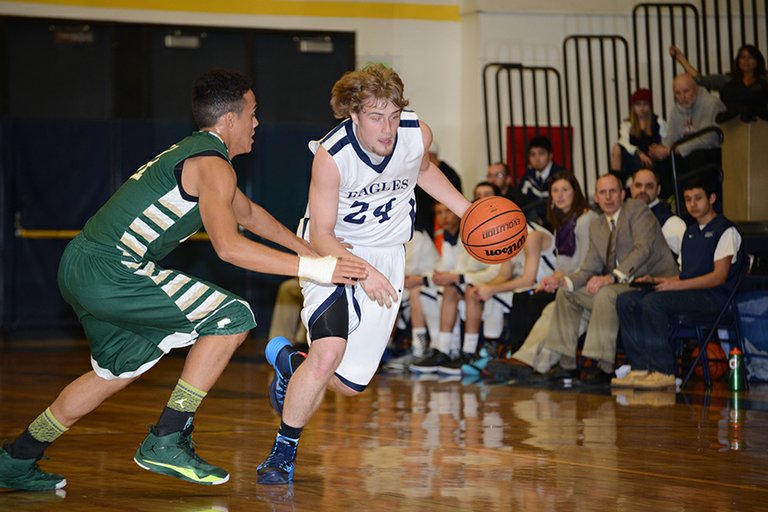 Saturday, January 25, 2014
The 7-9 Pendleton Buckaroos used a considerable size advantage and accurate shooting to hand the Hood River Valley High School varsity boys basketball team a 79-45 defeat Thursday in the Eagles' Columbia River Conference opener.
Before a sparse finals-week crowd at Vannet Court, the Eagles played hard, controlled the ball well — in streaks — and showed an ability to get past a full-court press, but had repeated misses in the paint and were again plagued by turnovers.
Austin Martin hit a pair of threes to lead HRVHS with 10 points, while Parker Kennedy and Scott Zeigner added eight apiece and Austin Clarke five.
The first quarter looked promising for the Eagles, now 0-15 on the season, as they battled back from an 18-8 deficit with inside hoops by Zeigner and Martin to come within four points. Pendleton capitalized on turnovers and made the most of their shots, however, and were up 23-14 at the end of first and 43-24 at the half.
Bright spots were a Zeigner baby hook to make it 23-16, and a pair of layups by Kennedy to start the third.
The Eagles could not surmount Buckaroo freshman Kaden Smith's 15 first-half points and game-leading 19, nor the 16 points that 6-5 senior center Joel Boozer managed. Senior Donte Robinson added 10, including a third-quarter dunk to put Pendleton up by 23.
Coach Steve Noteboom called a timeout at that point to try to regroup, and while the Eagles played markedly better defense the rest of the way, Pendleton kept hitting outside shots and Robinson and Boozer repeatedly went inside for scores.
Sophomore Andrew Roberts and freshman Tyler Stintzi came off the bench to hit late buckets for the Eagles.