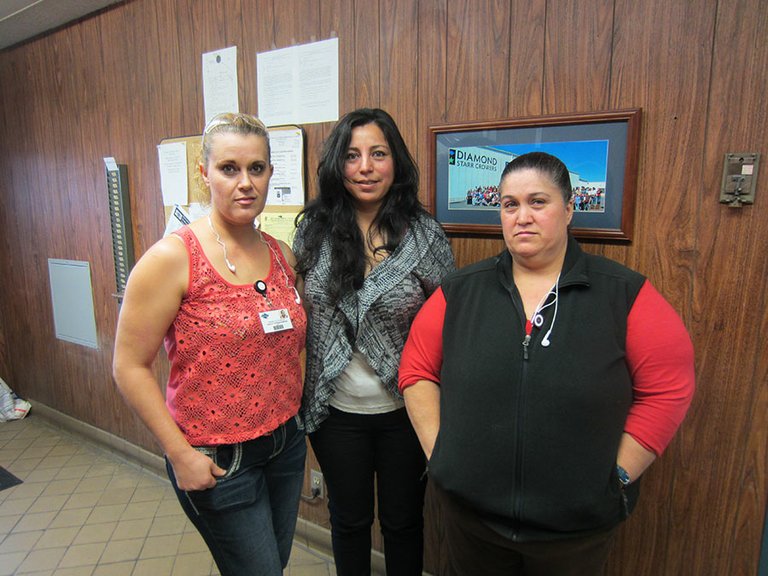 Saturday, January 25, 2014
Dinora Trejo has only been volunteering with United Way of the Columbia Gorge since March 2013, but she's already made a big impact in the organization's fundraising campaign.
Trejo's association with the United Way comes through Diamond Fruit, where she's worked since 1989. Diamond has always supported her in her pursuits, she said, whether she's taking time off to further her education (she received a degree in cultural anthropology from Portland State University in 2003, and also holds a nursing assistant degree) or moving through the company ranks (she began as a packer at 17, and applied for the payroll position she now holds two years ago).
It was no surprise, then, that Diamond supported her when she began volunteering with the United Way.
Trejo credits Gordy Sato, United Way board member, with introducing her to the organization. Sato was involved in putting together a new United Way video, and wanted to "do a little segment on what Diamond Fruit does for their (fundraising) campaign," he said. He asked Trejo to serve as translator for Diamond's then-campaign fundraiser because "I liked her great energies, and she seemed truly interested in finding out more about how United Way operated," he said.
At that time, Trejo "was oblivious" to the United Way.
"I lived in my own little bubble. You don't see a lot of homeless people (here) like what you see in Portland. Because it is Hood River, a nice town, I never realized there was such a need."
As she translated for Sato, "Gordy decided I was a good candidate," smiled Trejo. "He suggested I could do allocations with Ali (Church, campaign and allocations manager)."
And that's what she did. Serving on the committee, Trejo "truly became entrenched in the allocations process, and saw how United Way allocates to the greatest needs in our community," said Sato.
For Trejo, the allocations process was an eye-opener. "To see through allocations how money is used gives you perspective," she said. "You are helping in the community."
She likes that United Way is connected to so many local organizations — Big Brothers Big Sisters, Hearts of Gold, the woman's shelter, children and elderly advocacy groups, and Meals on Wheels, to name a few. She also likes that 99 cents of every dollar raised helps local people.
"Ali says it's not the amount you earn, it's that every dollar counts," said Trejo.
After her experience with allocations, Trejo took it upon herself to lead the United Way campaign at Diamond Fruit, said Church. "Serving on our allocations committee exposed her to the tremendous need in our community as she, and the rest of the committee, met directly with over 50 directors of core human service programs in the Gorge who were asking for funding to provide critical 'basic need' services," said Church.
"I believe that Dinora's experience on the allocations committee ignited the desire within her to lead the United Way campaign at Diamond Fruit."
Trejo decided that, instead of asking Diamond's employees to donate money, she would sell food and raffle tickets as a new way to raise funds. With a selected group of women — Juana and Paula Magana, Marcella Gallegos, Estelle Martinez, Gloria Lachino and Guadalupe Bruno ("I chose those people because they enjoy cooking, are great cooks, and like to help with United Way") — and the blessings of CEO David Garcia and Manager Carla Bailey, she began a month-long food service using the company's kitchen on the company's time.
From Nov. 17 through Dec. 31, the kitchen produced posole, enchiladas, sopes, gorditas, tostadas, tacos, atole, and rice and beans. Trejo sold food at other packing houses in Odell and Parkdale, too. And in the end, between the food and raffle ticket sales, Trejo and her team raised a record $6,634.14 — up from around $1,000 last year.
Despite her success, she shies away from taking credit. "Credit is to be given where credit is deserved," she said. "All employees contributed by buying what we are selling. Carla Bailey and Dave Garcia have been a big help spreading the word, supporting the cooks … it's been a team effort."
Trejo also credits the many donations she received from the community with the success of the campaign. Juanita's in Pine Grove donated tortillas, chips and tostadas; Guadalajara's Market in Hood River donated meat. She also received raffle items from El Tapatio Mexican Restaurant, and Church donated an Ixtapa gift certificate, too.
United Way was, of course, thrilled with the results.
"Dinora's an inspiring example of a truly humble and compassionate person who, seeing the tremendous need in the Gorge, put her energy and heart into making a real difference," said Church, "and the results of her efforts at Diamond Fruit are extraordinary! We are so thankful for people like her — caring, local people who unite with others to ignite positive change in our community."
Trejo sees volunteering as a way to look beyond oneself.
"Volunteering is a great thing to do," she said. "You look at your life … I live in my own little world. United Way helped me to realize there are bigger problems out there. My problems are not so big. It's nice because sometimes we don't realize that."
Trejo has two daughters, 15-year-old Vanessa Olivias, a student at Hood River Valley High, and 19-year-old Perla Olivias, who attends Hawaiian Pacific University in Honolulu. Vanessa is following in her mother's volunteer footsteps, working at the Odell FISH food bank site every Thursday.
"It's very appealing to me to see she can do something like that," Trejo said. "She enjoys it."
In addition to her position at Diamond Fruit, Trejo has worked as a nursing assistant on the weekends at Providence Hood River Memorial Hospital since 2007.