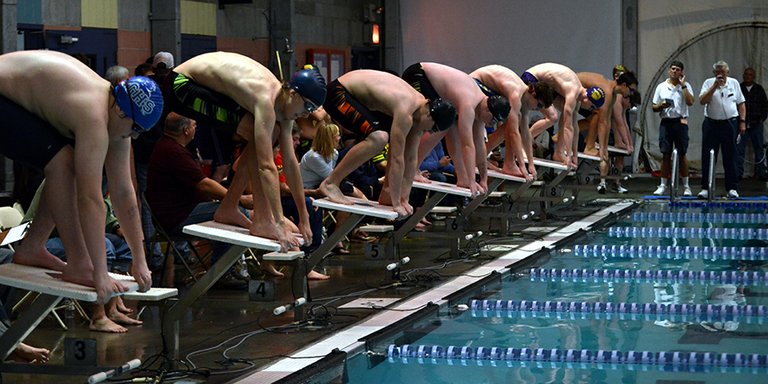 Saturday, January 25, 2014
The Hood River Aquatic Center was packed to capacity last weekend as the HRV Eagles swim team hosted its annual invitational meet. With a field of nearly 300, the meet is an excellent opportunity for swimmers and coaches to gage progress as the final stretch of the season approaches. Among the 11 teams in attendance were all four of the Columbia River Conference teams (Hood River, The Dalles, Pendleton and Hermiston), which gives the Eagles the additional opportunity to see how they measure with just a few weeks to go before the district meet (Feb. 15 in Hood River).
After a long and loud day of racing, the HRV girls team ended up third overall and the boys fourth, with several of the team's more experienced swimmers leading the way with podium finishes.
"This has always been a great meet for Hood River," coach Keith Ebbert commented. "Historically, I have seen many personal best times from the team at this meet … and this year was no exception. Almost every single (HRV) swimmer had personal best times at the meet."
For the girls, the foursome of Danielle Miller, Kylie Webb, Dkani Freeland and Caitlyn Fick proved unbeatable in both the 200 medley and 200 freestyle relay events. They broke the 2-minute mark in the medley relay, finishing in 1:57.79, more than 8 seconds faster than the second-place team, while their 1:47.73 time in the freestyle relay was almost 5 seconds faster than runner-up teams from The Dalles and Pendleton, who finished in a tie for second. Freeland, Miller and Webb also asserted their dominance individually, with first-place finishes in several events (see below for details).
For the boys, David Walker was the only individual to win an event (200 IM), while the 200 medley and 400 freestyle relay teams finished second — runner-up both times to CRC rival Pendleton.
Ebbert noted a transition in training at this point in the season — from technique, form and aerobic swimming to more intense anaerobic workouts — as a factor in many of his athletes posting season or career best times.
"Although this change can make the kids more fatigued, they are also training those special muscles that allow them to swim faster," he said. "Along with this transition in our training, we were swimming at our pool, which makes a difference since we don't have to travel.
"The other exciting thing about this event is that it has proven to be one of the few times that all four schools from our district swim at the same meet. This gives us the opportunity, as it does for or competition, to see who is swimming what, how their relays look and what we can expect from them at districts. It gives us an opportunity for strategy and preparation for our district meet."
Girls highlights
200 medley relay, 1st, Danielle Miller, Kylie Webb, Dhani Freeland, Caitlyn Fick
200 freestyle relay, 1st, Dhani Freeland, Caitlyn Fick, Danielle Miller, Kylie Webb
Dhani Freeland: 200 freestyle, 1st; 100 freestyle, 1st;
Danielle Miller: 100 back, 1st; 100 breast, 3rd
Caitlyn Fick: 50 freestyle, 4th; 100 back, 3rd
Jocelyn Pedrotti: 7th, 200 IM;
Kylie Webb: 100 butterfly, 1st; 100 breast, 1st;

Emily Burns: 100 freestyle, 11th; 500 freestyle, 5th
Boys highlights
200 medley relay, 2nd, David Walker, Daniel Mears, Carlos Galvez, Trey Schilling
400 freestyle relay, 2nd, Trey Schilling, Carlos Galvez, Daniel Mears, David Walker
David Walker: 200 yard IM, 1st; 100 back, 2nd;
Daniel Mears: 200 yard freestyle, 5th; 100 breast, 4th
Trey Schilling: 50 freestyle, 5th;
Sam Raulson: 100 freestyle, 13th
Carlos Galves: 500 freestyle, 3rd