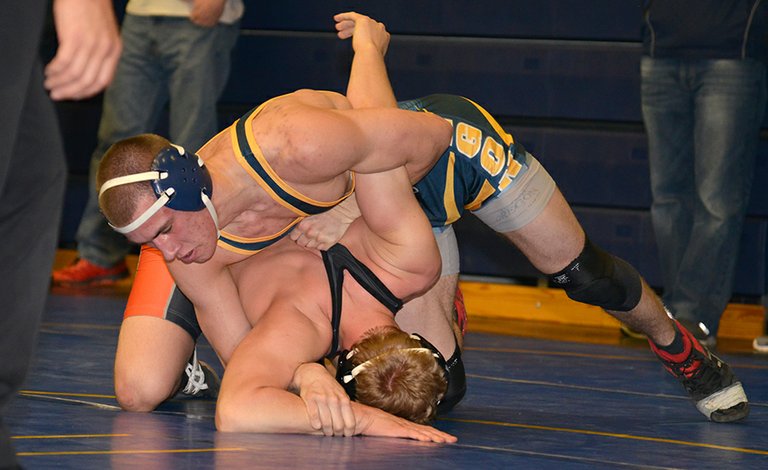 Wednesday, January 29, 2014
Hood River Valley High School wrestling made a statement Saturday as the Eagles hosted their annual Hood River Elks Memorial Wrestling Tournament.
With a full lineup of 18 teams and several dozen high-ranked wrestlers scattered throughout the brackets, the tournament was an exciting all-day affair. The double-elimination format ran throughout the day until the cream had risen to the top and a final championship round determined top six placers in each of the 13 weight classes.
Additionally, running team scores kept tally on which lineups were the most well-rounded and competed the best overall.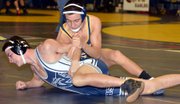 Eagles at the Elks
Jessica DeHart, 106 pounds: 5th place, 3-2 (won by fall, loss 7-1, won 5-3, won 6-4, loss 6-3)
Eric Cuevas, 113 pounds: 2-2 (loss by fall, won by fall, won by fall, loss by fall)
Dylan Peterson, 120 pounds: 2-2 (loss by fall, won by fall, won by fall, loss 10-4)
Christian Marquez, 126 pounds: 1st place, 3-0 (bye, won by fall, won by fall, won 10-3)
Texx Spezia-Schwiff, 132 pounds: 6th place, 1-3 (bye, won 5-3, loss 13-0, loss 10-2)
Jorge Oregega, 132 pounds: 0-2 (loss 5-3, bye, loss 5-0)
Charlie Mallon, 138 pounds: 6th place, 1-3 (bye, won by fall, loss 13-2, loss 6-4, loss 12-3)
Chas Peterson, 145 pounds: 4th place, 3-2 (bye, loss 18-2, won 9-7, won 3-2, won by fall, loss 2-3)
Andrew DeHart, 152 pounds: 1st place, 4-0 (won 16-0, won 8-0, won 9-2, won 5-1)
Jeremy Fischer, 152 pounds: 3rd place, 3-1 (won by fall, won by fall, loss by fall, won 15-11)
Kyle Weseman, 160 pounds: 5th place, 2-2 (bye, loss 6-4, bye, won 7-2, loss by fall, won by fall)
Steven Swafford, 170 pounds: 5th place, 3-2 (won by fall, loss by fall, won by fall, won 8-2, loss 7-5)
Max Lane, 195 pounds: 6th place, 1-3 (bye, loss 7-3, bye, won by fall, loss by fall, loss 3-0)
Sebastian Barajas, 220 pounds: 0-2 (loss by fall, bye, loss by fall)
Jeremy Breedlove, 285 pounds: 6th place, 2-3 (bye, loss by fall, won 8-6, won 3-2, loss by fall, loss by fall)
Team scores:
1.Churchill 140.5
2.Hood River Valley 135.5
3.West Albany 129.0
4.Scappoose 126.0
5.Centennial 121.0
6.Cleveland 97.5
7.Mountain View 95.0
7.Silverton 95.0
9.Barlow 85.5
10.Riverside 74.0
11.South Eugene 71.0
12.Westview 67.0
13.Crescent Valley 59.0
14.Wilsonville 55.0
The Dalles-Wahtonka 48.0
16.Wilson 44.0
17.Parkrose 43.0
Reynolds 20.0
For the Hood River Valley Eagles, who had two individual champions and 10 top-six placers, the final team standings were a reason to celebrate. The team finished with 135.5 points, good enough for second place behind Churchill with 140.5 and ahead of West Albany with 129, Scappoose with 126 and Centennial with 121 in the top five.
Columbia River Conference rivals, The Dalles-Wahtonka, had a tough tournament, finishing toward the bottom of the list at 15th with 48 points.
"With such a high-caliber list of teams, second is a great finish for us," said coach Trent Kroll, who has been working to establish HRV wrestling as one of the state's top 5A programs. "What's really cool is that it was a whole team effort; it wasn't just a couple guys who got us there, it took the entire team wrestling well and scoring points for us to finish the way we did."
Individually, Andrew DeHart and Christian Marquez went undefeated to claim first place and the unique award of the customized miniature semi-truck that has become a trademark of the tournament.
DeHart bumped up a weight class from what he has been competing at thus far and had a commanding but hard-fought road to the title as he went the distance in all four of the opponents he faced. He picked apart the competition with a 16-0 tech-fall in the third round of his first match, an 8-0 win in his second, a 9-2 win in his third and a final 5-1 win over Centennial's Connor Kurtz to win the tournament for the first time in his four years at HRV.
For Marquez, a junior at 126 pounds, it was a first-round bye and two quick pins that placed him in the finals against 3A Riverside's Hans Rockwell. Marquez, now 25-3 on the season, used impressive footwork and aggressive takedown attacking to finish with a solid 10-3 win to seal his tournament title.
"Both Andrew and Christian wrestled phenomenally," Kroll said, pointing out that their finals matches were against high-ranked opponents. Kurtz was 19-2 going into the tournament and Marquez' opponent, Rockwell, is a two-time defending state champion who hadn't lost a match in his high school career until then.

"They both have the goals of being a state champion," Kroll said. "We just have to make sure they're peaking at the right time of the season."
Other podium finishers were Jessica DeHart at 106 pounds, Texx Spezia-Schwiff at 132, Charlie Mallon at 138, Chas Peterson at 145, Jeremy Fischer at 152, Kyle Weseman at 160, Steven Swafford at 170, Max Lane at 195 and Jeremy Breedlove at 285.
Jessica DeHart deserves recognition for her grit in fighting through a tough bracket of guys, three of whom she beat and two she lost to by points; Mallon and Breedlove get credit for a solid return to action after getting a late start to the competitive season; Swafford gets a nod for wrestling through a tough bracket while dealing with a broken tooth that cut his mouth the entire day; and Fischer gets the unofficial "most exciting match of the day" award for a 15-11 overtime thriller in the consolation semifinals to advance to the 3rd/4th-place round.

Next up for Eagle wrestling is a home dual Thursday against Pendleton in the CRC opener. The dual should be exciting, as the Buckaroos are currently ranked seventh in the 5A Rockwell rankings — two slots ahead of HRV in ninth. The team then hits the road next weekend for a tournament at Oregon City Feb. 1 that signals the final few weeks of the season.