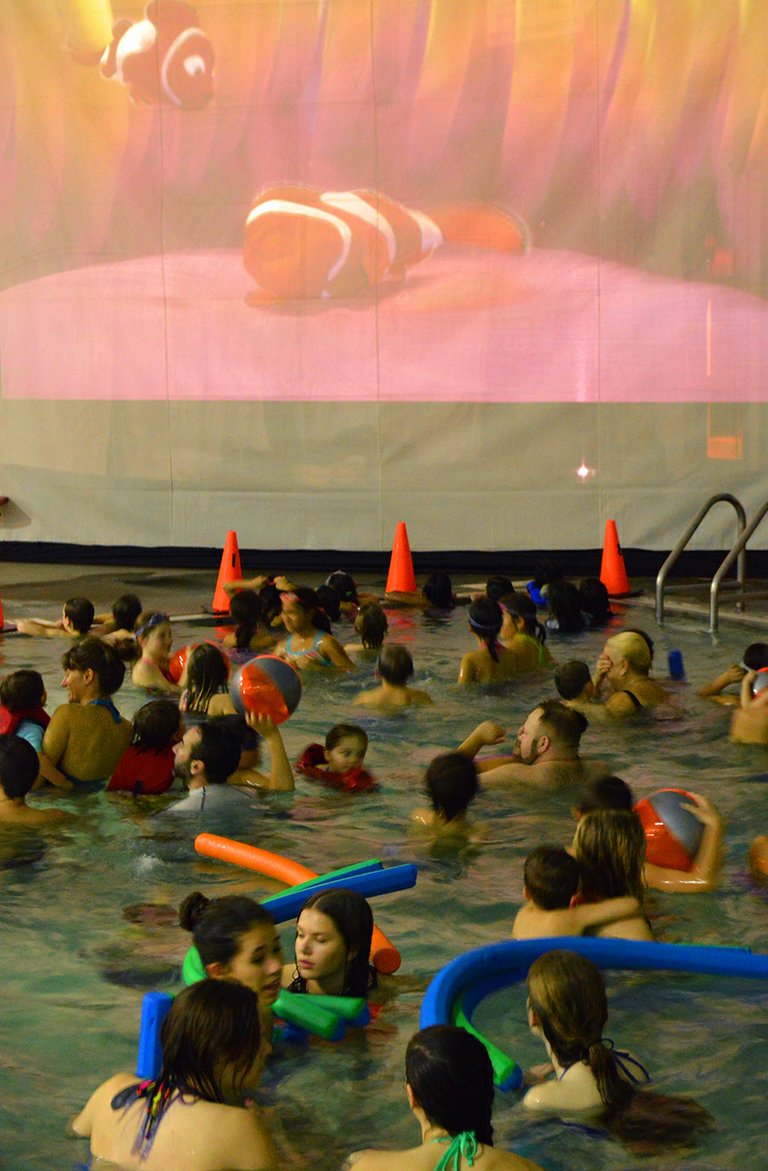 Wednesday, January 29, 2014
Saturday's first-ever Dive-In Movie at the Hood River Aquatic Center made a big splash with area residents.
The Dive-In Movie served as a fundraiser for Healthy Active Hood River County, in partnership with both Community Education and Hood River Valley Parks and Recreation District. HAHRC aims to help children in need stay active by providing recreational scholarships and opportunities — such as a proposed "Swim Bus" that will transport Upper Valley children without access or funds to the Hood River Aquatic Center once a week this summer.
A total of 287 people attended, generating just over $850 in donations at the door. HAHRC had hoped to raise $3,000 at the event and raised a total of $2,750 via donations at the door and sponsorships, according to HAHRC Physical Activity Chair Lynne Frost.
Sponsorships included Central Oregon Independent Practice Association, Pageworks, A Kidz Dental Zone, the Hood River News and Providence Hood River Memorial Hospital.
A Kidz Dental Zone also provided free popcorn, goodie bags, T-shirts, rubber ducks and beach volleyballs.
Inner tube rentals were available — and completely sold out within a half an hour of opening. A number of adults watched the movie from deck chairs and bleachers, while others brought their own lawn chairs.
"Kids of all ages came to watch 'Finding Nemo' and enjoy the pool, ranging from preschool kids through high-school students," said Frost. "We had kids come from as far away as Cascade Locks and The Dalles, and extended into Washington as several kids from White Salmon came to join in."
Frost said that overall, 12 schools were represented, not including preschools. Westside Elementary had the most students present, followed by Hood River Middle School, Hood River Valley High School, May Street Elementary and Mid Valley Elementary.
"The staff at the Aquatics Center did an incredible job at keeping the visitors safe that evening," added Frost.
Hood River Parks and Recreation District Director Lori Stirn agreed. Lifeguards were on high alert when the lights dimmed, she said, as were volunteers from HAHRC and the Jesuit Volunteer Corps.
The majority of patrons enjoyed the movie from the 92-degree therapy pool, although some "toughed out the cooler temperature (86-degrees) in the recreation pool on inner tubes," said Stirn.
Marci Wiley, Aquatic Center supervisor, said the Parks District will look to partner with Community Education to offer another event in the future.