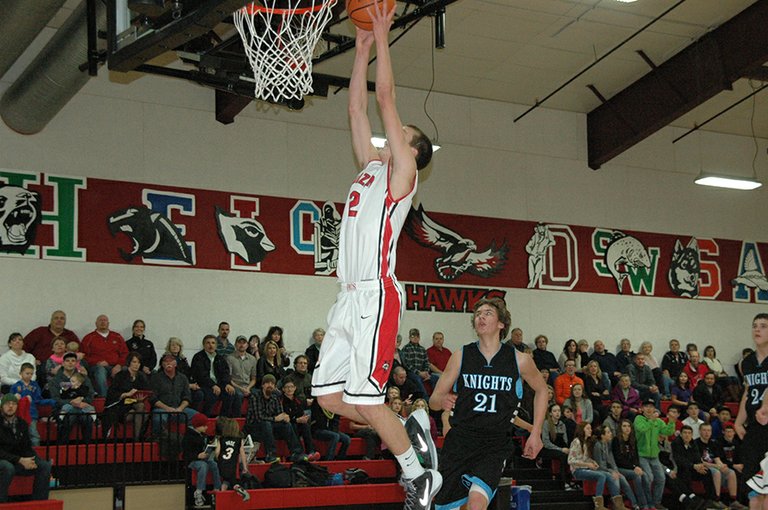 Wednesday, January 29, 2014
Facing Big Sky Conference opponents has meant one thing for the Horizon Hawks boys basketball team this season — another one-sided win to add to their season stat sheet. But that's a detail Horizon coaches Darrin Lingel, Mike Totaro and their powerhouse squad isn't focusing on.
"The thing that we try to do before each and every game is we try to maintain a humble attitude," Lingel said, following the team's 83-27 home win Friday versus the Condon/Wheeler Knights (8-10, 4-6). "We always tell the kids before every game that the team we're playing is better than us. As long as we have that mentality before we go out on the court, then we'll go out and play up to our potential."
Senior post Matt Totaro (20 points, 10 rebounds) helped the Hawks fly in front with his dynamic ability to score from anywhere on the court.
He lit up the scoreboard first when he fired in a long-range three-point field goal, followed by a post move on the inside and a 10-foot jumper in the lane to start the Hawks with a 14-2 lead before the Knights took a timeout to regroup.
"They (Hawks) always have five guys on the floor that can shoot very well," said Knights' coach Jon Moore. "They're the best team we've played this year by far. There's absolutely no doubt that they're a top contender for the state championship this year."
The Hawks' momentum continued unabated for the entire 32 minutes, including an impressive two-handed slam dunk by junior Mason Bloomster (12 pts., four steals), 12 points by Jared Davis, nine by Wes Johnston and eight by Austin Requa to lead the team in scoring. As a team, the Hawks shot a season-best 52.6 percent (10-for-19) from beyond the arc.
"I wasn't expecting to get a dunk, but I got a good pass from Jared and so it kind of worked out that way for me," said Bloomster, who receives a Papa Murphy's Pizza as a reward from Lingel for the dunk.
"It's not necessarily an easy win," said senior starting guard Micah Engel, who scored seven points. "Our coaches give us a good game plan that starts primarily by playing tough defense and we executed it well tonight."
On Saturday, Horizon faced the tough No. 10 ranked Nixyaawii Eagles in Eastern Oregon and won 61-46. Horizon's road win over the Nixyaawii was its 23rd-straight league win over three seasons. Horizon hasn't lost a Big Sky Conference game since losing 65-59 to the Sherman Huskies Feb. 2, 2012.
The Hawks next game is Jan. 31 when they'll host the highly regarded No. 6-ranked Ione Cardinals (13-2, 7-0). Ione has won seven straight and nine of its last 10 games. Ione will bring its highly prolific top ranked offensive attack of 76.2 points per game average, which is the highest of 67 Class 1A squads. Ione has scored 80 or more points seven times and totaled a season high in a 92-66 home win over Nixyaawii Jan. 17.