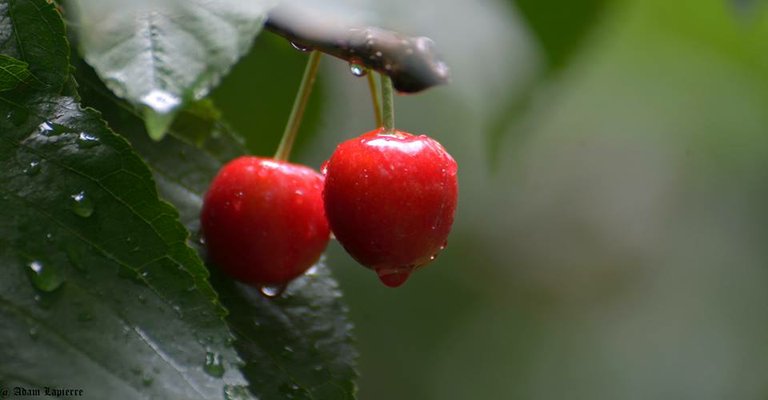 The concerns packhouses and orchardists had regarding the weather forecast were realized late last week when early summer rains swept through the Gorge and split cherries that were ripening in many Hood River Valley orchards.
Chad Wimmers, vice president of raw product at Diamond Fruit Growers in Odell, reported Monday afternoon that Hood River County's Bing cherries, which Diamond growers started harvesting mid last week, "took it pretty hard," and were damaged due to the amount of precipitation that was received primarily on Thursday and Friday last week. Ripening cherries can swell to the point of bursting their skins if they receive too much water, making the fruit unmarketable to grocery stores or fruit stands.
However, Wimmers said later varieties that had yet to ripen, such as Lapins and Lamberts, made it through the rain comparatively unscathed, which has created wide-ranging damage percentages.
"We can see anything from 0 percent [damage] on some varieties on up to 65 and 70 percent and those you have to walk away from," he explained. "There are some guys who are throwing in the towel."
Dana Branson, administrator at the Oregon Sweet Cherry Commission, said her own cherry orchard, located on Reed Road in Hood River, sustained enough damage that she might decide to leave the rest of the crop on the trees. Most of the orchard's 14 acres are planted with Rainiers, which she reported are softer and are more susceptible to cosmetic flaws.
Branson estimated she had not quite half her crop picked and either might leave the rest or try and salvage some on her own. After paying for labor and packing, Branson suspected the effort wouldn't be worth the cost due to the damage to the cherries.
"By the time you do all that, your return's not good enough," she explained. "It's not worth it."
Wimmers said most of the damage to the cherries has been caused by splitting on their sides and stem bowls and he expected that, "we can see some sunburn and some softness," due to temperatures that were forecast to rise to the mid-90s on Tuesday.
Despite the bad luck with the weather, Wimmers reported this cherry season was "a good year as far as flavor and quality," and there were "still a lot of cherries up in the valley." He estimated about 30 percent or more of the Bing crop was "in the barn."
Last year, in the midst of the Bing harvest, orchards were hit with intermittent rain and then heat for several days, which severely split the cherry crop, with the majority of orchards seeing upwards of half their fruit split. Wimmers said this time around, the splitting wasn't as great and less fruit would have to be culled.
"We're certainly in better shape than last year," he said. "We're alright."