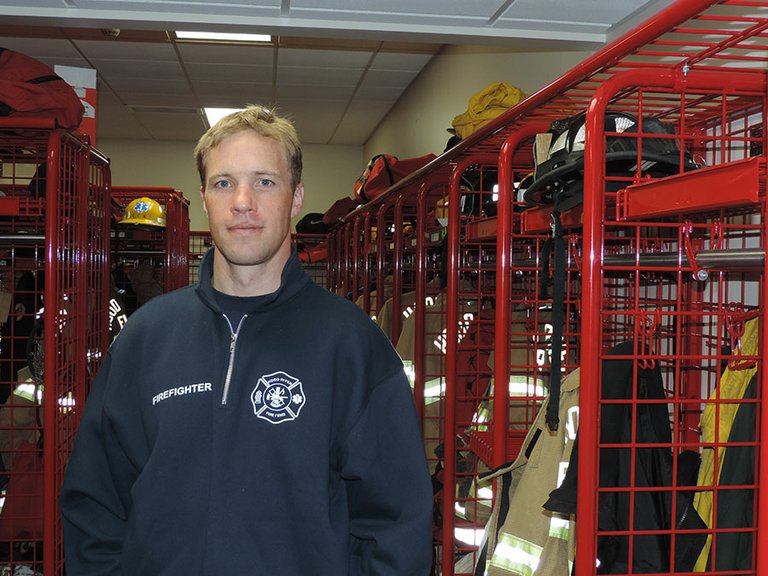 The 2014 Fire in the Gorge Training Academy has come to an end. Of the nineteen recruits who first joined the class in January, seventeen of us received our certificates of completion and celebrated with our families and fellow firefighters during a small ceremony at Hood River Valley High School.
It is truly impressive that such a high percentage of the original recruits made it all the way through the program. For five months, each of us has dedicated a considerable amount of time and effort to regular homework assignments and trainings that have pushed us mentally, physically, and emotionally.

Reflecting on our experience over the last five months, the first thing that I feel is a deep sense of gratitude for being able to participate in this program, and for being able to do it with such an outstanding group of people. We are so lucky to have had such an organized, professional education at the outset of our careers in the fire service. Our instructors, professionals from all over Hood River County, went out of their way to provide us with a first-rate experience. Training with the same group of recruits multiple times per week for five months has given me the confidence to trust these men and women with my life and the lives of others, because we have gone through challenging, stressful experiences together, and have become very familiar with one another's strengths and limitations.
When I first signed up to join the Hood River Fire Department in January, I felt very unsure of myself, and couldn't figure out exactly how I was going to be able to integrate into such a tightly-knit group. I felt motivated by a sense of adventure and a desire to serve my community, and even though I knew the other volunteers and career fire fighters shared these same motivations, seeing the ease and familiarity with which they addressed even the most complex of tasks in the fire service made me question exactly how I was supposed to go from recruit to firefighter.
At first, even just spending time at the fire station, I was constantly concerned about being in the wrong place at the wrong time, in case the whole station suddenly exploded into activity as a call went out.

In retrospect, I see how perfectly the recruit academy was designed to break the ice and create a viable context for us newbies. After a few short weeks, I started meeting friendly, familiar faces whenever I showed up at the station. Machinery and equipment that was at first intimidating and alien to me started to become familiar as I plowed through my textbook and attended each weekly training. Finally, towards the end of our academy, I started to feel knowledgeable enough about some basics to begin asking more experienced firefighters about the particulars of our station, our specific equipment, and the unique aspects of the district we serve.
Now that we have graduated from the recruit academy, we are ready to be beginners. We will go from here into our individual fire stations and become familiar with all the nuances of our equipment and our districts. After an undetermined length of time, we will be ready to challenge the specific tests that our station has outlined for us and move closer to becoming registered Fire Fighter 1's.

Over the course of five months, there were many firsts. Here are some of the moments that stick out over all the rest:
First time meeting Chief Devon Wells: Chief Wells has an infectious enthusiasm for firefighting. I'm sure he's motivated more than one person to join the fire service just from being around him and listening to the way he feels about his job.
Tackling a loose two-and-a-half-inch hose: During one of our trainings, we were tasked with tackling a live hose line, crawling up its length, and securing its nozzle. I can't remember exactly how much water flows through a two-and-a-half-inch hose line that is fully open, but it makes you feel like you've caught a tiger by the tail, to say the least. This was the first time I thought, ok, some of these guys might be just my kind of crazy.

First time cutting holes in a roof with a chain saw: Venting the exterior of a building often requires cutting holes in things that don't normally have holes in them. Like roofs. When you're up on a roof working by flashlight at 9:30 at night with a chain saw running full-bore, it is hard to want to be anywhere else.
First Burn to Learn — Baptism by wet grass: Part of our ongoing training as firefighters includes occasionally setting fire to, and burning down, perfectly good houses. (With permission from the owner, of course.) These are what we call Burn to Learns, a slang term that is somewhat self-explanatory.

In preparation for our first Burn to Learn, my fellow recruits and I had been practicing "donning and doffing" (fancy terms for putting-on and taking-off) our personal protective equipment (PPE) and Self Contained Breathing Apparatus (SCBA) for several days. Getting all of this gear on in a timely, organized matter takes practice, and we wanted to show up on the fire ground for our first practice-fire feeling like we at least knew how to get dressed properly. Practicing in the warm, dry fire station did not, however, prepare me for the way that my gear would react to the cool, moist air rising off the wet grass in the early morning before the burn.
Shortly before our Dee practice house was set on fire, we all donned our PPE and SCBA at the engines, and began staging in predetermined places around the house. I was tasked with walking across the east field to the back of the house, so after putting on my mask and helmet, I began walking south across the field. The instant the warmth of my breath hit the cool plastic of my SCBA mask, it fogged. Completely. The fog, combined with rosy-fingered dawn creeping her way over the hill directly in front of me, and the fact that I was wearing gloves made for the Michelin Man. I was utterly blind, and hopeless to take my mask off without stopping and disrobing in the middle of the field.
I was already acutely aware of being the new guy, and I wasn't about to be the new guy "outstanding in his field," downwind of a burning house without his gear on. Nor did I want to be the new guy who stepped in a gopher hole and broke his ankle before he actually made it to the burning building. Thankfully, we were trained to clear the fog from our mask by attaching our air supply and flooding it with air from the tanks on our backs, which is exactly what I attempted to do. Unfortunately, my regulator got stuck half-way on and half-way off as I tried to connect it to my mask. This mistake effectively cut off my air supply. Completely.
I took a breath in and nothing came. I tried lifting my mask off my chin and was reminded that they're designed to stay on, no matter what. I thought to myself, "Hmm. This could be a problem." I remember thinking in that brief moment that I felt like a total beginner, like a kid fumbling with his shoe laces for the first time.
After a few agonizing moments of non-breathing while fumbling for my regulator and re-seating its valve on my mask, I gave it a satisfying whack with my Michelin Man palm and was rewarded with a rush of cool, dry, lung-quenching, mask-clearing air.
Finding Pedro: One of our drills during Academy involved a visit to the SCBA trailer at Mid-Columbia Fire Rescue in The Dalles. Essentially, the trailer is a large metal box that has been outfitted with multiple levels of wire tunnels through which you have to crawl while performing certain tasks like passing through obstacles, finding objects and practicing emergency rescue techniques. The catch is that you are dressed in full Personal Protective Equipment, on supplemental air supply from your Self Contained Breathing Apparatus, and the trailer pitch-black and full of smoke, strobe lights, and recordings of children screaming for help. Essentially it is like a cross between a rat maze and the worst haunted house you've ever been in.

Your performance in the SCBA trailer is rated by how much air you use from your tank, how well you communicate with your team and Incident Command on your radio, and then of course, if you are able to complete your objective. In our first objective, my team of three was tasked with finding a stuffed dog named Pedro. We clambered through the maze in the pitch black, keeping track of one another by keeping one hand on the person's foot in front of us. At no point was there enough space to stand, and in some places, there wasn't even enough space to sit upright.
We found Pedro the stuffed dog after about 10 minutes of searching. I was in the lead and I cradled him in one arm while we turned around and began to retreat back out. At that point, all I could think about was how similar that stuffed dog felt in size and weight to my eleven-month-old son. My thoughts betrayed me and wandered into a terrible potential scenario where I was rescuing someone's infant out of a real house fire. My heart began to pound and I fought to keep my breath calm and even. We made it back out into the light about seven minutes later and I proudly returned the stuffed dog to its rightful owner. Feelings of competence, confidence and dread for the things we will be called to do washed over me.
When I got home, I swept my son, D3.0 up in my arms and said a quick prayer of thanks for firefighters everywhere.
n
Dave Martin owns Trinity Natural Medicine, a health center in Hood River. He and his wife, Emily, have a son, Davey, and live in Hood River.