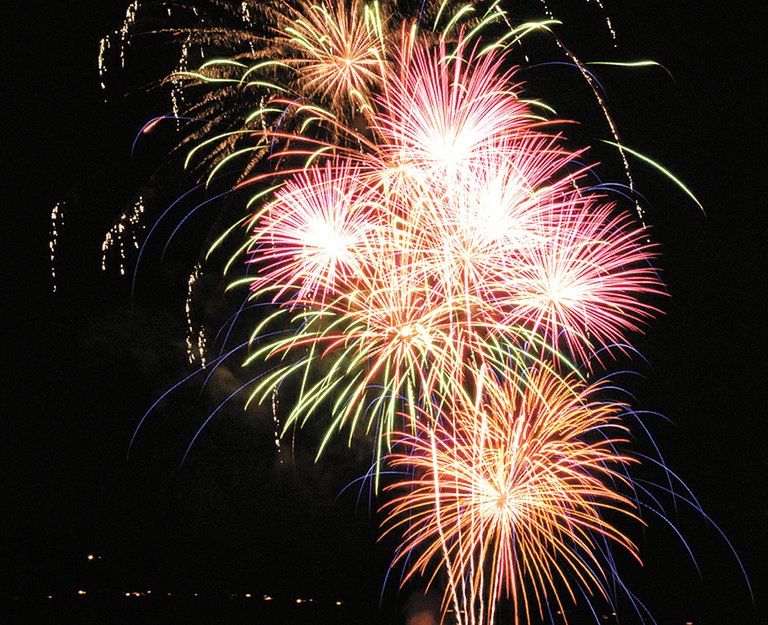 An air show, ski stunts and a dance team earned top honors on July 4.
The winners of the first, second and third place cash prizes for the Hood River Independence Day parade reflected the variety of entries in the popular community event.
"It is just awesome," said organizer Tom Yates of Hood River Lions. "I think being able to have grand marshals, especially like these today, brings out the best." World War II veteran Ed Bartlien, 92, and Odell's Lila May Schow, 3, rode together as grand marshals, and led ceremonies at Jackson Park afterward.
Western Antique Aeroplane and Automobile Museum took first place for its combination entry, including flyover by World War II planes. Second place went to the Hood River high school ski team for its entertaining – and risky – stunt rail on-a-truck, and Radio Tierra, with Mid Valley Dancers, took third. WAAAM was honored for the airplanes, antique cars that interspersed the parade, and the restored century-old Aultmann Taylor steamer that debuted in the parade.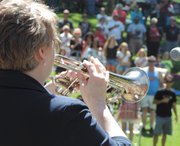 This was the first year the parade committee has given out cash prizes. Two years ago, it started charging a $10 entry fee for the parade.
"I was thinking, because we are charging money, the parade would get smaller. But it was as long as ever," Yates said. "It gets people to do their very best in the parade. I wasn't so sure about charging the fee, but Mark Brown said, 'Tom, it's worth it,' and it sure has been."
The funds are used for costs such as paying Boy Scouts for cleanup of the park; the city donates the use of the park. US Bank and Providence Health System sponsored the music in the park.
Lila May and her mother and step-father stood on stage with Bartlien for recitation of the Pledge of Allegiance. About 400 people had gathered for barbecue served by the fire department, and music by Willie and Nelson. Two large bounce houses were constantly filled with vigorous children.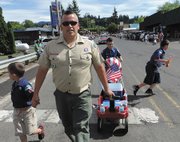 Later in the day, the Odell community enjoyed its annual parade, with plenty of participation by local fire departments, including Wy'East Fire District's two newest engines.
On Friday night, fireworks filled the sky over Hood River Sandbar as Eyeopener Lions put on a 28-minute show.
Joe Kollas/Jerry Cranmer Memorial Run/Walk participants comingled with the parade entrants for long overlap of the two events.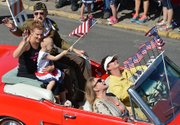 Keith Doroski, while far from new to the task, served for the first time as emcee of the Jackson Park festivities, a task Yates performed the last few years. Doroski is an experienced actor and DJ, and has been emcee of Springfest and Huckleberry Fest over the past decade.
"I am having a great time," Doroski said. "I love emceeing, I'm happy to do this every year."
Replied Yates, "You've got a 10-year contract!"
Doroski said, "It worked out great because Ed (Bartlien) is a mentor, he got me into Elks, and Donovan, my son, has been a co-recipient with Lila May at fundraisers." Lila May and Donovan Doroski, 21, are both undergoing cancer treatments: Donovan is spending time at a Seattle hospital, and Lila May will travel to New York for special therapy later this year.
For the fireworks, "we had to do some creative work to get us a half-way decent show," Pyro Crew leader Russ Paddock said. Because of inflation, Lions were able to buy 830 rockets this year, one-third fewer than the 1,100 in 2013, to stay within the $15,000 budget.
"We handpicked the specialty shots, such as The Cube and Double Hearts, and with the finale I threw all the garbage up!" Paddock said.
He said the fireworks fund is now at zero. "We are looking at what we will order for next year, but right now we do not know, we had to use our reserves this year." (Fundraising was at $10,000 as of July 1.)
"We need a better commitment to pay for this year, or pledges for next year so we know what we have in hand. Fireworks is definitely an anchor for the Fourth of July," Paddock said.
"We also are going to have to replace some of our (detonation) tubes," he said. "They are warped out of shape so they are difficult to use. Over and above the costs of the show, we have upgrades in the equipment that we need to do." He said about 30 percent of the tubes need upgrading.
Paddock said Schlosser's donated a truck to Lions after the group purchased a fifth-wheel trailer, and Les Schwab American Tire donated the tires for the truck and trailer. "We can now load everything in there and next year just take it down to the launch site," Paddock said. "It's a warehouse on wheels.
"With our equipment and the 25 volunteers giving up three days of their summer, Hood River is getting a $50,000 show," Paddock said.
(See page A4 for a column by Paddock and Paul Zastrow on how to support the pyrotechnics project.)