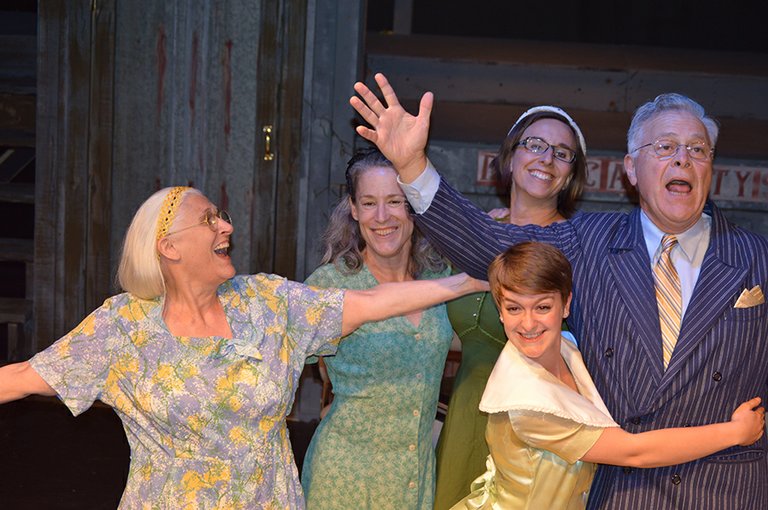 It's hard to describe Urinetown, the Musical.
It's deeply funny, but it's not a comedy. The music is light and happy, but the themes are dark. It's a play, but the fourth wall is constantly breached.
The monkey endures: props help tell the story
With any community theater production, "props," those items characters carry or use in a production, are often a personal thing.
"I have an old chair at home" or "I have a hat that will work" are typical refrains you hear from actors, when they can't find what they need in the CAST costume loft.
The props in "Urinetown" help tell the story; director Mark Steighner asked every actor to come up with a personal "look" to emphasize, despite being poor, their individuality. (No one took Steighner up on his eyepatch suggestion, but they did indeed get creative.) Some speciality costumes used in the show are rented, but the "poor" of "Urinetown" fashioned their own downtrodden garb, accessories and props from stuff they purchased, found or already had at home, or made themselves.
Here's a selection:
Toy monkey: "Monk" is the stuffed animal held in every scene by Little Sally (Heather Laurance). Monk was Allison (Josephine Strong) Fitts' childhood toy, and Monk has taken a beating. Since rehearsals started, Laurance has repeatedly replaced his stuffing and stitched him several times — but Monk keeps on smiling.
Crutch: Steve Daniels (Tiny Tom) fashioned his crutch out of a chunk of branch he brought home from a hike and a crosspiece he found in his yard.
Apron: Emily Vawter (Mrs. Pennywise) got her "leather" apron from surplus costumes at HRVHS – it was previously used in the steampunk "Avalon" show two years ago.
Leg brace: Molly Reagh (Little Becky Two-Shoes) has several interesting props: she created a leg brace out of velcro (much smudged with shoe polish) and metal rods she found at Hood River Supply. She didn't know it at the time, but the rods are, fittingly, half-inch plumbing conduit. Reagh's props also include (spoiler alert) a toy baby.
Knife: Connor Muhl (Hot Blades Harry) created his own wooden knife.
Nightsticks: Lockstock (Reuben Betts) manufactured the realistic metal enforcers used by Officers Lockstock and Barrel (Peter Tappert).
— Kirby Neumann-Rea
Urinetown is the story of an unnamed city, where the poor must scrape together larger and larger fees in order to use the (only) public restrooms. Meanwhile, rich Mr. Caldwell B. Cladwell (Bruce Ludwig), owner of Urine Good Company and all public toilets, schemes to get richer, with Senator Fipp (Kirby Neumann-Rea) firmly in his pocket. Eventually, the poor, led by Bobby Strong (Will Thayer-Dougherty) and later by Cladwell's daughter, Hope (Lauren Gray), rebel against the fees.
Urinetown made its Broadway debut in 2001, before terms like "the 99-pecent" and "occupy" were part of the common lexicon, but this is what comes to mind as the story unfolds, even though neither word is ever uttered.
Director Mark Steighner describes Urinetown as "a well-written show, with a sophisticated, entertaining, and varied score, a wicked, satiric sense of humor, and themes that are relevant.
"The 1930s had a term for this kind of theatre: 'agitprop.' Below the surface of its craziness and humor, there is a pretty scathing and pointed commentary about the world in which we live," he continued.
"The fact that is does have content shouldn't scare people away — the ideas are secondary to the music and humor."
This is a musical that doesn't hide that it is a musical, and as such, is expected to follow a certain format. Two characters in particular — Little Sally (Heather Laurance) and Officer Lockstock (Reuben Betts) — often talk directly to the audience, commenting on the scene or guessing the audience's reaction. At one point, Little Sally speculates that Urinetown isn't going to be a very successful musical because of its "terrible" title.
Urinetown "takes conventions and turns them on their heads, or it outright satirizes some of the standard musical clichés," he said. "People who know musicals love it!"
Steighner said the music, while sounding "light and fun and easy," is "challenging to sing and there is a huge range of styles to master, and some ensemble songs that are operatic in complexity," he said.
He hoped it would be the inaugural CAST show at the Columbia Center for the Arts new location in 2006, but found the "musical proved too challenging for the cast I had available, so we did a Sondheim revue instead," he said. "I've always wanted to make up for that and tie up the loose end."
The cast is a large one, and, coupled with set requirements, that means it's not an easy fit for the CAST space, Steighner said. "On the other hand, the scale of the story demands intimacy so from that aspect, it's a perfect fit. Plus, the pit band (Henry Knapp, Jerry Keith, Omar Sankari, and Hugh Amick) is intentionally very small, so that works out for the room available."
He describes the cast as "a family of theatre newbies through musical theatre veterans."
"They've done a fantastic job of growing with some very demanding music, dancing, and acting," he said. "They're awesome!"
Steighner has one regret about Urinetown — that the late Richard Parker was unable to participate. "He was really looking forward to it and we were planning until the very end," he said. Parker, theater director at Columbia Gorge Community College, died earlier this year. He directed, or performed in, numerous CAST and The Dalles Theater Company productions.
"Urinetown" cast members also include: Emily Vawter, Mrs. Pennywise; Peter Tappert, Officer Barrel; John Lockman, McQueen; Steve Daniels, Dr. Billeaux/Tiny Tom; Allison Fitts, Josephine Strong; Dennis Castanares, Old Man Strong; Molly Reagh, Little Becky Two Shoes; David Dye, Robby the Stockfish; Connor Muhl, Hot Blades Harry; Liz Hartman, Soupy Sue; and Lisa Spicka, Mrs. Millennium; and Patty Salmon and Kathleen Morrow. Lighting is by Joe Garoutte and Adrian Chaton, and Miquel Vasquez is director's assistant.
A note on content
"Suffice it to say that in 'Urinetown' (the musical) everyone has to use public bathrooms in order to take care of their private business. That's the central conceit of the showww!" explains narrator Officer Lockstock in the opening of the play.
It sets out a premise that appears to be gross, but the subject matter is handled tastefully. As Trisha Walker reports in the main story, the writers even make fun of their own unsavory title. The writers use just one discernible pun on urination, but fill the dialog and songs with abundant word play. For a dark social satire, there's a fair amount of gently goofy material. The themes tend toward the adult, but none of the language.
Matters do turn dark toward the end, but the material is suitable for mature adolescents. Running time including intermission is about two hours.
Restrooms are provided.
Urinetown plays at CAST theater on July 10-12, continuing with a 2 p.m. show on July 13, and closing July 17-19. Evening shows are at 7:30 p.m. It runs about 2 hours including intermission. Tickets are $18 for adults, $15 for students and seniors, $10 for children 11 and under and $12 for groups of 10 or more, available on line at www.columbiaarts.org, at Columbia Center for the Arts and Waucoma Bookstore. Columbia Center for the Arts is located at 215 Cascade Ave. in Hood River.