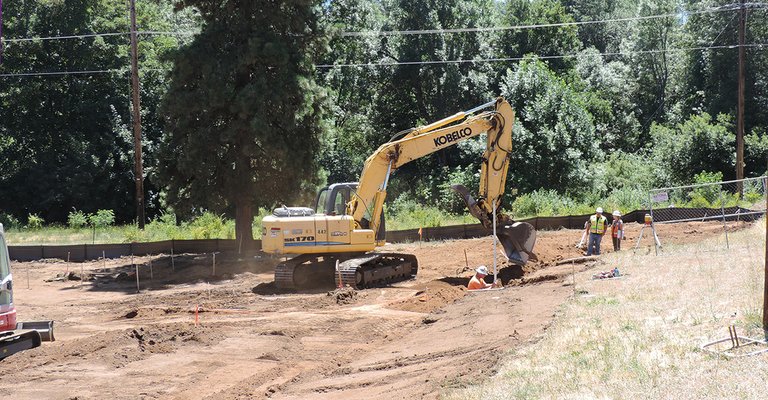 Look for two impacts of the city's sewer lift station project on the Heights, which upgrades the city's sewer capacity from areas west of the city that are served by the system.
May and 12th streets will be closed or traffic reduced to a single lane starting Monday at 7 a.m., as crews install a manhole and move pipe connected to the lift station project.
The city recently completed the crosswalk restoration project, including new pedestrian access, at 12th and May, which is adjacent to Providence Hood River Memorial Hospital.
From Monday through Wednesday the eastbound lane of May Street will be closed in the area, according to city officials.
That part of the project will last about three days. Look for either flaggers or detour signs. The $1.56 million construction project entails a wet well, building and generator at the lift station site, on Union Street just east of 12th Street, on Pacific Power land adjacent to its Heights substation. The area is now fenced off.
In addition, crews will install larger sections of pipe in selected areas on the Heights. In July and August, the sewer line replacement continues east on May to 10th Street, and south on Pine and east to 9th.
The sewer lift station intercepts flow from Hood River Valley High School and Windmaster district, southwest of the city. The existing sewer line were of inadequate size to handle the flows, so larger pipes will be installed in places around the Heights through September.
For a map of the project, go to ci.hood-river.or.us.
Crestline Construction of The Dalles is doing the work.
The goal is to lay new asphalt by Sept. 29 on areas where the new pipe has been installed. Meanwhile, Crestline crews worked last week on the first part of the lift project: creating a 200-yard stretch of the Indian Creek trail, just south of the Union Street work site, so that all of Indian Creek trail can remain open.