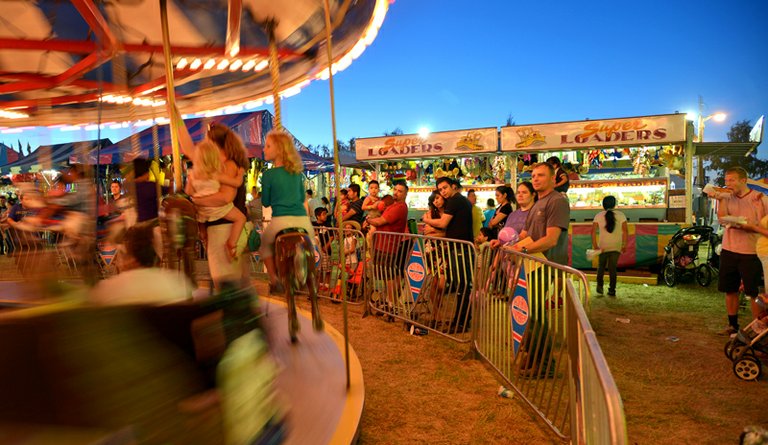 The grounds are ready – are you?
Hood River County Fair happens July 23-26 at the Hood River County Fairgrounds in Odell.
"The staff has done a great job. The grounds look beautiful," fair manager Clara Rice said.
"A great family fair" is the main mission of the fair board each year and that should hold true again in 2014, Rice said.
Look for changes including a new parking system: the entries and exits remain the same, but Lions members will work to park fairgoers at all five lots simultaneously, and traffic patterns will change inside the grounds, enabling more cars to park.
The fair offers open class, 4-H, FFA, and commercial exhibits of all kinds. There's something for everyone, including carnival rides and midway fun, and special entertainment every evening.
Here are some selected highlights of the fair – see details on page A5:
Judging for Open Class runs Monday through Wednesday
FFA-4H Livestock Auction starts at a new time July 25, 4:30 p.m.
Fair headliner John Michael Montgomery takes to the main stage at 8 p.m. on July 26
July 24 is Senior Day, with admission $5 for senior citizens
July 23 is the last day to buy a carnival bracelet at reduced price
Regular general admission prices to the fair are $7 per adult Wednesday, Thursday and Friday, and $10 on Saturday. Admission for children aged 6-12 is $2. Children under 6 are admitted free. Thursday is "Senior Citizen Day." Hood River County seniors pay $5. Season tickets are available. Parking is free. The fair opens each day at noon, with carnival rides beginning at 1 p.m.

If you plan on buying Cascade Amusements carnival bracelets, save money on rides by purchasing a $22 ride bracelet ticket for just $17 in advance of the fair's opening. They're available at the fair office, Mid Valley Market, Hood River Supply, and Clem's Market in Odell, at McIsaac's in Parkdale, at Juanita's Market in The Dalles, and at Juanita's Market, Hood River Supply, and Columbia State Bank in Hood River, and for the lower price must be purchased by 5 p.m., July 23. Each bracelet ticket purchased may be used on any one day of the fair, and is good for rides all day long. Carnival rides begin at 1 p.m. each day, and continue until closing. The fair gates open at noon each day.
On-stage entertainment begins Wednesday evening on the park stage with Toy Gun Conspiracy at 8 p.m. Thursday, a John Denver Tribute Show with Ted Vigil begins on the park stage at 7:30 p.m.