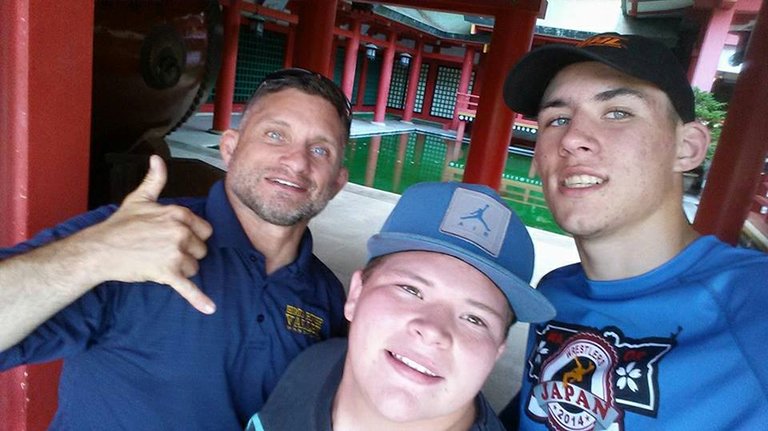 Although the trip was focused on fostering cultural understanding and appreciation between high school students of Oregon/Washington and Japan, the goodwill mission didn't stop Hood River Valley wrestlers Andrew Dehart and Max Lane from knocking a few heads while they were abroad.
The two, along with HRVHS head wrestling coach Trent Kroll, were part of a 16-person cultural exchange wrestling team that traveled to Japan for 11 days at the end of June. As a joint effort to reestablish Washington's Cultural Exchange program, half of the team from Oregon and half from Washington; a separate Oregon team, which has been active since the 1960s, traveled to New Zealand this summer.
While in Japan, the group got a crash-course in the many complexities of Japanese cultures and traditions while touring the country, staying with host families and participating in friendly wrestling tournaments against teams from Japanese high schools.
"It was a little different I guess," DeHart said about wrestling for the first time against Japanese competitors. DeHart and Lane both went undefeated during the trip. "But to be honest, it was just the concept of being in another country a world away that felt different. Once we started wrestling, it pretty much felt just like wrestling any other opponent. One thing I noticed about their style is, they don't like to pummel or throw much. They were all about shots, shots, shots but seemed very hesitant to try any throws."
Wrestlers at Nationals
Hood River Valley High School wrestlers Andrew DeHart, Christian Marquez, Max Lane, Steven Swafford and Jessica DeHart are in Fargo, N.D. this week for the USA Wrestling Cadet/Junior National Freestyle and Greco Roman wrestling tournaments. The four will represent Hood River and the Oregon National Team in the tournament. Results will be covered next in week's News.
DeHart said he wasn't sure if that difference was because the Japanese style of wrestling is different, or possibly because of their strong cultural values of treating guests with kindness and respect.
"Of all the things I noticed and will remember from the trip, what really stands out to me is how well we were treated," he said. "They treated us like royalty when we were in their schools and their homes. The way they treat their guests is something I will never forget. Something I personally learned is, I always said I didn't want to travel outside of the country because I didn't think it was safe. But I learned that I was wrong about that."
The team wrestled four duals during the trip and went undefeated, against teams from Okiyama, Yamaguchi, Shimane and Totteri prefectures. In the time between, the group made friends and were treated to all kinds of Japanese traditions, including classes in Judo, Kendo, calligraphy and tea ceremony.

"It was a wonderful, once-in-a-lifetime experience that I'll never forget," DeHart said.
DeHart is a recently graduated HRVHS senior who finished his high school career as state freestyle and Greco roman wrestling champions. Lane, an incoming junior, was a folkstyle state qualifier and finished third in the state freestyle and Greco tournaments.